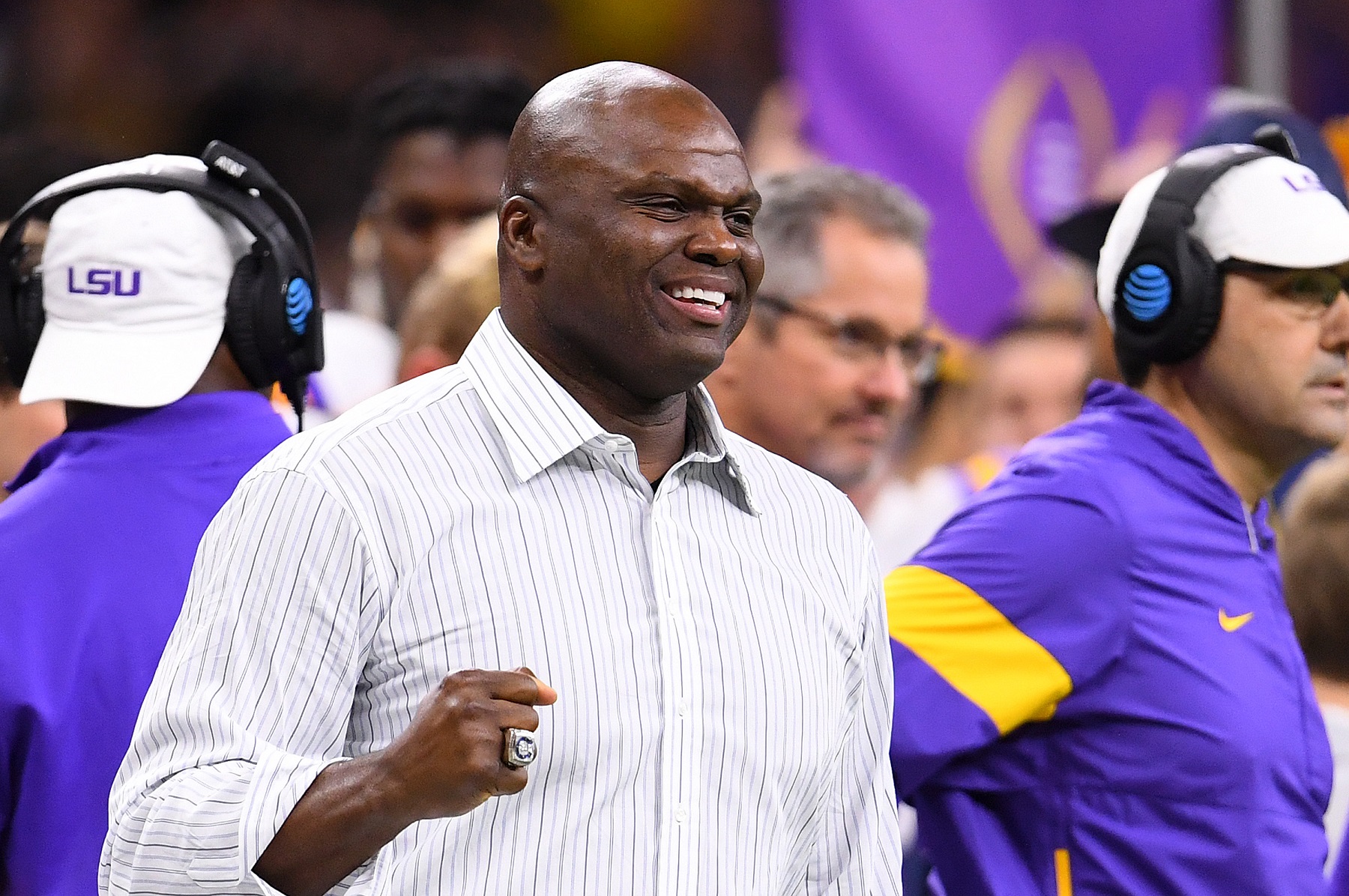 Booger McFarland Has Landed on His Feet After a Disappointing ESPN Decision
Booger McFarland lost his job as an 'MNF' analyst but will stay at ESPN as a studio analyst on NFL games
Booger McFarland's career hit a speed bump this summer when ESPN took away his Monday Night Football gig after just one season. Now, however, he's on the rebound thanks to a consolation prize that should give McFarland a chance to work his way back into game broadcasts at ESPN or elsewhere.
ESPN is looking to make the most of 'Monday Night Football'
It's another year and another new lineup of announcers for ESPN on Monday Night Football beginning this weekend. The cable network announced three weeks ago that former SportsCenter anchor Steve Levy will handle play-by-play and be joined in the booth by analysts Brian Griese and Louis Riddick.
The trio is replacing Joe Tessitore and analyst Booger McFarland, the former Tampa Bay Buccaneer who lasted just one season as Jason Witten's replacement when the tight end returned to the playing field.
The announcement came after a long, futile search to land prominent names to handle the booth duties. With the next round of negotiations for network broadcast contracts ahead, ESPN and ABC were believed to be trying to put their best foot forward. They hope to impress upon the league that they're serious about restoring Monday Night Football  to much-watch status.
There has been speculation that Disney would be interested in moving the weekly game back to ABC. That would make it more accessible to the national audience. It would also potentially help position Disney to take a larger piece of the NFL package away from competitors.
Booger McFarland is heading to the studio
ESPN has announced the back half of a job switch involving its NFL coverage. The cable network revealed last week that Louis Riddick would be one of the analysts taking the place of Booger McFarland on Monday Night Football. Now comes word that McFarland will get Riddick's previous studio role on Mondays before the game.
At the same time, ESPN announced that both Sunday NFL Countdown and Monday Night Countdown will originate from a New York studio instead of game locations. McFarland will work the Monday pregame show alongside Randy Moss and host Suzy Kolber. Steve Young will work either from the studio or the game site, Awful Announcing reported.
McFarland's role will be in addition to his duties as an in-studio analyst on Saturday college football telecasts.
This should be a better fit for Booger McFarland
Moving back into the studio environment should be a better fit for Booger McFarland. He was largely panned during his season as an analyst on ESPN's Monday Night Football games, with widespread sharing of unflattering Twitter comments and Facebook memes common during the telecasts.
McFarland was a defensive co-captain as an LSU senior and drafted 15th overall by the Tampa Bay Buccaneers in 1999. He played eight seasons for the Bucs, winning Super Bowl 37 with them. Tampa Bay traded McFarland to the Indianapolis Colts in 2006, where he played one season before a career-ending knee injury.
Before landing with ESPN, McFarland did local sports radio in Tampa and worked as an analyst for the SEC Network.