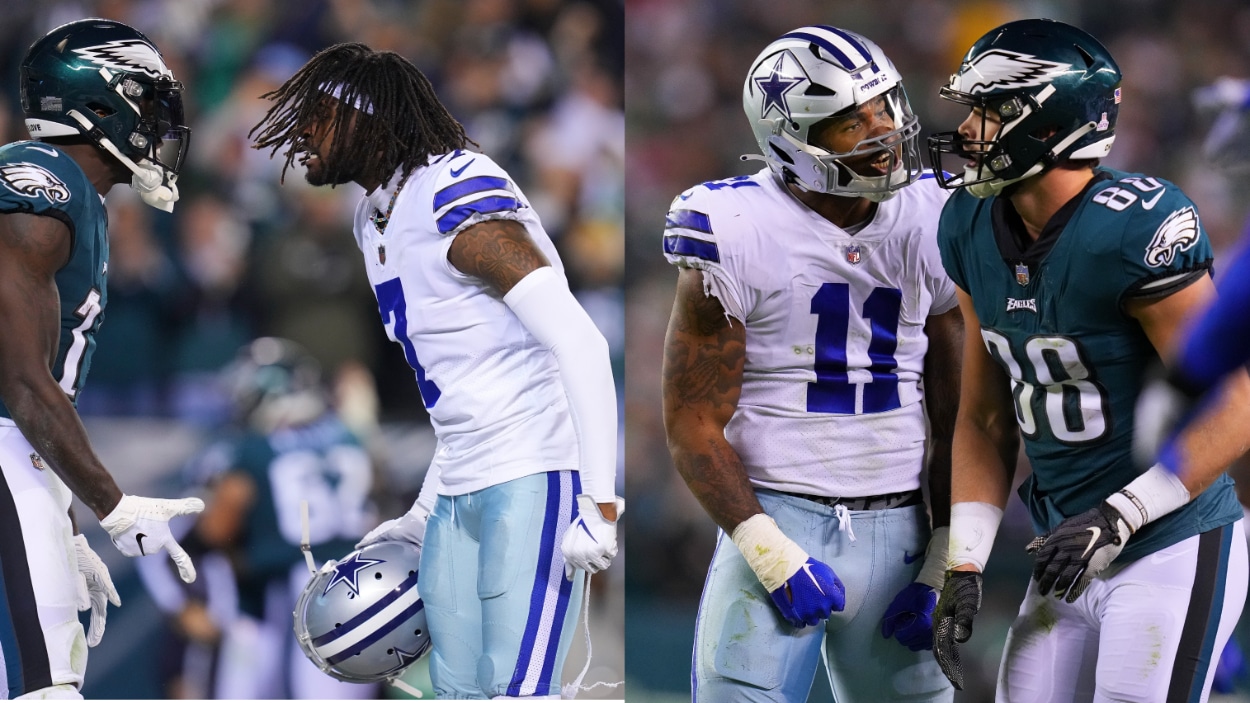 NFL Cracks Down on Cowboys Stars Micah Parsons and Trevon Diggs
The Cowboys defense lost its cool against the Eagles, but with Dak Prescott returning in Week 7, the unit needs to get it back.
In Week 6, the Dallas Cowboys traveled up to Lincoln Financial Field to face their undefeated NFC East rival, the Philadelphia Eagles. The home team got the best of the 'Boys on Sunday night, winning the game 26-16. And now, ahead of Week 7, the NFL added insult to injury by fining two Cowboys players, Micah Parsons and Trevon Diggs, over $20,000 for their actions in the tough loss.  
NFL fines Dallas Cowboys Micah Parsons and Trevon Diggs
Linebacker Micah Parsons and cornerback Trevon Diggs are cornerstones of the Cowboys' No. 3 ranked defense in 2022.
Coming off his Defensive Rookie of the Year Award, Parsons is having another stellar campaign. Through six games, he has 26 tackles and 6.0 sacks. And a year removed from an All-Pro season himself, Diggs currently leads the league with nine passes defended and has two interceptions.
Despite the individual brilliance of Parsons and Diggs, the Cowboys couldn't end the Eagles' undefeated streak on Sunday night.
The Cowboys D gave up two touchdowns early, and one late with a pair of field goals in between, and that was enough to get Philly the W. The biggest problem for Dallas overall, though, was that despite the playmakers on defense, the team lost the turnover battle three to zero.
Nearly a week after the game, the NFL had their say on Cowboys defense, too. On Saturday, NFL Network insider Ian Rapoport reported, "Micah Parsons was fined $10,609 for unsportsmanlike conduct – flexing over and talking to TE Dallas Goedert during last week's loss." Also, "Trevon Diggs was fined $9,577 for unsportsmanlike conduct – taking off his helmet after a late #Eagles TD."
Those aren't huge fines for most NFL superstars, but as second- and third-year players, Parsons and Diggs are making relatively low salaries this season. Parsons has a base salary of $1.4 million (although he did get $2.4 million of his rookie signing bonus this year), and Diggs' salary is $1.2 million, with $539K of his signing bonus paying out this season.
The Dallas D needs to help Dak Prescott in his return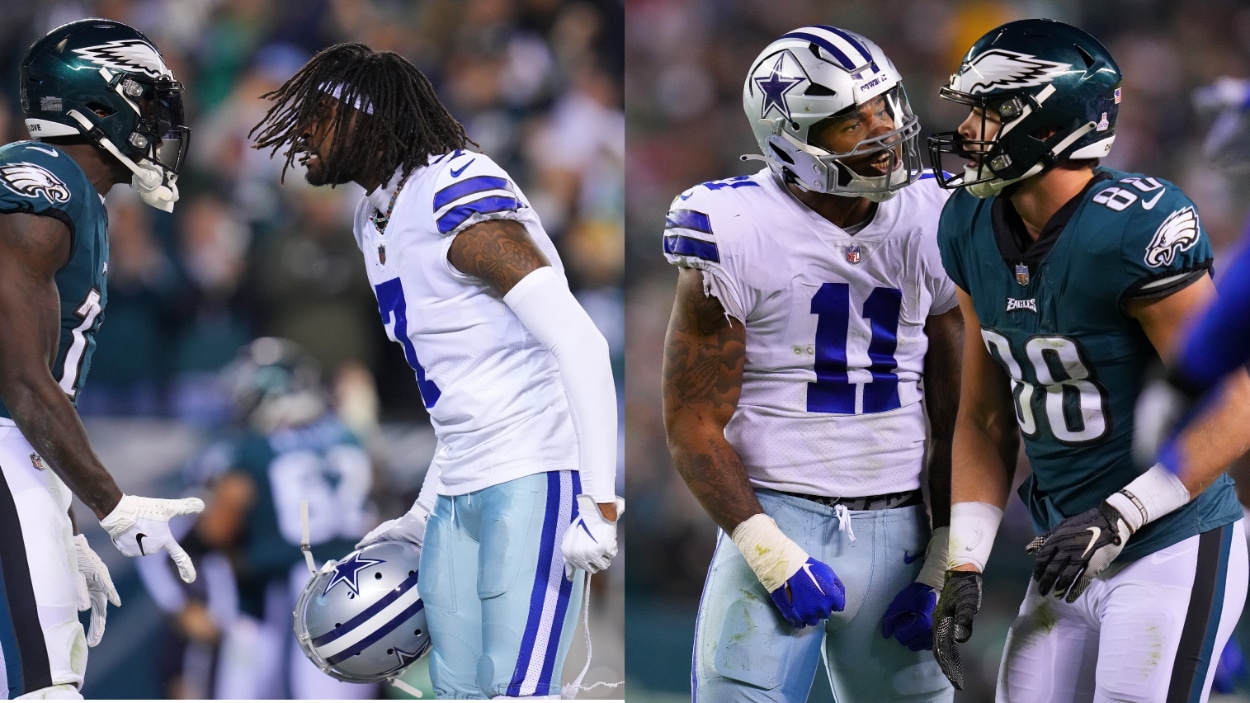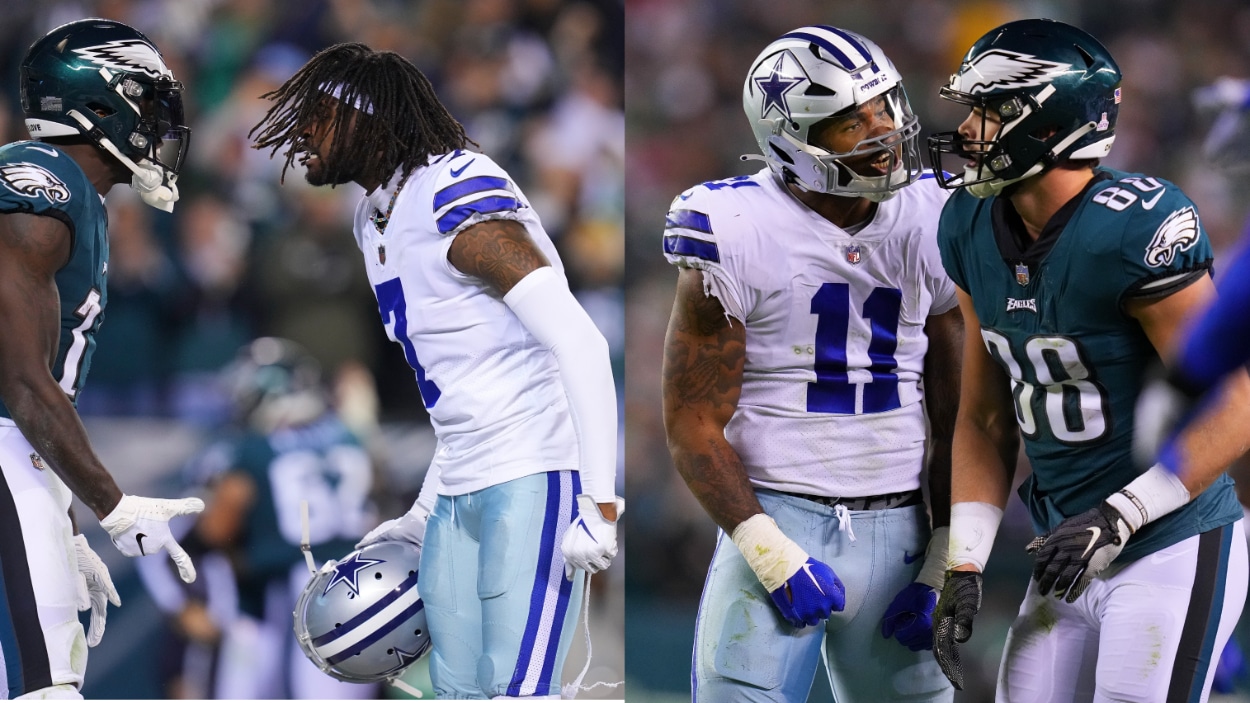 The Dallas Cowboys defense — and its stars Trevon Diggs ad Micah Parsons — will need to keep their cool and return to form in Week 7 against the Detroit Lions.
The Lions are just 1-4, but this is a huge game for Big D. Not only are the Lions coming off their bye, but superstar quarterback Dak Prescott is returning from injury. The QB hasn't played since Week 1 when he fractured his thumb, and in the meantime, backup Cooper Rush has done well, leading Dallas to a 4-1 record in Prescott's absence.
With the highly-paid signal-caller on the sidelines, head coach Mike McCarthy and offensive coordinator Kellen Moore simplified the game plan and have won relying on running, defense, and high-percentage passes.
As Prescott returns, the Cowboys' brain trust needs to stick with that formula. That may be hard, as last season, Moore had Prescott attempt 596 passes last season, the ninth-most in the league.
Prescott's return will be easier (and more conservative) if the Dallas defense, led by Parsons and Diggs, can shut down the Lions and stake the team a lead to help ease their QB back into the NFL fold.
Have thoughts on this topic? Keep the conversation rolling in our comments section below.