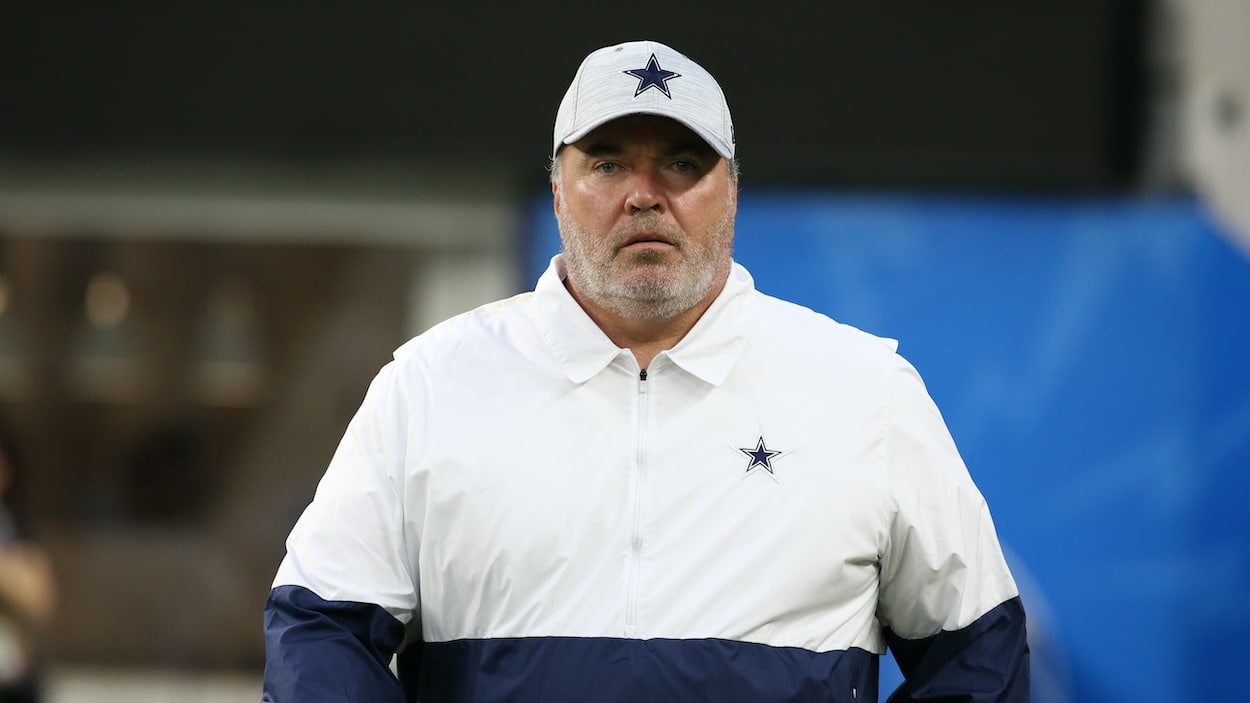 Watch: Mike McCarthy Shocked Cowboys are Underdogs vs. Rams in Week 5
Cowboys coach has a message for the oddsmakers ahead of the Week 5 matchup with the Rams: 'We're nobody's underdog.'
Most NFL coaches are confident in their team's chances each Sunday. Mike McCarthy, the head coach of the Dallas Cowboys, might be more confident than most. Even though the Cowboys have a backup quarterback, on the road, vs. the defending Super Bowl champions, McCarthy broke out laughing when he learned the Los Angeles Rams are a -5.5-point favorite on Sunday. Then, he delivered a strong message to anyone who wants to call his team an "underdog."
Mike McCarthy thinks it's funny the Cowboys are underdogs in Week 5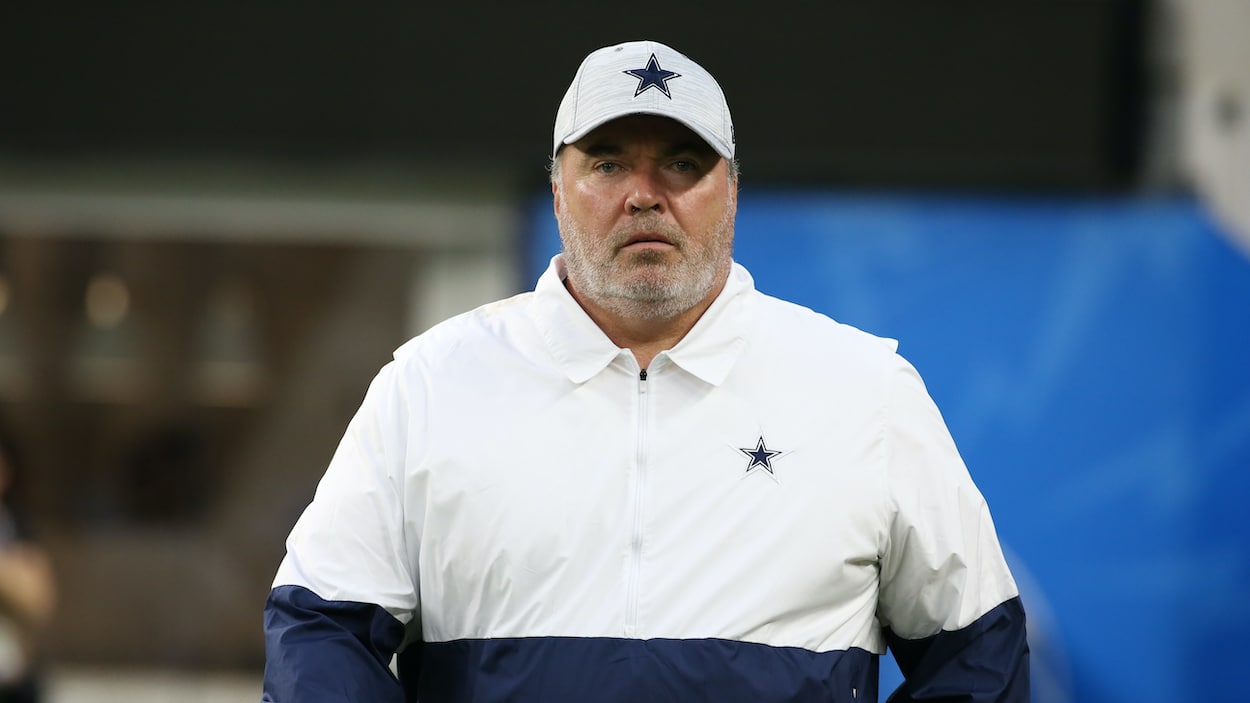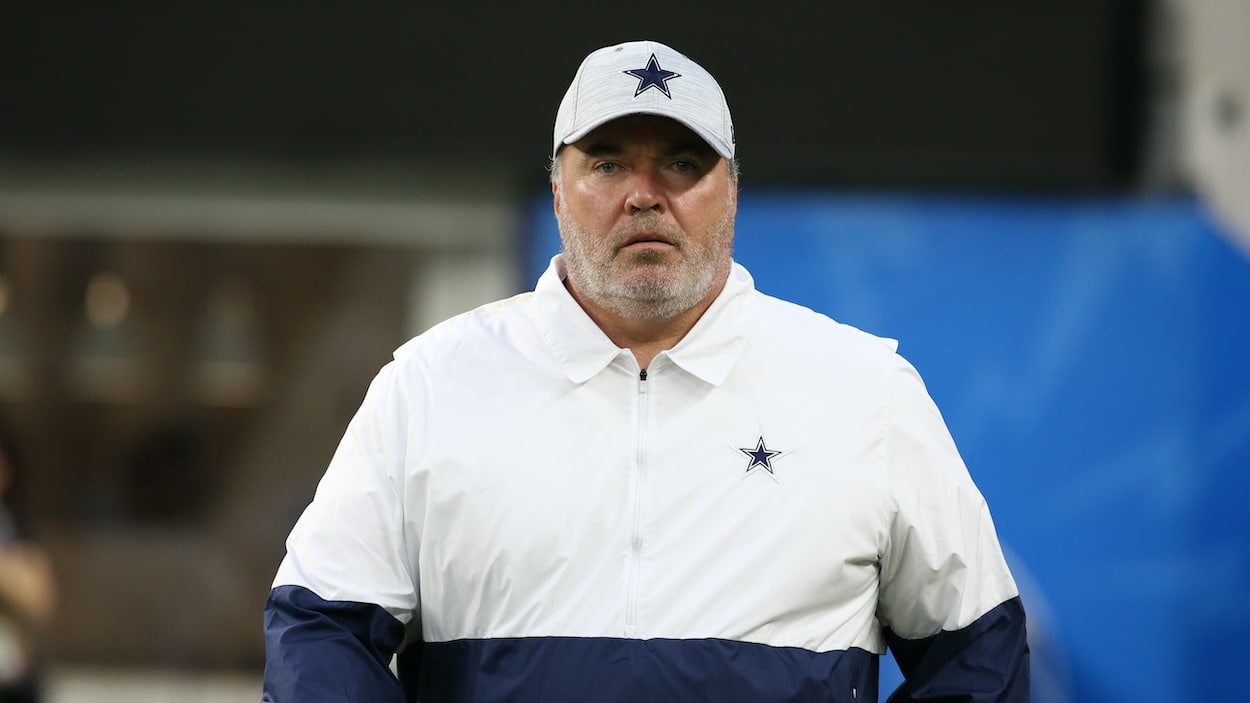 During his daily press conference on Thursday ahead of the Cowboys Week 5 matchup vs. the Rams, a reporter asked Mike McCarthy, "how often do you use the point spread to motivate the team?"
The Super Bowl-winning former Packers coach responded, "I don't know that I ever have," before deciding that maybe he had and asking what the spread was for the game.
The reporter responded, "five and a half." McCarthy then asked, "We're underdogs?" before breaking out in a big smile and laughing.
"Well, good. You just wrote my Saturday night speech. We're good," McCarthy joked. He then added, "I'll just say we're nobody's underdog if you need a quote."
There are several reasons the Cowboys are underdogs in this game vs. the Rams. The team is playing on the road, in LA, and starting Cooper Rush for a still-injured Dak Prescott.
However, they probably shouldn't be.
First, the Rams have almost zero home-field advantage in LA. The team does have more fans in that area of Southern California than their SoFi Stadium-mates, the LA Chargers, but there will likely be as many Cowboys fans in the stands on Sunday as Rams supporters.
Second, Rush has been an excellent fill-in for Prescott. The regular starter and the Cowboys offense looked horrific in a Week 1 loss to the Tampa Bay Buccaneers. Since then, Rush is 3-0 leading the team while throwing for over 200 yards and at least one touchdown each game. He also hasn't thrown an interception yet in 2022.
Finally, the Rams simply aren't as good as last season. The team got rocked by the Buffalo Bills in Week 1 and lost to the division-rival San Francisco 49ers in Week 4. In between, the Rams have a solid win vs. the Arizona Cardinals, but the Week 2, four-point win over the lowly Atlanta Falcons was shaky at best.
Plus, the Rams aren't the same team as last season without Odell Beckham Jr., Robert Woods, Von Miller, Andrew Whitworth, and others. Matthew Stafford isn't the same QB as last year, either. With six interceptions to four touchdowns so far, he looks more like the Detroit Lions' Stafford than a Super Bowl champ.
The Week 5 Cowboys-Rams prediction here is that Dallas and Mike McCarthy not only cover the 5.5 points but win outright.
Like Sportscasting on Facebook. Follow us on Twitter @sportscasting19 and subscribe to our YouTube channel.