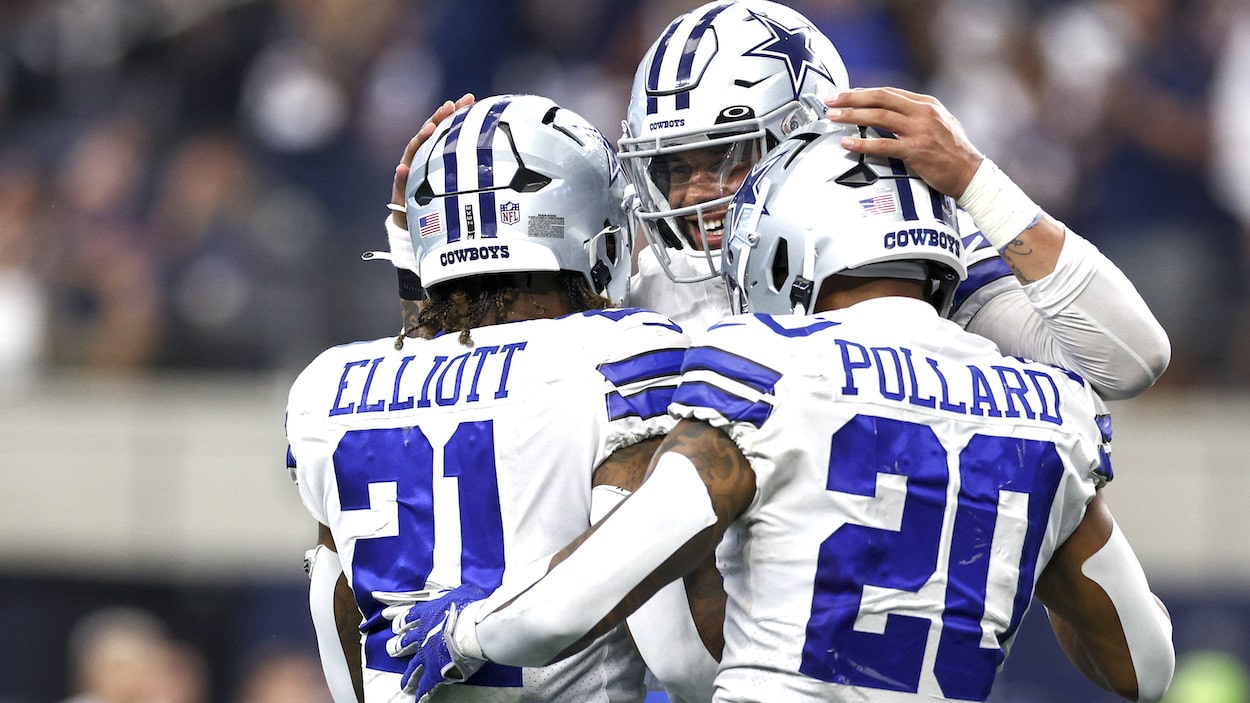 Cowboys: It's Time for Jerry Jones to Admit His $90 Million Mistake
Dallas Cowboys owner needs to admit he made a mistake with Ezekiel Elliott and focus more on keeping Tony Pollard.
Jerry Jones has had an incredible run as owner of the Dallas Cowboys. He's won three Super Bowls, and even though the team hasn't won trophies in recent years, the 80-year-old owner always seems to put competitive teams on the field. If Jones has a biggest weakness over the years, it's his inability to admit he made a mistake. It's why Jason Garrett was the franchise's head coach for 10 seasons.
In 2022, the Cowboys are off to an excellent start. With their Week 8 win over the Chicago Bears, the team is now 6-2 and in line for a playoff berth in the NFC. However, in that win, star running back Ezekiel Elliott sat out, and backup Tony Pollard started the game. The understudy had an incredible performance and made it clear that it's time for Jones to cut ties with his $90 million RB.
Cowboys RB Tony Pollard is better than teammate Ezekiel Elliott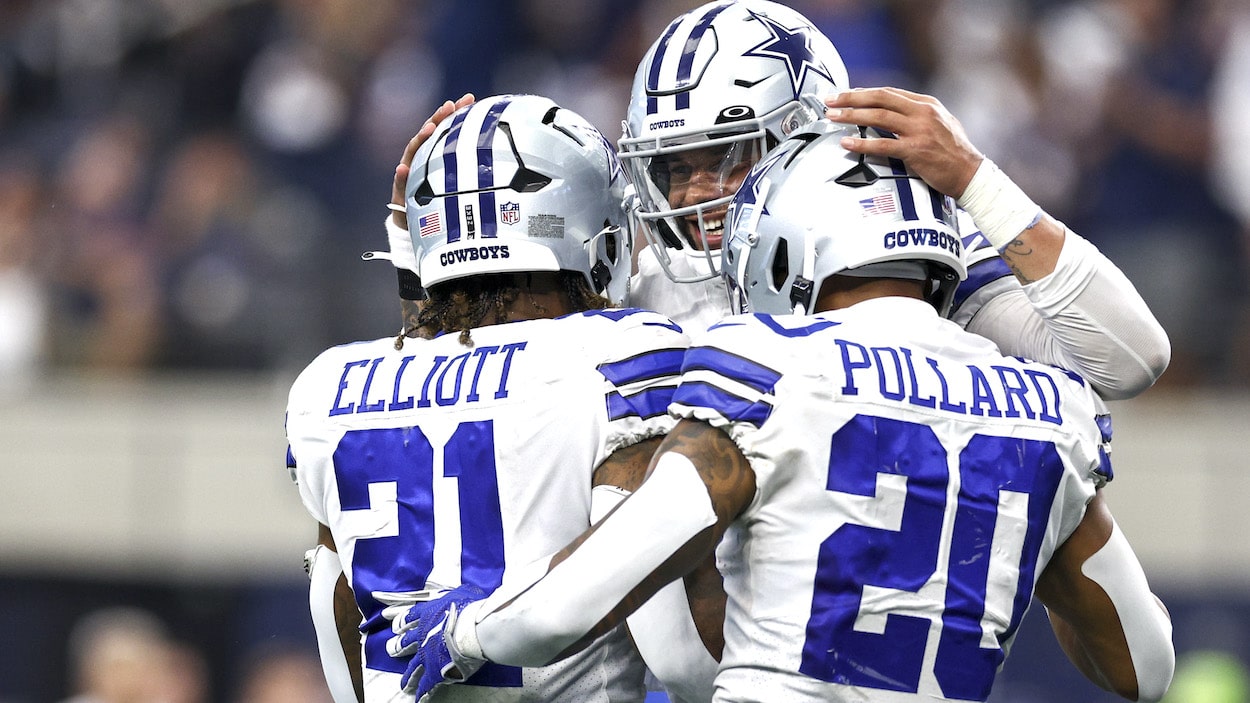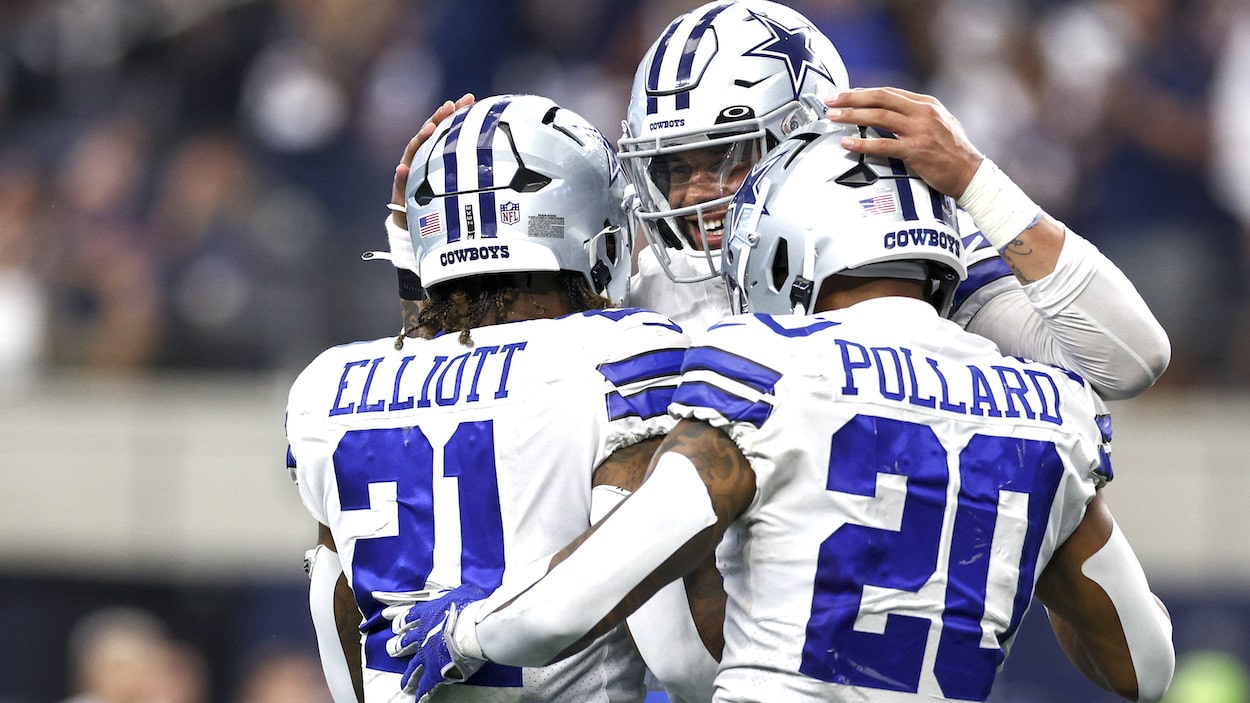 Ezekiel Elliott has been a mistake since the beginning.
That's not to say that he's a bad back. He's a good back. But everything about his tenure in Dallas has been a mistake by Jerry Jones and the Cowboys' brain trust.
The Cowboys drafted Elliott out of Ohio State No. 4 overall in 2016. That was well after smart NFL teams realized that drafting RBs in the top 10 almost never pays off. All-Pros at premium positions like cornerback Jalen Ramsey, tackle Ronnie Staley, defensive end DeForest Buckner, and tackle Jack Conklin went five, six, seven, eight after Elliott.
Elliott won the Offensive Rookie of the Year Award in his debut season, and the team went 13-3. However, they lost their first playoff game to the Green Bay Packers. The following season, the NFL suspended the RB for domestic violence accusations, and the team went 2-2 in his absence.  
In 2019, during his fifth-year option season, Elliott held out for a long-term deal, and Jones caved. He signed the running back to a six-year, $90 million contract with $50 million guaranteed.
In the next two seasons, with Elliott as the leading rusher, the team went 14-18.
During the 2021 season, the Cowboys got back on track, going 12-5. However, at that point, running back Tony Pollard was overtaking Elliott as the most explosive, impactful back. Their stat lines in 2021 were:
Ezekiel Elliott: 237 carries, 1,002 yards, 47 receptions, 287 yards, 12 total touchdowns
Tony Pollard: 130 carries, 719 yards, 39 receptions, 337 yards, two touchdowns
While Elliott's numbers a bigger, Pollard's are much more efficient. He averaged 5.5 yards per carry and 8.7 yards per catch, to Elliott's 4.2 and 6.1.
This year, the stats were stacking up much the same, with Elliott getting the lion's share of the work and Pollard producing better results. Through Week 7, their stat lines looked like this:
Ezekiel Elliott: 109 carries, 443 yards, six receptions, 32 yards, four touchdowns
Tony Pollard: 67 carries, 375 yards, 11 receptions, 105 yards, two touchdowns
The argument from Jerry Jones or another Elliott supporter is that he's the sturdier, more fundamentally sound back. Pollard wouldn't do as well with a Zeke-level workload, and Elliott is the better pass blocker.
In Week 8, that argument fell apart.
With Elliot out injured, Pollard put up a monster game for the Cowboys. The lesser-paid RB had 14 carries for 131 yards, one catch for 16 yards, and scored three TDs. Plus, the Chicago Bears only sacked Dak Prescott once.
It's great to have two backs, and for now, the Cowboys do. However, the touches split should now obviously be 60/40 in favor of Pollard, even though he makes $1.1 million this season to Elliott's $18.2 million.
The biggest problem comes in the offseason when Pollard becomes an unrestricted free agent. He likely won't command the massive deal Elliott did, but Jones and the Cowboys likely can't pay both RBs multimillion-dollar salaries.
Luckily, the Cowboys have an out in Elliott's deal after next season. Cutting the veteran could save around $5 million. That's the smart play. Now let's see if Jerry Jones will admit his $90 million mistake and do what has to be done to keep Pollard.
Have thoughts on this topic? Keep the conversation rolling in our comments section below.