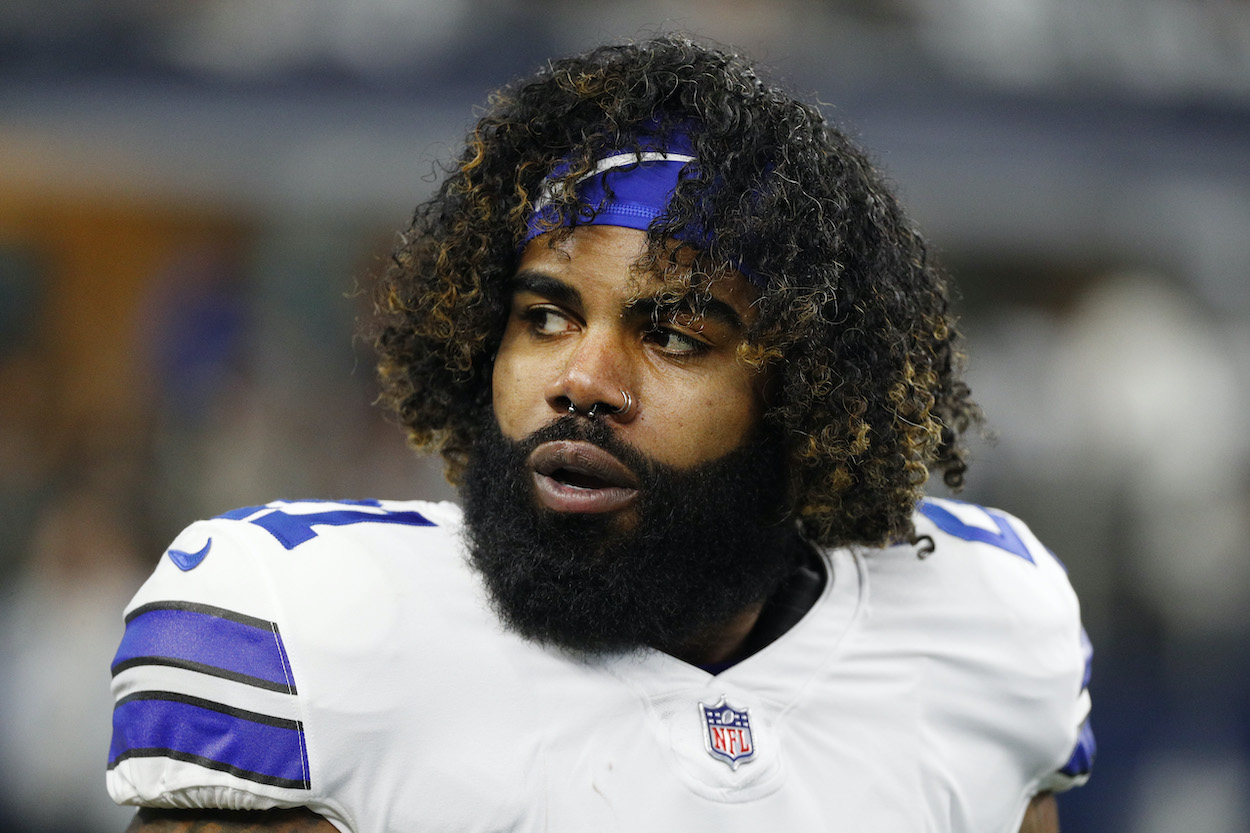 Ezekiel Elliott Contract: Jerry Jones and the Dallas Cowboys Have No Choice but to Keep Their $18 Million Running Back
Ezekiel Elliott' contract is a serious problem for Jerry Jones and the Dallas Cowboys in 2022, but getting rid of him would be even worse.
After several years of offseason questions surrounding quarterback Dak Prescott's contract situation, the Dallas Cowboys finally have that taken care of. Now, attention turns to other players, and running back Ezekiel Elliott's contract — along with his RB1 status — is among the team's primary concerns.
Although the All-Pro RB is making a ton of money and his backup, Tony Pollard, outplayed him at times this season, Jerry Jones and the Cowboys have no choice but to bring Elliott back for 2022.
Ezekiel Elliott's contract basically guaranteed him a roster spot in 2022
The Dallas Cowboys took Ohio State RB Ezekiel Elliott No. 4 overall in the 2017 NFL Draft. That remarkably high pick for a runner paid off immediately. Elliott made the Pro Bowl and All-Pro team as a rookie and, after a suspension-shortened second season, made the Pro Bowl again in year three.
In those first three seasons, he led the league in carries and yards twice and in yards per game in all three campaigns.
Although the team picked up his fifth-year option a season early in 2019, Elliott held out in training camp for a new deal. On the eve of the 2019 season, the Cowboys rewarded their back with a six-year, $90 million extension with $50M guaranteed.
In 2021, Elliott's contract assigned him a reasonable cap hit of $6.8M. However, in 2022, that number jumps to $18.2M.
While that, along with Elliott's up-and-down performance in 2021, may seem like a reason to part ways with the big-money RB, doing so this year wouldn't make fiscal sense for Jerry Jones and the Cowboys.
Elliott's contract has a dead cap number of $30.08M. That means if Dallas were to cut or trade the back, it would cost nearly $12M more on its salary cap in 2022.
That's bad news for any NFL team, but it would be completely devastating for the Cowboys. The team is already an estimated $21M over the cap in 2022 before any offseason moves are made. Only two teams (New Orleans Saints, Green Bay Packers) have a worse cap situation heading into this offseason.
Tony Pollard outplayed Elliott in 2021
Paying a running back almost $20 million in the modern NFL is not a smart idea. The importance of the running game has decreased over the years, and teams have proven you can find capable players at the position late in drafts or even as unsigned free agents.
What's worse for the Dallas Cowboys is that the franchise proved this concept itself in the last few years.
In 2019, right before the Cowboys re-upped Ezekiel Elliott's contract, the team selected Memphis' Tony Pollard in the draft's fourth round (No. 128).
The converted WR has had three solid years in Big D, with 2021 being his best. Pollard had 130 carries for 719 yards and two touchdowns this past year and caught 39 balls for 337 yards. Comparatively, Elliott had 237 carries for 1,002 yards, caught 47 balls for 287 yards, and scored 12 total TDs.
That puts Pollard's yards per carry at 5.5 and yards per catch at 8.6 to Elliott's 4.2 and 6.1, respectively.
Those stats don't tell the whole story. Elliott is one of the best RB pass-blockers in the game, and who knows if Pollard's stats would hold up with a greater workload. However, with Pollard set to make $1.1M next year to Elliott's $18.2M, there is no question who the better value is.
What does the future look like for the Dallas Cowboys at running back?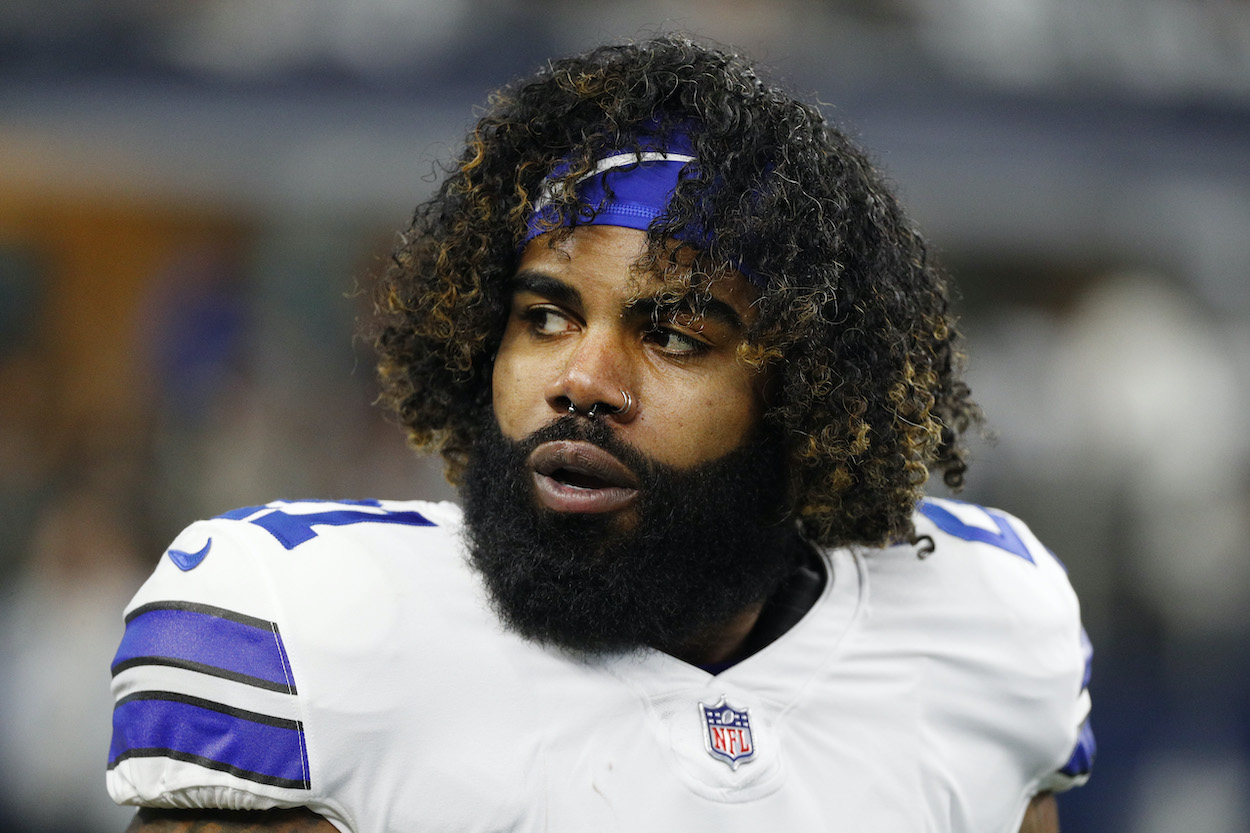 In 2022, the Dallas Cowboys will save about $12 million by keeping their highly-paid RB on the books. That won't be the case forever, though.
Despite having a six-year deal, the Cowboys do have an out in the Ezekiel Elliott contract after the 2022 season. In 2023, Elliott's cap hit will decrease slightly to $16.7M. However, his dead cap number will drop dramatically to $11.8M. That means if Stephen and Jerry Jones cut or trade Elliott next offseason, they'll actually save almost $5M.
Even if this happens — which it should unless Elliott becomes 2012 Adrian Peterson next year — the franchise faces another problem.
After this season, Tony Pollard is no longer a superb value. As of now, he'll also no longer be a Cowboy.
Pollard heads into the 2022 season in the last year of his rookie deal, which means to keep him in 2023 and beyond, Dallas would have to give him an extension or lose him as an unrestricted free agent.
The former WR's versatility and explosion will make him a hot property in the 2023 free-agent market. While he likely won't command the $16M or so Elliott will in 2023, he'll no longer be a value piece.
What the Cowboys do in the 2022 draft could hint at the organization's future plans.
This year, the team has nearly all its own draft picks and could use one of them on the position. If it does, the prediction formula is simple: The higher the pick, the more likely Elliott and maybe even Pollard are gone next offseason.
All stats courtesy of Pro Football Reference and contract figures courtesy of Spotrac