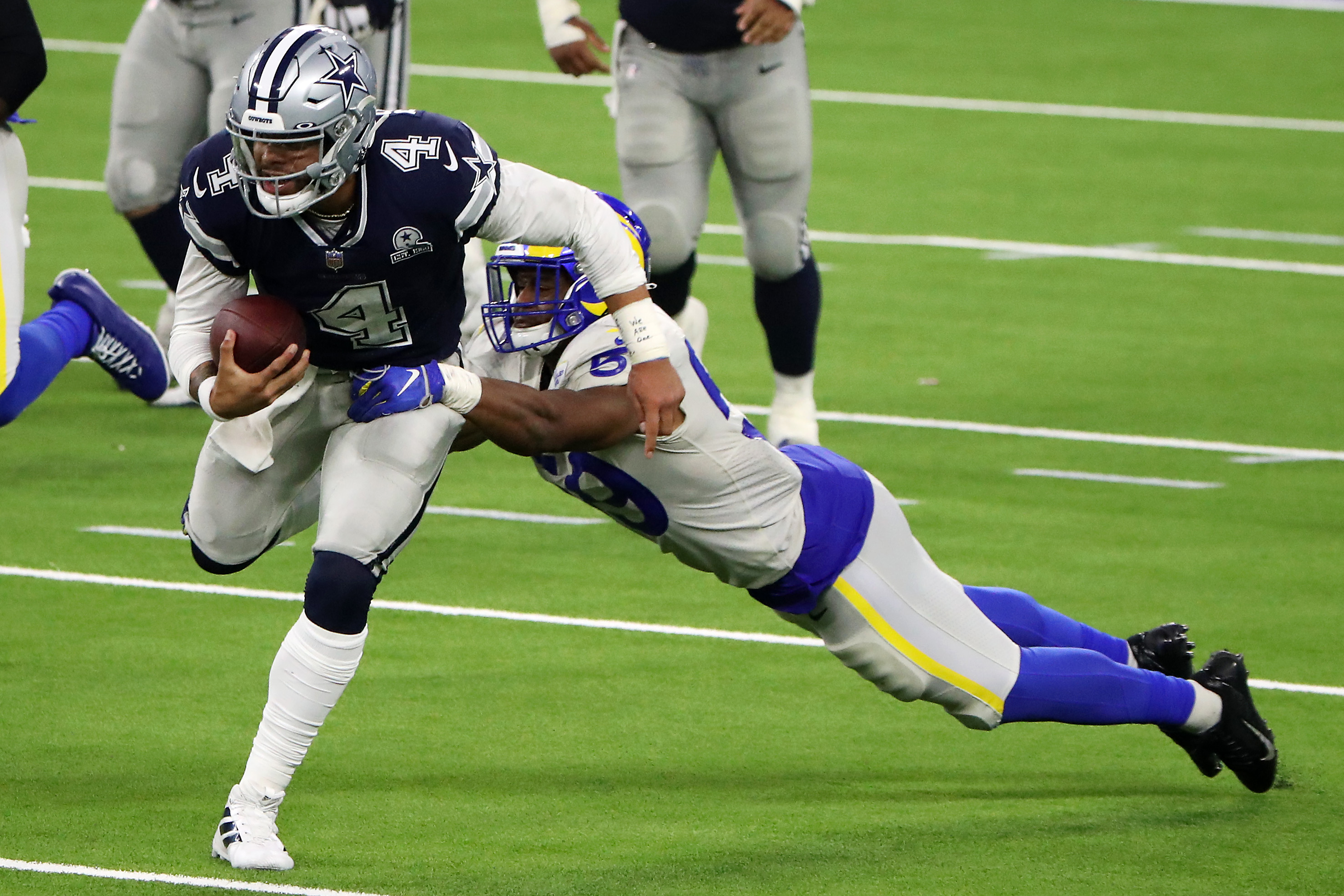 Dak Prescott Expresses What It Means to Play for the Dallas Cowboys
Dallas Cowboys quarterback Dak Prescott explains what it's like to play for the NFL team with the star on its helmet.
Dak Prescott is no longer under the radar. He hasn't been for four years. Ever since he became the starting quarterback for the Dallas Cowboys, things have changed significantly. His life is different both on and off the field. Prescott recently stated what it means to play for the NFL team with the star on its helmet.
Dak Prescott pressed into action
Dak Prescott didn't come into the NFL expecting to be thrown into the fire in his rookie season. He wasn't a first-round pick. He didn't play at one of the biggest football schools in college. Prescott, however, found himself in a tough situation in 2016 and he thrived.
The Dallas Cowboys selected Prescott in the fourth round of the 2016 NFL draft. He had a successful career at Mississippi State, but the Cowboys saw seven other quarterbacks get selected in 2016 before they snagged him with the 135th overall pick.
Backup quarterback Kellen Moore broke his tibia during the early part of training camp in 2016, moving Prescott up the depth chart. Then, during the third preseason game, starting quarterback Tony Romo went down with a significant injury. Prescott was pressed into action and was named the Week 1 starter during his regular season. The rest is history.
Prescott has become an NFL star
Dak Prescott made the most of his opportunity when called upon to become the starting quarterback for the Dallas Cowboys in his rookie year. Prescott played like a veteran, displaying a rare level of confidence and calmness for a player just out of college. He was on the biggest stage and was very comfortable being there.
Prescott guided the Cowboys to a 13-3 record in 2016. He earned Pro-Bowl honors. Prescott threw for 3,667 yards and tossed 23 touchdowns. He had just four interceptions. Veteran quarterback Tony Romo never saw the field again. Prescott started all 16 games that season and has started every game for the Cowboys since.
Prescott made a return trip to the Pro Bowl in 2018. That season, he threw for 3,885 yards and 22 touchdowns. Statistically, Prescott had his best season in 2019. He threw for a career-high 4,902 yards and 30 touchdown passes.
Prescott explains what it's like to play for the Dallas Cowboys
Dak Prescott and the Dallas Cowboys couldn't reach a contract extension this offseason. While Patrick Mahomes and Deshaun Watson signed huge deals, Prescott is still waiting for his. He's constantly asked about his contract situation and many other things. Prescott said that all comes with the territory when you play for the Dallas Cowboys.
"When you play for the Dallas Cowboys, the publicity you get, everybody wants to be in your business," Prescott said in an interview with Graham Bensinger. "Everybody wants to check what you're doing. You live in a glass house. Regardless if it's contract or not, there's always talk. There's always negativity, there's sometimes positivity.
"It allows me to have an amazing platform to be able to reach a lot of people when I want to, to be able to inspire. It's just kinda the way it is. It's annoying a lot of the times." Bensinger asked him what ticks him off the most about all the talk. "The people that don't know me," Prescott said. "It's as simple as that."
Statistics courtesy of Pro Football Reference.