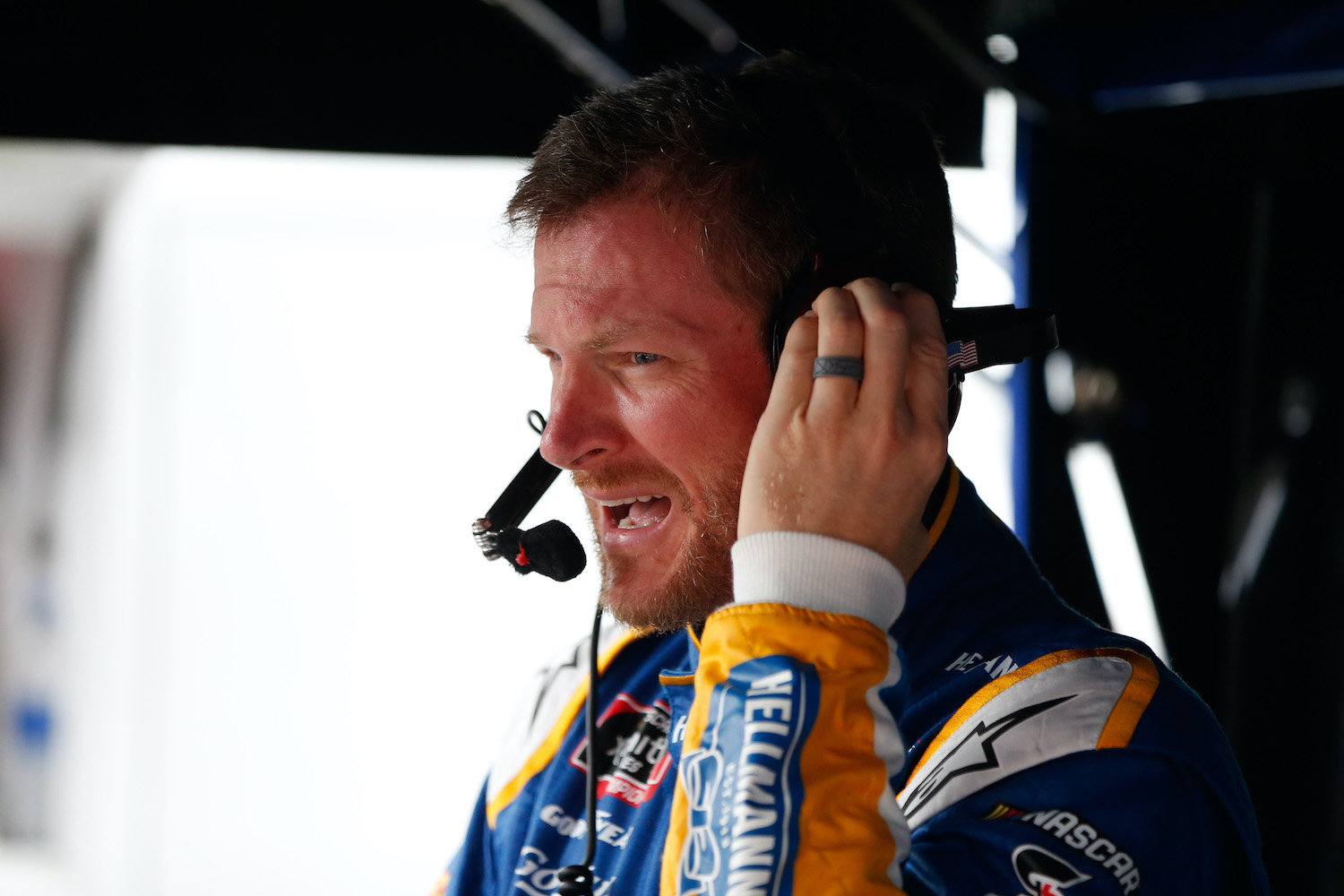 Dale Earnhardt Jr. Admits That He Was 'Not Really' Satisfied With Jimmy Spencer's Response to Questions About His Controversial 2001 Comments
Dale Earnhardt Jr. and Jimmy Spencer finally got to chat about the 2001 Pepsi 400 and, while they managed to close he book, Junior didn't receive the most satisfying response.
As anyone who's ever listened to his podcast can confirm, Dale Earnhardt Jr. isn't afraid to tell it how it is. For better or worse, that reality came to the forefront in the opening minutes of a recent episode of The Dale Jr. Download.
Despite some long-simmering tension with Jimmy Spencer, Junior invited the NASCAR veteran to appear on his show and share his side of the story around a frustrating incident from 2001. While Spencer agreed and did field a question about his infamous comments, Earnhardt Jr. didn't exactly come away from the experience feeling satisfied.
Jimmy Spencer ruined Junior's big day all the way back in 2001
If you're a long-time racing fan, you'll probably remember two events from the 2001 NASCAR campaign. First, Dale Earnhardt Sr. died during the closing laps of that February's Daytona 500. Then, in July, Dale Jr. returned to that iconic track and claimed the checkered flag at the Pepsi 400.
As you might imagine, that win proved to be an emotional experience for everyone involved. At the time, Junior wasn't a world-beater; that victory was only his third Cup Series win, and it came at Daytona mere months after his father's fatal crash. In Jimmy Spencer's mind, things were a bit too good to be true.
"I knew going in that the 8 car was going to win this race," Spencer said after the event, according to NBC Sports. "Something was fictitious, and he was really fast the other night. They were fast down here in February. It's not ironic that the 8 car would win with what happened here in February."
Understandably, Dale Jr. didn't appreciate those comments and didn't forget what Spencer had said. On a 2019 episode of his podcast, for example, Earnhardt still called the remarks "rude as hell," showing that time does not heal all wounds.
Dale Earnhardt Jr. finally gets to ask Jimmy Spencer about those 'frustrating' comments but came away unsatisfied
After nearly 20 years of frustration, Earnhardt Jr. finally got to confront Spencer about those comments. If he was expecting a clean answer, though, the driver-turned-podcast host didn't get what he was after.
Take the 14 minute and 42-second video clip excerpted to Youtube and titled "Dale Jr. and Jimmy Spencer Discuss 'Frustrating' Comments from 2001" as a direct example. Even if you watch the entirety of the discussion, you won't hear the veteran directly explain why he made those few comments. Instead, he told a story from his own past and chatted with Junior about how teams push the envelope when it comes to their cars.
Unsurprisingly, that left some listeners, and Earnhardt himself, feeling less than satisfied.
"Not really," Earnhart explained on the June 22 episode of The Dale Jr. Download, when co-host Mike Davis asked if he was satisfied by Spencer's answer. "I didn't know how much I thought I should deserve, you know what I mean? I felt kind of bad wanting more from him about it. You know what I mean? He did come here, he was gracious, we talked for three hours about all kinds of things, and I could tell he was a little bit uncomfortable about that particular part of the conversation and wasn't really ready to say any more than he said, right? And I don't think he ever will be."
Dale Earnhardt Jr. didn't get a satisfying answer, but he did turn the page on an unpleasant incident
Although he didn't get a direct answer from Spencer, Dale Jr. still came away from their conversation feeling a bit better.
"It bothered me," Earnhardt said during the first episode of the two-part series, when referring to Spencer's initial comments. "But it's good to sit here and talk about it."
It's also worth noting that, while Spencer didn't directly explain why felt compelled to rain on Junior's parade, his anecdotal answer did provide a bit of clarity. The veteran driver shared a story about NASCAR hassling him behind the scenes and, if his statements were to be believed, costing him a clear path to the checkered flag. While that helps piece together the puzzle — if you had a win pulled out from under you, it would be understandable to think the events of the 2001 Pepsi 400 were a bit too coincidental — Spencer didn't connect the dots himself.
That potential explanation, combined with the overall conversation, did help Junior close the book on an unpleasant chapter of his own personal history, though. It might not have been an apology or a black and white response, but Spencer got the job done.
"I don't need any more [explanation]," Earnhardt explained. "The fact that he came on the show, that was enough for me. I'm not angry about it anymore. It doesn't bother me, and it helped me understand him a little bit better, just him as a person. … His perspective of the sport was probably different. Maybe that's why you might make a comment like that, right? Still a silly thing to say, but I guess it kinda made more sense."