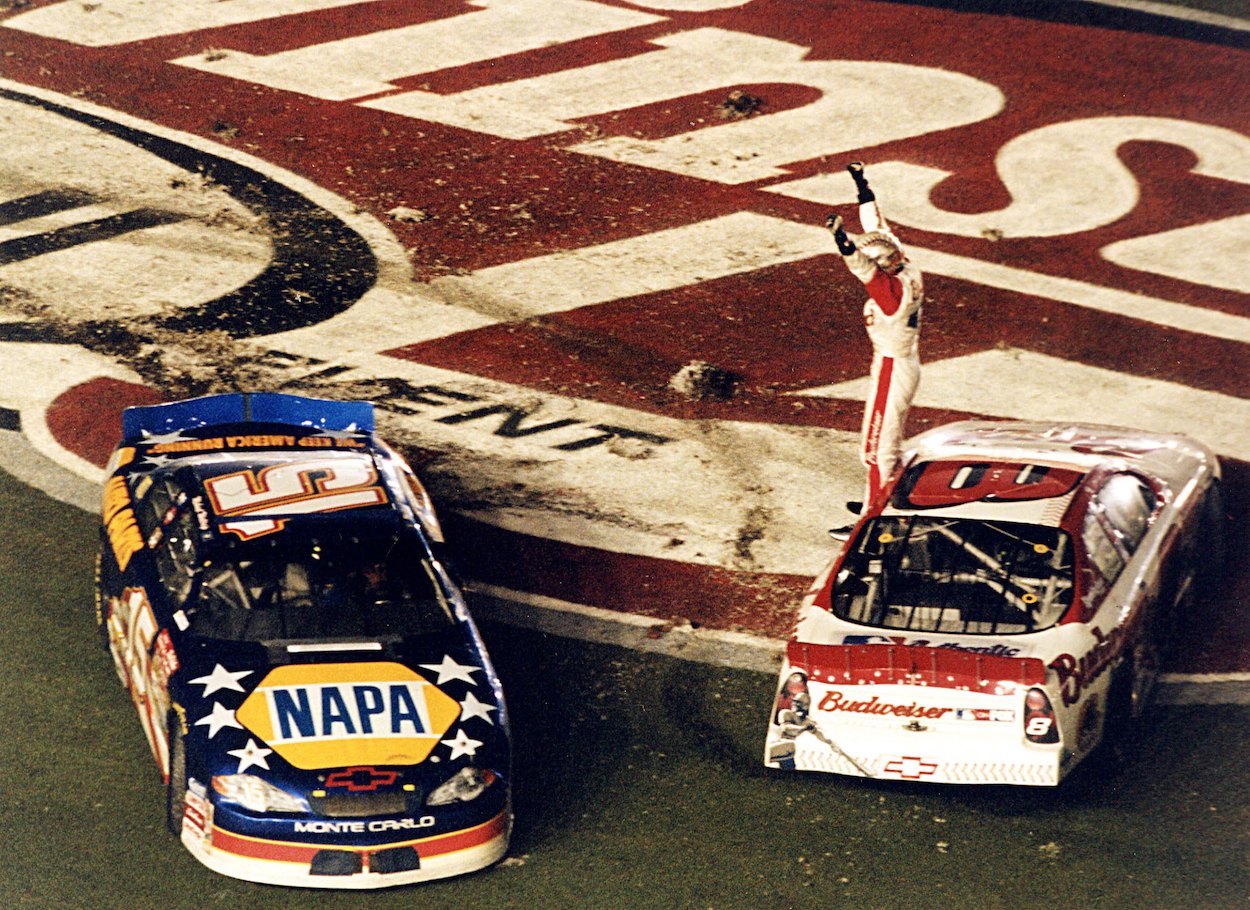 Dale Earnhardt Jr. Delivered 1 of the Greatest and Most Emotional Moments in NASCAR History 20 Years Ago Today
Dale Earnhardt Jr. won at Daytona months after his father's death. It was one of the greatest moments in NASCAR history and it happened 20 years ago today.
Dale Earnhardt Jr. battled hard but finished second behind Michael Waltrip in the 2001 Daytona 500. Directly behind them, Earnhardt's legendary father died in a horrific crash in the final turn of the race. The NASCAR world was understandably shocked by the tragic turn of events.
Five months later, an emotional Earnhardt returned to the same track that took his father's life. He could have let the events on that fateful February day adversely affect him. He did just the opposite. He used it as inspiration and went out and won the race, and in the process provided an incredible moment of healing in one of greatest moments in NASCAR history. 
Dale Earnhardt Jr. finishes second in tragic 2001 Daytona 500
Dale Earnhardt Jr. battled Michael Waltrip to the finish line at the 2001 Daytona 500 and came up just short, finishing a close second. None of it would have been possible without an assist from Dale Earnhardt Sr. 
Senior, who had won his only 500 title just three years before, opted not to challenge for the win. Instead, he opted to fend off any potential threats from other cars and watch his son and Waltrip, who drove for him at Dale Earnhardt Inc., race to the checkered flag. Unfortunately, he never saw the final result.
Sterling Marlin contacted Earnhardt's car, which sent him rocketing up the track into the outside wall. The impact killed him instantly. His sudden death shocked NASCAR and the sports world as a whole.
Dale Earnhardt Jr. provides healing with win at Daytona in one of greatest moments in NASCAR history
Five months later, on July 7, 2001, Earnhardt returned to the scene of the most painful day in his life to race in the Pepsi 400.
The final lap turned out to be eerily similar to the race months earlier. Except this time around, Junior rode out front with Waltrip following close behind. And in what could only be described as a storybook ending, Earnhardt crossed the finish line first for the victory. It was unquestionably one of the highlights of Junior's career and, more significantly, a moment of healing for the racing community.
Now 20 years later, Junior told NASCAR.com what he was feeling when he stood on top of his car, arms raised, celebrating victory with those gathered in the stands and watching on TV.
"We're having this amazing feeling," Earnhardt said. "I can't physically embrace all those people that are up there in the grandstands. But that's as close as I can get. If you have a friend, and they just lost someone they love, and you go see them, the first thing you do is you put your arms around him. In that moment right there, that's what we're all doing."
Jimmy Spencer controversial remarks finally addressed
While Earnhardt was enjoying that fairytale moment with the NASCAR community on that day in July 2001, Jimmy Spencer was back in the garage questioning the legitimacy of it all.   
"I knew going in that the 8 car (Earnhardt) was going to win this race," Spencer told reporters. "Something was fictitious, and he was really fast the other night. They were fast down here in February. It's not ironic that the 8 car would win with what happened here in February."
For the last two decades, Earnhardt has been bothered by Spencer's remarks and publicly admitted as much. However, in the last month, the two finally buried the hatchet on Junior's podcast.  
"I wouldn't have had any problem with anybody questioning the legality of my race car," Earnhardt told Spencer. "I just think it was frustrating because you made it sound like that it was a fix from the top."
"I did say it that way," Spencer admitted.
In the end, the Earnhardt-Spencer meeting provided some sense of closure on the controversy. And it cleared the way for today, the 20th anniversary of one of the greatest days in NASCAR history.