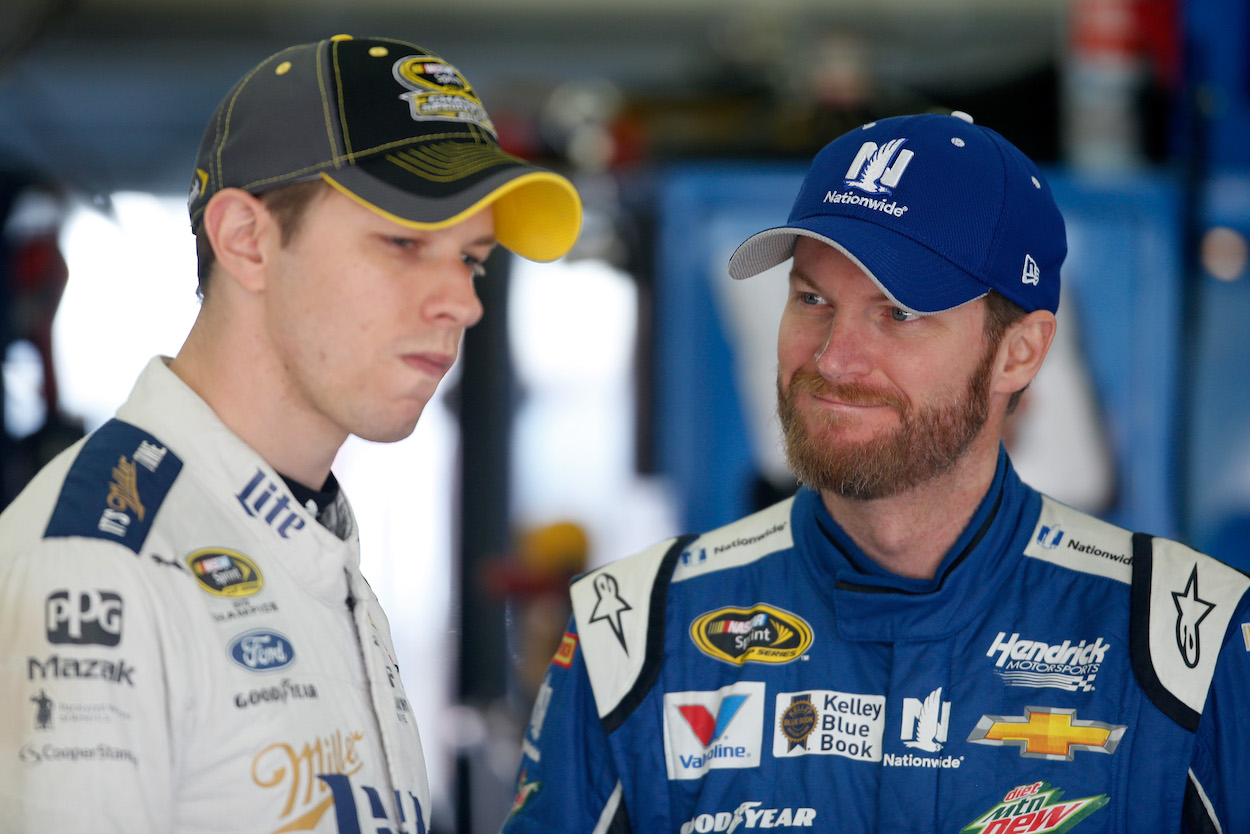 Dale Earnhardt Jr. Doesn't Sugarcoat His Feelings With Brad Keselowski About Threatening Dad's Record Number of Wins at Talladega
Dale Earnhardt Jr. didn't sugarcoat his feelings when he told Brad Keselowski what he thought about him threatening his father's all-time win record at Talladega.
Brad Keselowski raced into elite territory on Sunday with his win at Talladega. He moved into a tie for second with Dale Earnhardt Jr. and Jeff Gordon for the most wins at the superspeedway with six. The only driver with more is Dale Earnhardt Sr. at 10.
During a segment of "Ask Jr." on Earnhardt's latest podcast, he revealed the message he sent to Keselowski after his victory and openly admitted he didn't sugarcoat what he thinks about him threatening his father's record. 
Brad Keselowski wins 6th race at Talladega
Keselowski likes Talladega. He captured his first-ever NASCAR Cup Series win there with a part-time ride in 2008. Interestingly, that was the beginning of a streak in which Keselowski won at the superspeedway every other year for the next eight years on both the Xfinity Series and Cup Series.
Keselowski ended his unique biannual winning pattern in 2017 when he won in back-to-back seasons at Dega. Coincidentally, that's also when the Penske driver started a drought. Since that race, his highest finish was a 13th-place finish in 2019.  
On Sunday, Keselowski rediscovered the magic. He hung around the front throughout the race and avoided accidents like the one that took out his teammate, Joey Logano. Then, the driver who hadn't led a single lap all race made a last-lap move for the lead and led the only lap that matters.  
Keselowski's win at Talladega moved him into some pretty rarified air, tying him at six with Dale Jr. and Gordon for second all-time. Now, only Dale Sr. is in front of him with 10. 
Dale Earnhardt Sr. and Dale Earnhardt Jr. are top all-time drivers at Talladega
Like Keselowski, Dale Sr. was streaky at Talladega and developed his own unique winning pattern. After winning in back-to-back seasons starting in 1983 and 1984, Earnhardt won twice in 1990 and once in 1991, a routine he would follow en route to his 10 wins.
In 1993, he won twice on both the Cup and Xfinity Series and did so again in 1994. Fast-forward to 1999 and Earnhardt did it again, winning twice before winning for the final time of his career in 2000. 
Dale Jr. followed in his father's footsteps and was incredibly streaky at Talladega, as well. He won for the first time in 2001 and then went on to win four times in the next three years. Like Keselowski, Junior had to overcome a drought of 11 years before he won for the last time in 2015. 
Dale Earnhardt Jr. doesn't hide feelings about Keselowski threatening Dad's record
Dale Jr. watched Keselowski win for the sixth time at Talladega and join him at second on the all-time list. During the latest "Ask Jr." segment of the Dale Jr. Download, he revealed what he said to Keselowski following the win.
"I text Brad after the race and I said you can tie my victories at Talladega and you can even beat them by going and winning next year," Earnhardt said. "But do not tie or beat my dad's 10 victories. Right now, not too much of a threat. But, Brad's got some years left, so he could definitely get up there and get within reach of Dad. I want Dad, any of his records to stand so I'm always pulling for that."
Whether Keselowski is ever able to equal or pass Dale Sr.'s mark of 10 wins remains to be seen. What is certain is there's no doubt who Junior will be pulling for at the end of a race there if Keselowski has a chance at victory. 
Like Sportscasting on Facebook. Follow us on Twitter @sportscasting19.