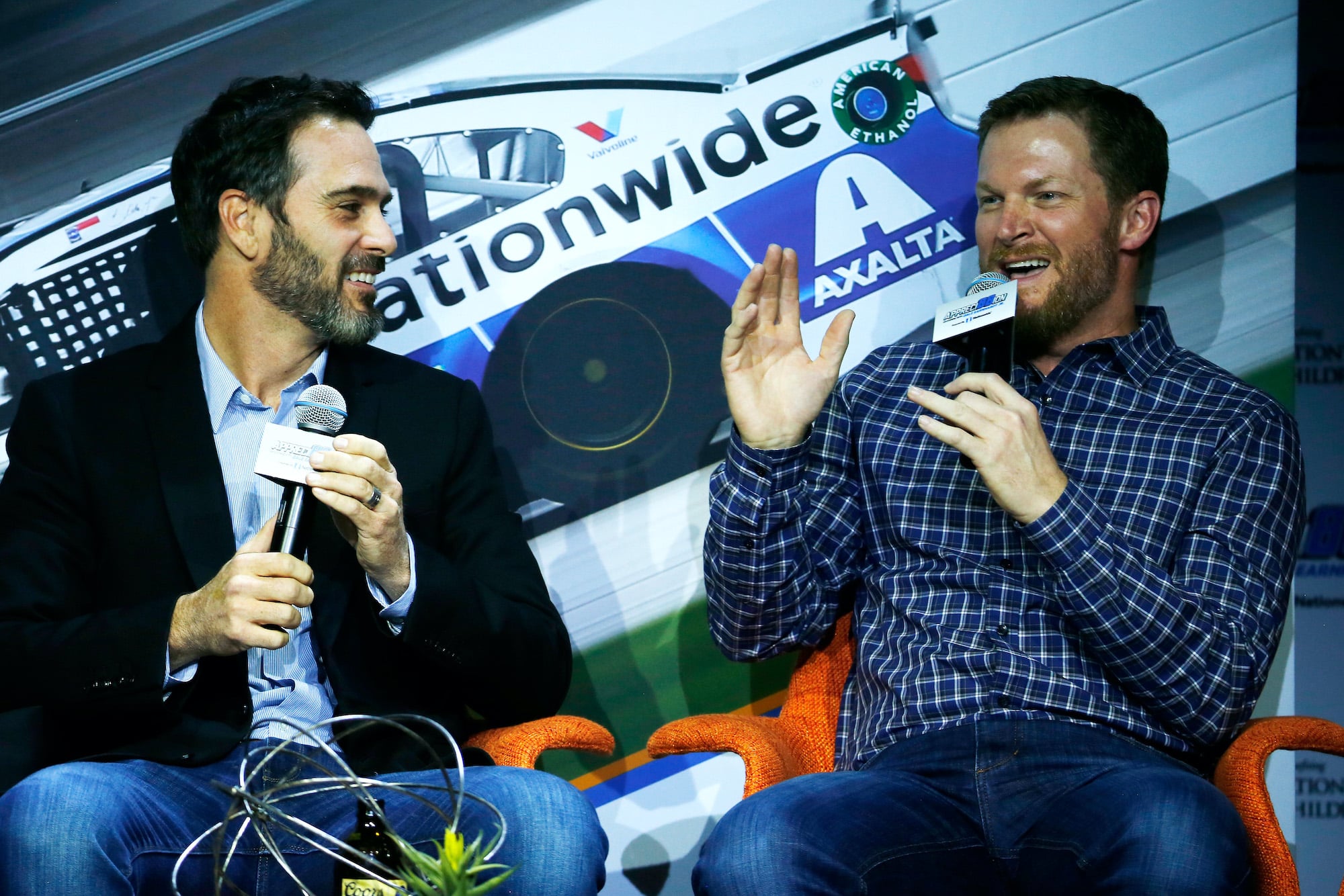 Dale Earnhardt Jr. Expresses Concern Over Jimmie Johnson's Aggression at Indianapolis 500: 'I'm Worried That He's Pushing so Hard That He's Going to Put Himself in a Bad Situation'
Dale Earnhardt Jr. admitted on his podcast that he has concerns that Jimmie Johnson is pushing too hard at Indianapolis and it could end badly.
Jimmie Johnson has had success at The Brickyard before, winning four times in the NASCAR Cup Series. Today, he tries to win the prestigious Indianapolis 500 for the first time. 
The NASCAR community, including the drivers, are all rooting for the seven-time Cup Series champion to do well. Dale Earnhardt Jr. is cheering for his friend and former teammate, but he also hesitatingly admitted this week on his podcast that he has some concern that the 46-year-old is pushing the car too hard to prove himself and that could prove costly. 
Jimmie Johnson has close call in qualifying
Since Jimmie Johnson announced he would make his first run at the Indianapolis 500, NASCAR fans and drivers have looked forward to this day. 
What the future NASCAR Hall of Famer has displayed over the last few weeks is he's not just in it to say he's run the race, but he's there to win it. He's shown that in practice and qualifying, turning some of the fastest laps in Indianapolis Motor Speedway history. 
However, the thrill of such high speeds turned frightening last Sunday when the No. 48 flew into the first turn of his first lap but floated too close to the outside wall. Johnson saved it and avoided contact, but the car darted to the left. The in-car camera revealed him battling with the steering wheel to prevent a vicious crash. 
Dale Earnhardt Jr. expresses concerns about Johnson pushing too hard at Indy
That save by Johnson caught everyone's attention, including former Hendrick Motorsports teammate and friend Dale Earnhardt Jr. This week, Junior got candid about his thoughts on Johnson's run at the Indianapolis 500 and expressed concern for his friend.
"I really have thought about this opinion and whether I should share it or not because Jimmie is the seven-time champion and has a lot of experience," Earnhardt opened. "You wouldn't think there was anyone out there who would have an opinion about his approach. As we watched him over the past couple of weeks, he's had a couple of close calls. And that makes me so nervous that he might be pushing harder than necessary. I know he is so badly wanting to take control and grab this by the horns and show everybody that he can do this. And I think in his passion to prove himself I'm worried that he's pushing too hard because he's had a couple of close calls." 
Dale Earnhardt Jr. saw Johnson's mistakes in Cup Series
Earnhardt said watching Johnson's near-miss during qualifying concerned him and reminded him of a time when his former teammate would make uncommon mistakes. 
"I kind of base my anxiety over this off of what I saw in his career later in the Cup Series. As things got harder or more difficult, it was more difficult for him to find success, and there were some struggles within the teams and the cars; he started making mistakes that were uncharacteristic of Jimmie. Contact with other cars or self-spins and things like that. 
"Leading at Darlington in his final year and spins off of Turn 2 a couple of laps from the end of the stage. One of the best races he was having in that final season. There were just those moments where it was, 'Man, I'm surprised to see Jimmie do that.' And it showed a side of him that when things aren't going the way he expects or the way we expect, he pushes harder and harder and harder. 
"And we see him go over that line time and time again in the road course IndyCar experience over the years. A lot of spins in practice and in the race and all those moments where he's just really having a hard time understanding where the limit is and he keeps going over it for this car and understanding where the grip is. 
"I've watched him. He's got a very fast car. He's absolutely talented enough with a great race car to go out there and place himself anywhere in the top 5 in this race. And I'm worried that he's pushing so hard that he's going to put himself in a bad situation. That thing can't take too many shots to the wall. He got lucky the other day when he hit the wall off of 2 that he didn't break a toe link or anything like that. And that would have been catastrophic, right. It would have turned him back into the wall or the infield one way or another. The IndyCars usually don't take that kind of abuse. I'm just worried. I'd like Jimmie to maybe dial it back a little bit and just try to be a little more conservative."
Jimmie Johnson, like any driver, takes risks when he straps in the car. However, unlike most drivers, he's attained a rare level of success doing it his way, pushing the limits. He'll likely do it again Sunday at The Brickyard. Hopefully, it'll result in something positive and prove all of Earnhardt's concerns were unwarranted.
Like Sportscasting on Facebook. Follow us on Twitter @sportscasting19 and subscribe to our YouTube channel.