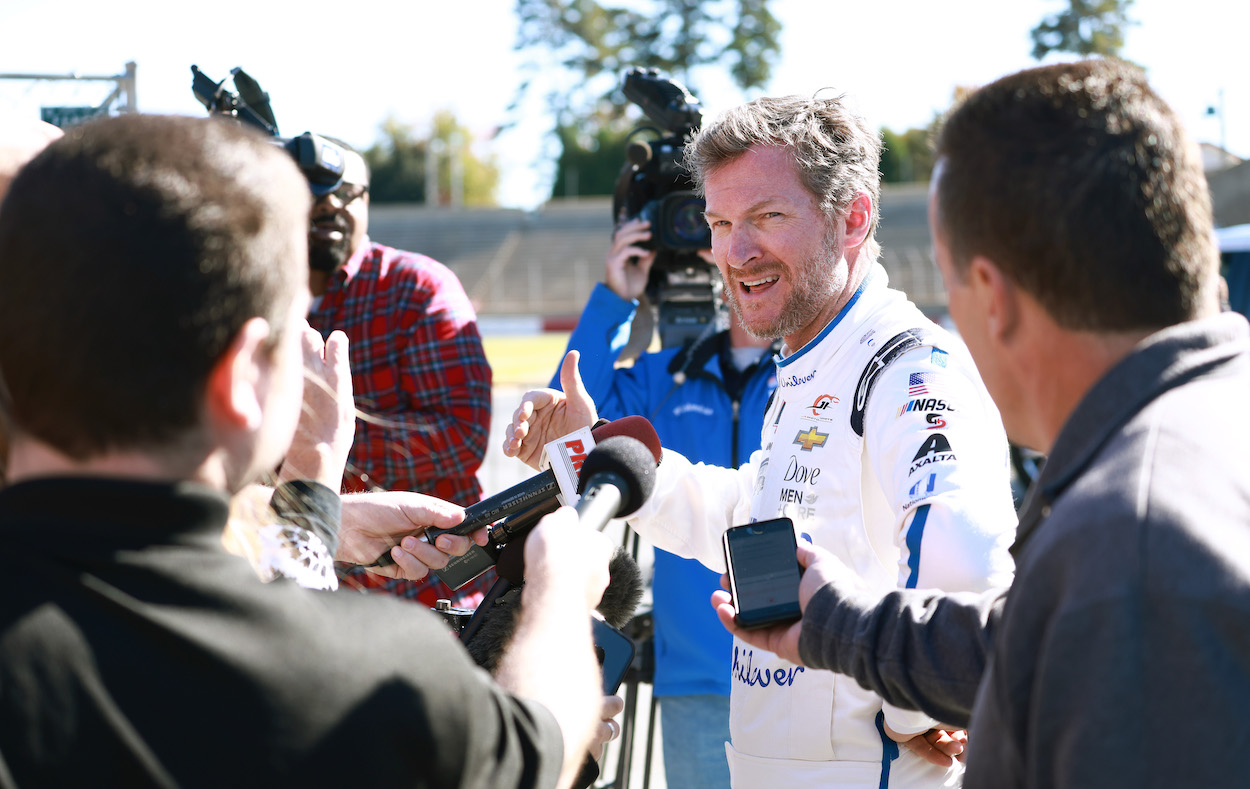 Dale Earnhardt Jr. Mocks NASCAR After Drama-Filled Race at Martinsville for Ignoring His Pleas in the Past to Make a Simple Change That Could Produce Exciting Action on a More Consistent Basis
Dale Earnhardt Jr. mocked NASCAR in his latest podcast episode, talking about how the organization has ignored his pleas in the past and the simple formula that produces exciting drama-filled action like Martinsville.
Like most fans, Dale Earnhardt Jr. watched Sunday's Cup Series race at Martinsville and loved the drama at the end between Alex Bowman and Denny Hamlin. On his podcast, the two-time Daytona 500 winner broke down what happened and was quick to point out how the thrilling racing action and accompanying postrace fireworks were a product of the type of track.
He then proceeded to mock NASCAR officials for ignoring his pleas in the past to implement a single change that could produce this sort of excitement for race fans on a more consistent basis.
Dale Earnhardt Jr. watches drama between Alex Bowman and Denny Hamlin at Martinsville
Dale Earnhardt Jr. watched the closing laps at Martinsville with anticipation as Alex Bowman stayed glued to the rear bumper of Denny Hamlin and the No. 11 car. With seven laps to go, the No. 48 got loose going into the corner and slid up into the side of Hamlin, sending him into the outside wall.
During the "Ask Jr." portion of the latest Dale Jr. Download, the former driver said what happened during that incident is all dependent on who you ask.
"Alex is going to say, 'It's a mistake guy. I messed up. I got loose,'" Earnhardt said. "We see it all the time at that racetrack getting into the corner there. Denny's going to sit here and say, 'I gave you plenty of racetrack. I wanted you to just race me. Why can't you race me without messing up?'"
Immediately after the race, Hamlin confronted Bowman on the track before he started his celebratory burnout. Some pundits like Kyle Petty didn't like the move by the Joe Gibbs Racing driver. Earnhardt said he was OK with it.
"I really didn't have a real big problem with what Denny was doing when it happened," he said. "When it happened, I was like, 'Oh, this is interesting. This is fun.'"
Earnhardt mocks NASCAR for ignoring his pleas in the past to include more short tracks
Earnhardt said that as much as he and the fans enjoyed the drama-filled race, it's not something that he expects to see a lot of in the future simply because the type of racing that consistently produces hurt feelings and conflict is specific to a certain style of racetrack.
"I don't think we'll see that going forward because we don't run at Martinsville every single week. I think that we're only going to see that when we go to these type of racetracks, which is a shame," he said with a laugh. 
"We should add more. Wish somebody would speak up and say we need more short tracks," podcast co-host Mike Davis chimed in, referencing Earnhardt's consistent beating of the drum in the past for NASCAR to add more short tracks to the schedule. 
"Maybe we should," Earnhardt joked. "Maybe we should speak up and say that, I don't know, that short tracks are a good thing."
"If you like the big crowds, I guess," Davis sarcastically suggested. 
"Yeah, if you like people getting excited," Earnhardt continued with more sarcasm. "If you like drama and people talking about racing and NASCAR all week. That would be cool. I'm just kidding. I'm giving them a hard time." 
Vocal after Bristol race that produced Kevin Harvick-Chase Elliott feud
Kevin Harvick. Chase Elliott. The two champion drivers have been in the headlines since mid-September following a late-race incident at Bristol. It's no coincidence that's the last time NASCAR raced on a short track. At the time, Earnhardt made it clear why Bristol and short-track racing are so special in his closing thoughts of the broadcast.  
"This used to be our best-selling ticket. Now we've come to the point to where they think they need to put dirt on top of it to put on a great show," Earnhardt said. "But we're back to being able to show people what this racetrack can do, and it's amazing to me that as much has happened here tonight and in the history of this racetrack, we've never replicated it anywhere else. You just can't. The place is just so unique. I think that's pretty amazing."
Earnhardt is wrong. That type of excitement can be replicated. Martinsville proved it. But his overall philosophy, which he has shouted from the rooftop for years, is spot on.
Short-track tracing produces a lot of beating and banging, hurt feelings, and in the end, drama-filled action for the fans. And that's something NASCAR should try to replicate as often as possible.
Like Sportscasting on Facebook. Follow us on Twitter @sportscasting19.