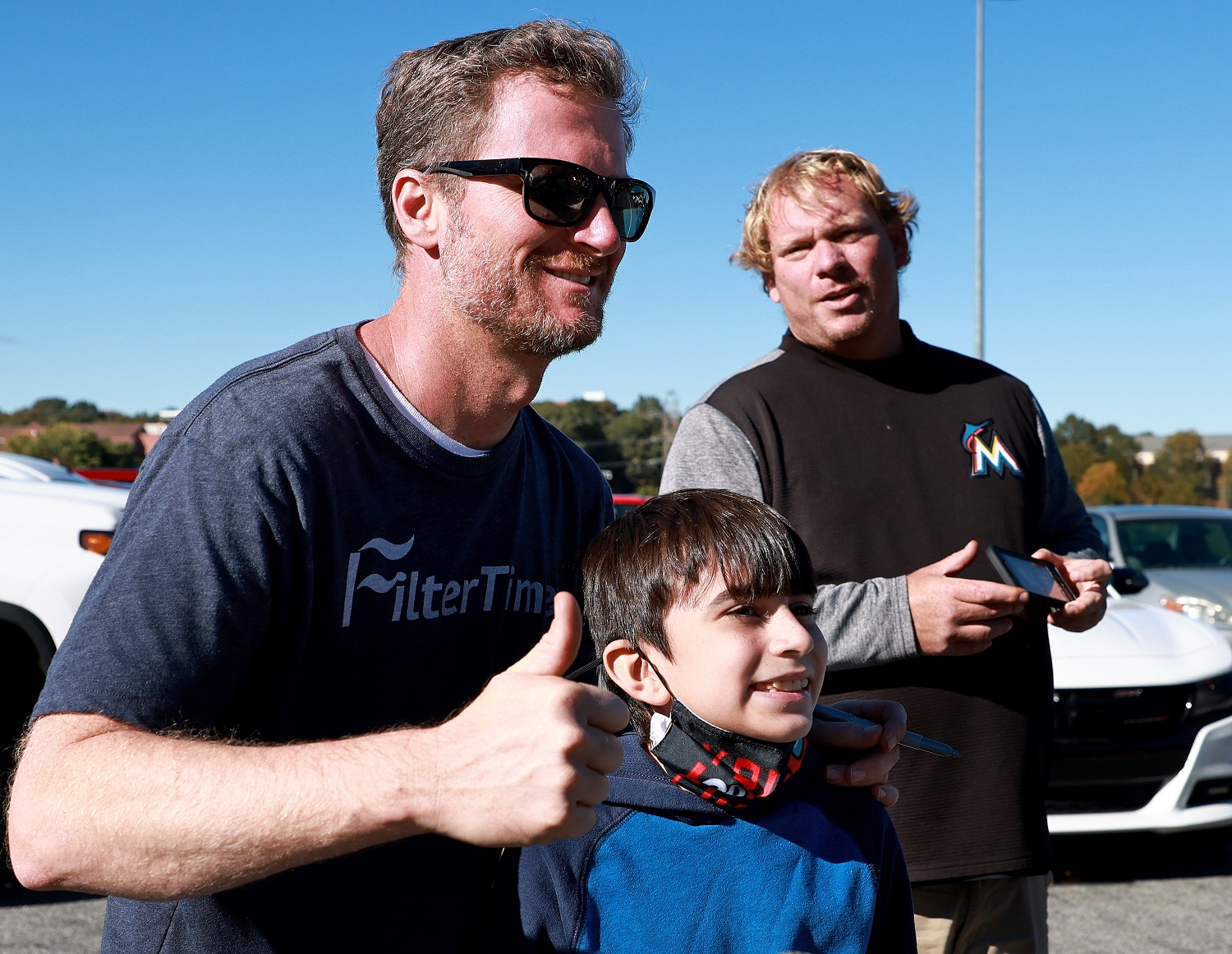 Dale Earnhardt Jr. Fires up Martinsville's NASCAR Fans Ahead of the Big Elimination Showdown
Dale Earnhardt Jr. rates Martinsville Speedway as one of his favorite tracks, prompting him to commit to the April 8, 2022, Xfinity Series race there.
Odd as it sounds since the track hosts three massive showdowns this weekend, NASCAR fans in Martinsville are now looking forward to next April's Xfinity Series race on the half-mile track almost as much. Dale Earnhardt Jr. made sure of that with a revelation on Tuesday.
The eminently popular driver opened a huge week for NASCAR by testing a Next Gen car in Winston-Salem, North Carolina, before teasing fans at Martinsville with his announcement.
NASCAR's upcoming Martinsville weekend is huge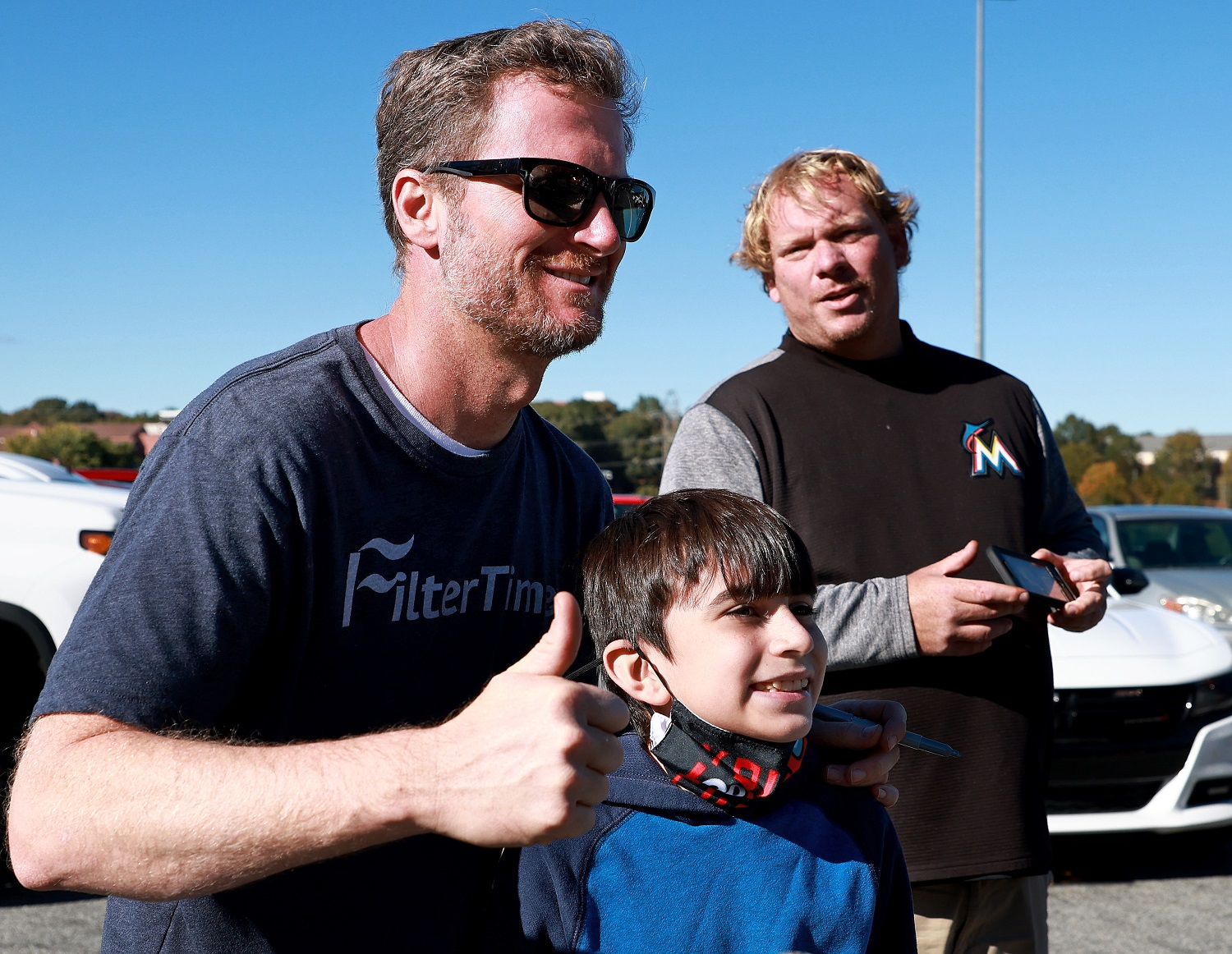 So little about the Championship 4 weekend in Phoenix is settled. Therefore, the upcoming weekend at Martinsville Speedway will be compelling viewing. Filling time before calling the exciting action for NBC, Dale Earnhardt Jr. helped NASCAR shake out Next Gen cars on a quarter-mile track at Bowman Gray Stadium in North Carolina with fellow retired drivers Tony Stewart and Clint Bowyer.
In Sunday's NASCAR Cup Series race featuring Earnhardt's TV analysis, Kyle Larson will be racing for his 10th victory of the season but has already clinched his Championship 4 berth. Chase Elliott and Denny Hamlin are likely in, too, but Martin Truex Jr., three points below the cutline, is a wildcard with three wins in his last four appearances at Martinsville.
In the Xfinity Series, AJ Allmendinger is in, and Austin Cindric has piled up enough points to feel confident. In the Camping World Truck Series, John Hunter Nemechek and Ben Rhodes possess a points advantage, but no one has punched a Phoenix ticket yet.
It adds up to 10 of 12 Championship 4 spots remaining available heading into Martinsville.
Dale Earnhardt Jr. will drive at Martinsville next spring
Dale Earnhardt Jr. retired from the NASCAR Cup Series in 2017, but he makes a tradition of competing in one Xfinity Series race each season. Picking a race is not a simple matter since Earnhardt must coordinate with Unilever and Hellmann's, two longtime sponsors who help make the endeavor possible.
We didn't know until early May that Earnhardt had picked Richmond Raceway for a Sept. 11, 2021, appearance. There will be no such prolonged drama for 2022. Earnhardt revealed Tuesday on his Dale Jr. Download podcast that he intends to race at Martinsville Speedway next April 8.
Martinsville's half-mile oval owned two or three Xfinity Series annual dates from 1982-94 before falling off the schedule. It returned as a playoff venue in 2020 and snared a regular-season date this spring. The 2022 race is on a Friday under the lights.
"I've always loved short-track racing. One of my favorite tracks is Martinsville, and I've been itching to get back there," Earnhardt said in an interview on the NASCAR.com website. "And now that the Xfinity series runs there, it's a great opportunity for me to do some short-track racing."
Earnhardt has never run an Xfinity car at Martinsville, but he did win a Cup Series race there in 2014.
Dale Earnhardt Jr. remains competitive in Xfinity cars
Dale Earnhardt Jr., who turned 47 this month, won 26 NASCAR Cup Series races and 24 more in Xfinity Series cars, twice capturing season championships. He's only been racing once a year since retiring from full-time racing, but he has typically performed well:
Fourth at Richmond in 2018.
Fifth at Darlington in 2019.
Fifth at Homestead in 2020.
14th at Richmond in 2021.
Earnhardt got on the nerves of full-time driver Josh Williams and Kyle Weatherman at the most recent Richmond race, but he loved every minute of the ride, even if finishing outside the top 10 was a disappointment.
"It's a tough series, a lot of great drivers in that series," Earnhardt said. "And I learned hard lessons at Richmond. They kicked my butt. So, I've got to step my game up a little bit when I go to Martinsville, and I'm going to have a lot of fun.
"You know, if I'm racing anybody out there on a racetrack, whether it's for the top five or 15th or 20th, I'm having a good time. I only get to do it once a year, so I really soak it up and enjoy it."
Earnhardt will drive the No. 88 car, but he hasn't released details on the paint scheme, leaving some suspense for the impending offseason.
Like Sportscasting on Facebook. Follow us on Twitter @sportscasting19.