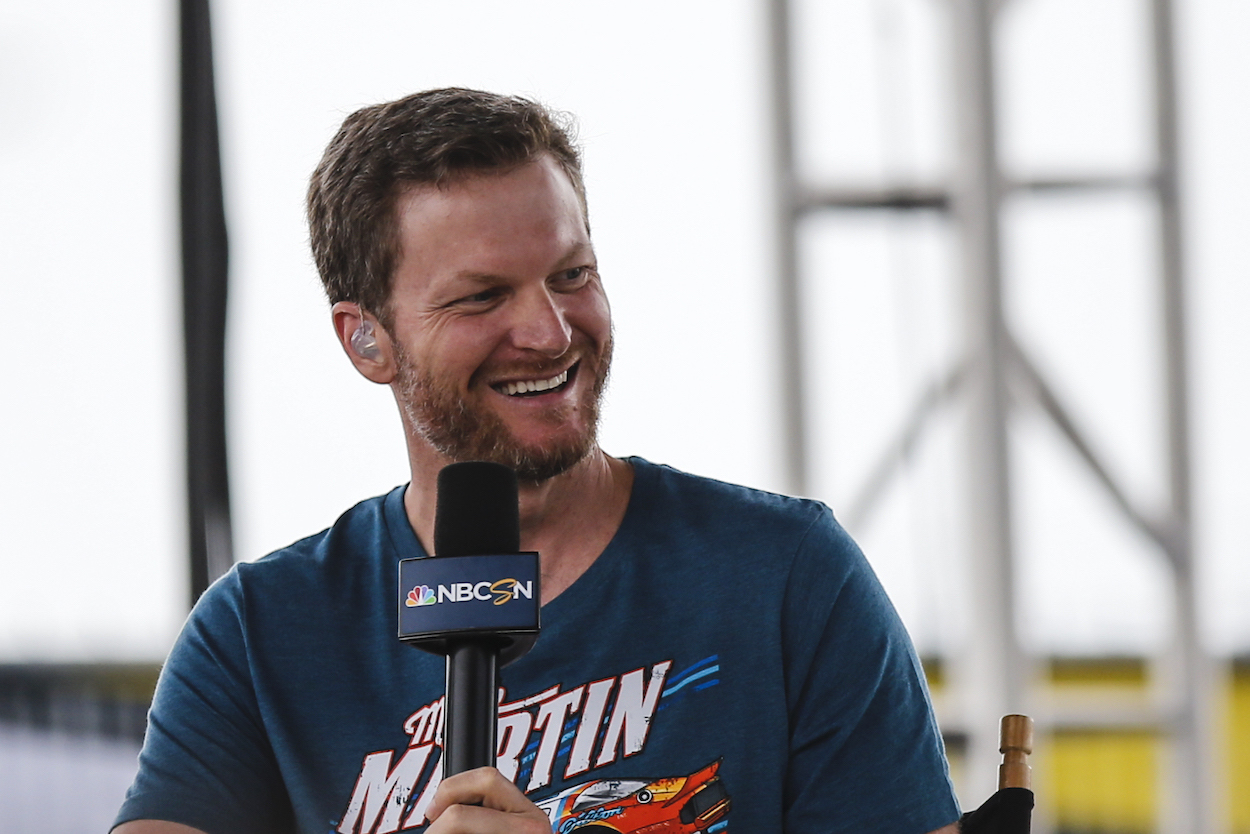 Dale Earnhardt Jr. Surprisingly Admits He Doesn't Want to Work Certain NASCAR Broadcasts in 2022 Due to Potential Conflict of Interest
Dale Earnhardt Jr. surprisingly admitted on the Door Bumper Clear podcast that he doesn't want to work certain NASCAR broadcasts in 2022 out of concern of a potential conflict of interest.
Dale Earnhardt Jr. brings his own unique style when providing commentary during NBC's NASCAR coverage. He conveys the knowledge of a two-time Daytona 500-winner with the passion of a lifelong fan.
It's a safe assumption that Junior would have a seat in the broadcast booth as long as he wants it. This week the 47-year-old appeared on a podcast produced under his Dirty Mo Media umbrella and surprisingly admitted that he asked the network to reduce his race coverage in 2022 due to a conflict of interest.  
Dale Earnhardt Jr. wants to change postrace interview  
This week during an appearance on the Dirty Mo Media Door Bumper Clear podcast, Earnhardt revisited a conversation he spoke about the week before on the winning driver's postrace interview and how it has moved from Victory Lane to the front stretch in recent years. The Hall of Famer prefers the interview in Victory Lane so the drivers can enjoy the moment with their teams. He also acknowledged the reason it has changed is so the networks can move on to the next show.
"When it's on the big network like Fox or NBC, they are in a massive hurry to get off the air and get the next programming back on," Earnhardt said. There's a whole other world out there ready to put their show on. NASCAR is not important to them. They're screaming, when's this coming off the air. Everybody on the TV truck is scrambling, trying to close the show.
"We got to find a way to at least give ourselves that 15-minute to half-hour to do all of this the proper way. Get all the guys interviewed. That drives me nuts when I get off the air and look at my phone and all I see is people complaining because we didn't interview second, third, fourth, or fifth. I'm so frustrated for the fan at home because that's what he's thinking right now. 
"That's unacceptable. Figuring out how to get all that changed to be able to build in that time so that we could have plenty of interviews and get all of this stuff done that needs to be done, that deserves to be done at the end of the race and reprogram the drivers to get them to where we want them to go so they're not dragging their feet, waving their flag or doing whatever it is that they want to do." 
Junior makes surprising announcement about reduced schedule in 2022
Earnhardt has never been one to shy away from sharing his thoughts. And most of the time, he's spot on. Moments after the podcast co-hosts praised him for his honest assessment of the sport, they transitioned into another topic of conversation and put him in the crosshairs regarding his work as a broadcaster during races that features drivers from his JR Motorsports team. The crew talked about a conversation from a few weeks earlier when Brett Griffin said Earnhardt shouldn't work in those races. That's when the Hall of Famer provided a surprising answer.
"I went into meetings today, and I said, 'I don't think I want to do the play-by-play this year.' With four cars out on the race track, anything going, I don't need to be that guy. Something happens like we had — if what happened at Martinsville what happened while I was in the booth, I don't need to be there," Earnhardt said, referring to the postrace conflict between Ty Gibbs and his JRM driver Sam Mayer. "You try to do your best, but you realize, in that moment, someone else needs to standing where I'm at."
Whether or not Earnhardt is absent from the Xfinity Series broadcasts when NBC takes over coverage later in the year remains to be seen. But his request to not work in the races makes even more sense when you consider what he said earlier in the podcast about the Gibbs-Mayer conflict.  
"They do not like each other and their careers are kind of on this collision course," he said. And I'm sure they're going to collide some more before this season is over with." 
And he'd prefer not to be up in the broadcast booth when it happens and say something he might regret. Dale Earnhardt Jr. teaching Self Awareness 101 and yet another reason the fans appreciate him so much.
Like Sportscasting on Facebook. Follow us on Twitter @sportscasting19.