Dale Earnhardt Jr. Candidly Questions Why Clint Bowyer and Others Insist on Making Repeated Comparisons Between Kyle Busch and Dale Sr. 
Dale Earnhardt Jr., like everyone else, has been impressed by Kyle Busch's performance early in the 2023 Cup Series season. With that success has come justifiable praise for the 37-year-old driver. The NASCAR Hall of Famer has heard the comparisons of the driver in his first year at Richard Childress Racing with his father, who made RCR a household name.
This week on his popular podcast, the two-time Daytona 500 winner addressed those comparisons, including Fox's Clint Bowyer's penchant for bringing up the subject, and what he thinks should happen going forward. 
Dale Earnhardt Jr. talks about comparisons between Kyle Busch and Dale Sr.
Kyle Busch winning in just his second outing with Richard Childress Racing is understandably the main topic of discussion in NASCAR circles this week. Dale Earnhardt Jr. spent a good portion of the Dale Jr. Download talking about the subject, including admitting that he was initially apprehensive about the driver making a move to RCR this year and expressing concern on whether it would work out for all parties.
So far, so good. 
During that conversation, podcast co-host Mike Davis broached the topic of how some are already drawing comparisons between Busch and Junior's seven-time champion father. Unsurprisingly, Earnhardt had some thoughts of his own. 
"I think that the comparison ends at they're winners and they're champions but there's really nothing between the two," Earnhardt bluntly pointed out. "And I know both of them pretty well. There's nothing else that reminds me of either one of them. I wonder why — Clint says that every broadcast very emphatically. I kind of wonder what he sees that maybe we don't see."  
"It's not Dale Earnhardt," Davis said. "It's almost like a lazy narrative."
Earnhardt conflicted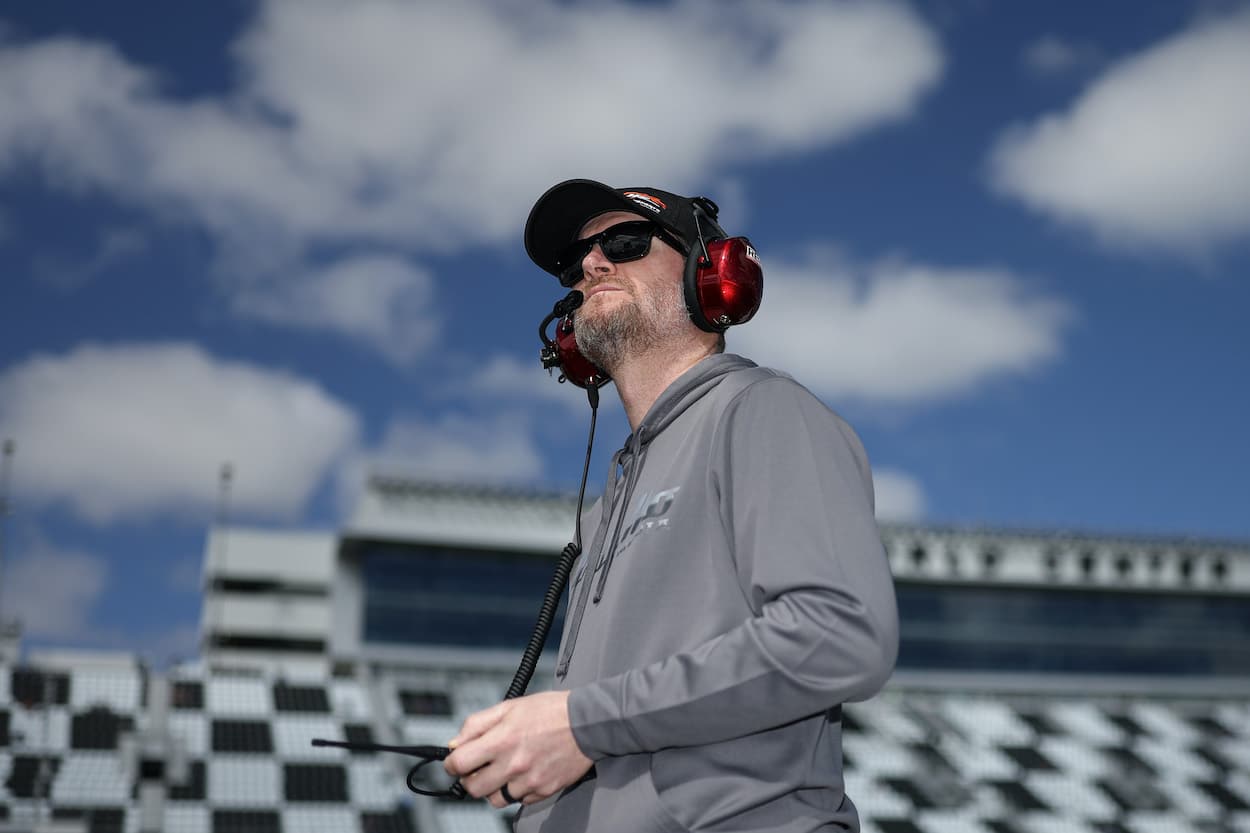 A few minutes later in the discussion, Earnhardt admitted he was conflicted by the comparisons and then offered a logical solution. 
"There's times when we compare drivers to David Pearson, Richard Petty, other greats because of the style," he said. "You can't just say, 'Hey man, you're not allowed to compare anybody to Dale Earnhardt.' I don't know exactly where I land on that because there are times when you know, this guy, he reminds me of David Pearson because the Silver Fox he was kind of always lurking, and then right at the end of the race he was the fastest thing going. Maybe Kyle Busch was like David Pearson this past weekend more than Dale Earnhardt. 
"There's a part of me that likes to hear dad's name mentioned or hear him recognized or people think this guy that reminded me of him, but I think a little more detail — if you're going to say Richard's found his Dale Earnhardt, he's found his winning driver, he's found his champion. Earnhardt made RCR what it was, arguably. This guy can keep it going. He can do for the team the same thing going forward."
Giving appropriate context is a must
Earnhardt is right. Making a statement comparing Busch to Dale Sr. only works if you're talking about the fact that they're winners and champions. But Busch, at least at this point in his career, isn't at the same level as Senior.
If he continues to win, which many expect as he's headed into the prime of his career, then those comparisons will be more justified. Until then, Bowyer and others should provide some context as Junior suggested, and draw direct links between the two instead of making it sound like Busch has already achieved the greatness of Dale Sr., which anyone objectively comparing their achievements would agree has not happened.
At least not yet.