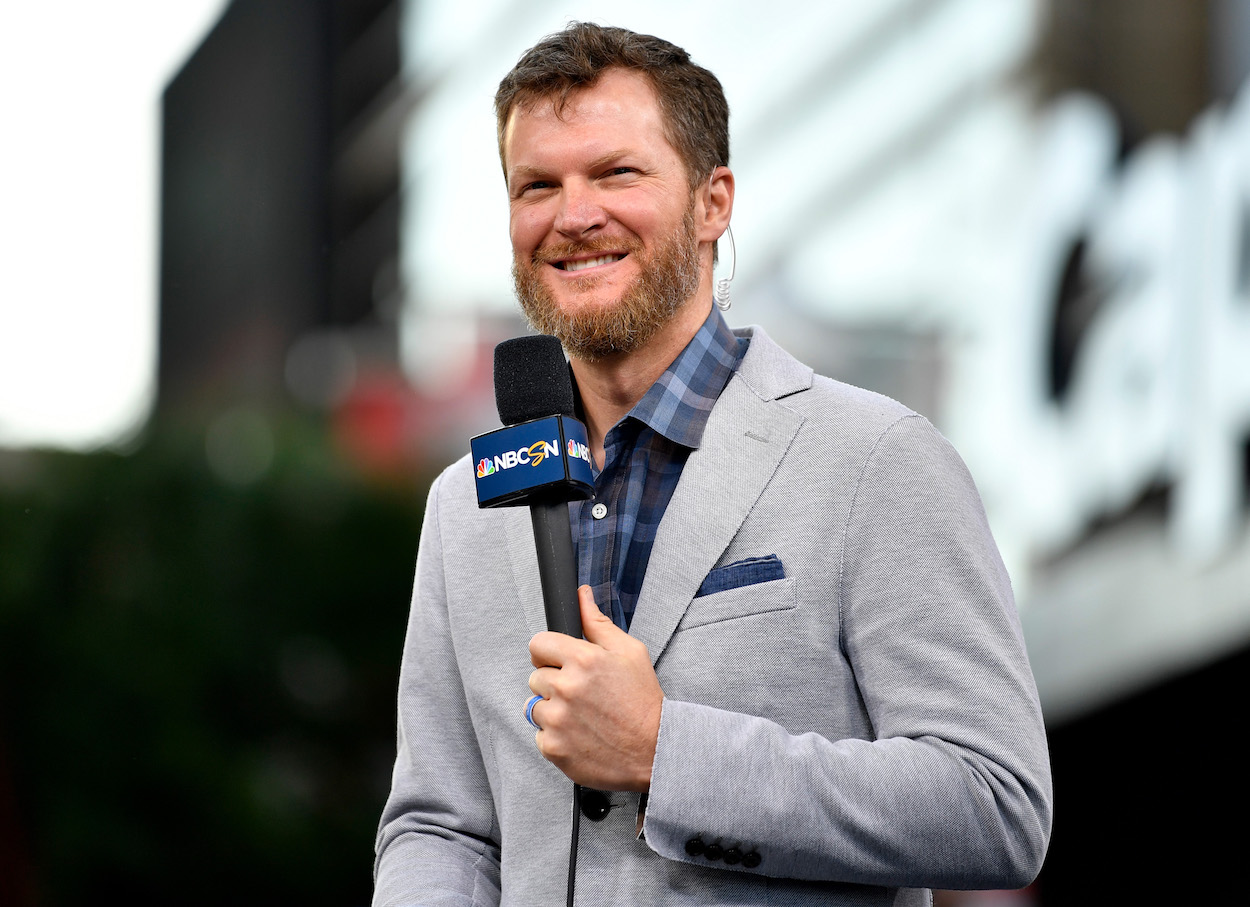 Upset Dale Earnhardt Jr. Stands Up for Fans and Goes on Lengthy Rant About NASCAR Postponing Talladega Race on Sunday: 'I Was Livid'
Dale Earnhardt Jr. went off on a rant on his podcast, standing up for the fans and expressing how unhappy he was that NASCAR postponed Sunday's Talladega race.
Dale Earnhardt Jr. has a special affinity for Talladega. He won there six times in the Cup Series. On Sunday, he was understandably excited to broadcast from the superspeedway where he had so much success in his career. Except it didn't happen. Rain in the area delayed the race until Monday.
On the latest episode of the Dale Jr. Download, a frustrated Earnhardt went off on Sunday's postponement and how the delay robbed a huge portion of the fans in attendance from seeing the race. Junior said it was a bad deal for NASCAR and its fans and offered a reasonable solution on how to fix it going forward. 
NASCAR postpones Talladega race
Like the tens of thousands of fans gathered in the grandstands and on top of their campers, Dale Earnhardt Jr. was looking forward to the playoff race at Talladega. There were plenty of storylines, including the ongoing feud between Kevin Harvick and Chase Elliott, numerous drivers fighting for their playoff lives, and the always-anticipated big one. 
Unfortunately, there was another huge storyline — Mother Nature. Forecasters all week had predicted rain on Sunday. The Truck and Xfinity Series got in their races on Saturday — albeit a shortened Xfinity race due to darkness — but the Cup Series was always under the threat of rain.
After hours of buildup on Sunday, including the completion of all the prerace ceremonies and drivers making pace laps, NASCAR made the call. The race was rescheduled for Monday.
Dale Earnhardt Jr. goes on rant about decision
Up in the NBC broadcast booth, Dale Earnhardt Jr. watched as the disappointed fans left the grandstands. He was not happy with the decision and said as much during the latest episode of the Dale Jr. Download.
"The race is on NBC, the big network on Sunday. Massive audience watching our race," Earnhardt said. "We had the grandstands packed full of people. Slammed. The place was insane. Campers were everywhere. It was a great crowd. And NASCAR called the race on Sunday. I was livid. You're standing in that booth. It's not raining."
Earnhardt then explained why NASCAR made that call, but it still didn't make him happy. 
"Evidently the idea is if they can't finish the entire race, can't guarantee a ticket buyer sitting in the grandstands, if they can't guarantee them that they can finish the race in its entirety, they cannot start it," he said. "And that's so frustrating because everyone in the grandstands, they don't know that. That was so frustrating to have to watch all of those people right below us in the booth, and we're looking right down at the grandstands. 80 percent of the crowd left and didn't come back for the next day. Aaah."
Dale Earnhardt Jr. offers a reasonable solution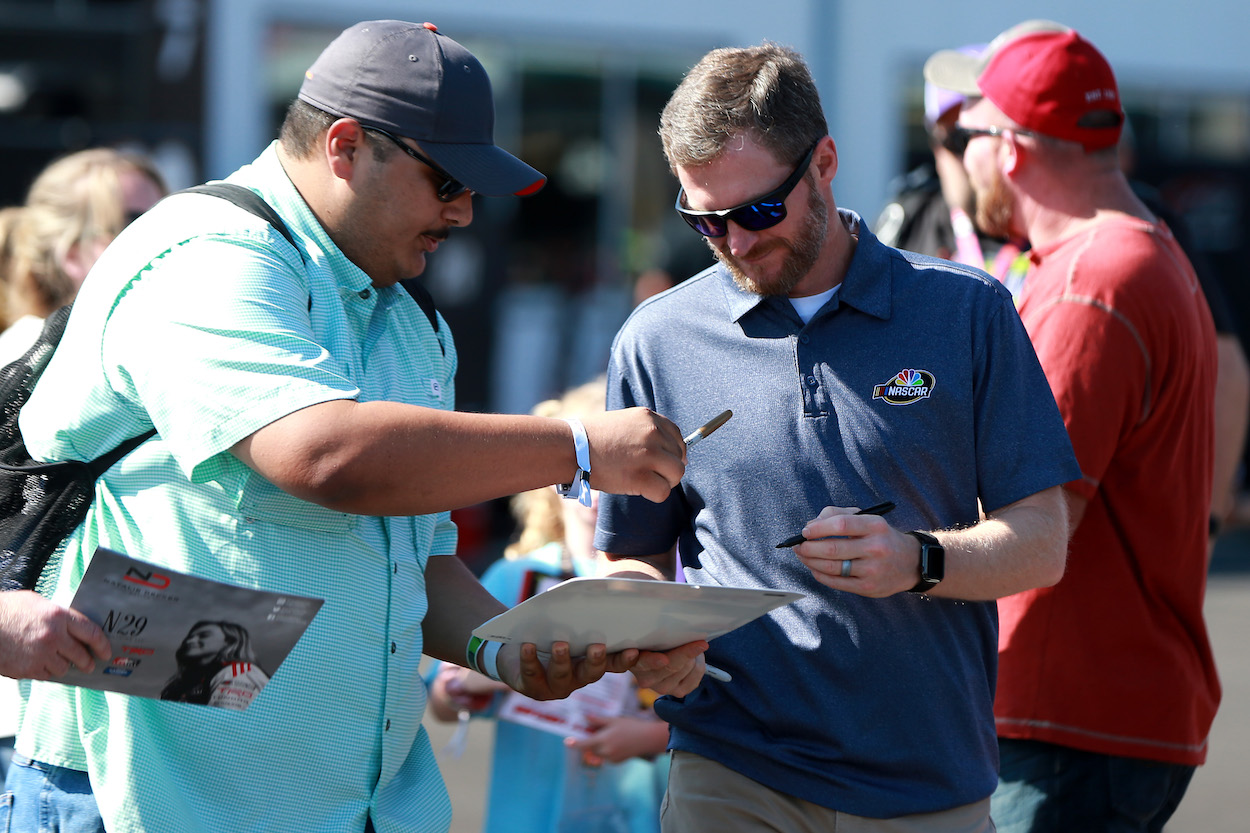 Frustrated by the situation like so many fans, Earnhardt said he thinks there's an opportunity in the future for NASCAR to avoid the same scenario. 
"I think we could make some changes to our protocols, and instead of having to guarantee a ticket buyer that there's going to be an attempt at running an entire race, we should probably be able to guarantee an attempt to run beyond halfway," he said. "We make that official anyways in these rainouts just like we had Monday. If you can do that, you can certainly rewrite the fine print to where we can start that race and at least get beyond halfway. I think fans would have been fine if the race started on Sunday, knowing that we were unlikely to see 188 laps. I think they would have been fine with that."
He said if the race doesn't make it to the halfway point, they come back the next day and finish it, but at least fans who attended on Sunday would get to see some action. 
"If it gets dark, too dark, and we're not halfway, we're going to start them again in the morning and finish this race," Earnhardt suggested. "If it's beyond halfway, and it's too dark, we'll declare a winner, just like we did in the Xfinity race for Brandon Brown."
Discusses whether lights would solve the problem
Earnhardt noted that Sunday's crowd at Talladega was the best crowd he had seen in a couple of years. He admitted what made watching the mass exodus more difficult was knowing NASCAR had just earned back the fans. With what happened on Sunday, now NASCAR will have to do it all over again. In the end, Junior said fans in the grandstands must be the top priority.
When asked about adding lights, he immediately responded from the fans' perspective.
"I don't know how well you would be able to see even with the track lit from a grandstands seat. This place is 2.5 miles," he said. "It's bigger footprint-wise than Daytona. I don't know if I had a grandstands ticket that I would visually be able to see the action as well as I can during afternoon. 
"The only person that matters right now in this whole conversation is the guy that's buying the ticket," Earnhardt said matter-of-factly. "Not the person tuning in. Not the industry. Not the drivers, unfortunately. I know they want to matter. The guy in the camper. The guy on top of the camper. The guy in the grandstands seat, we've got to take care of first. Then everything else falls in behind."
Earnhardt didn't win 15 consecutive most popular driver awards by accident. He knows the fan base and what they want. NASCAR would be wise, at the very least, to consider changing the protocols in the future to avoid a situation like Sunday and, more importantly, to avoid having to earn back fans again.  
Like Sportscasting on Facebook. Follow us on Twitter @sportscasting19.