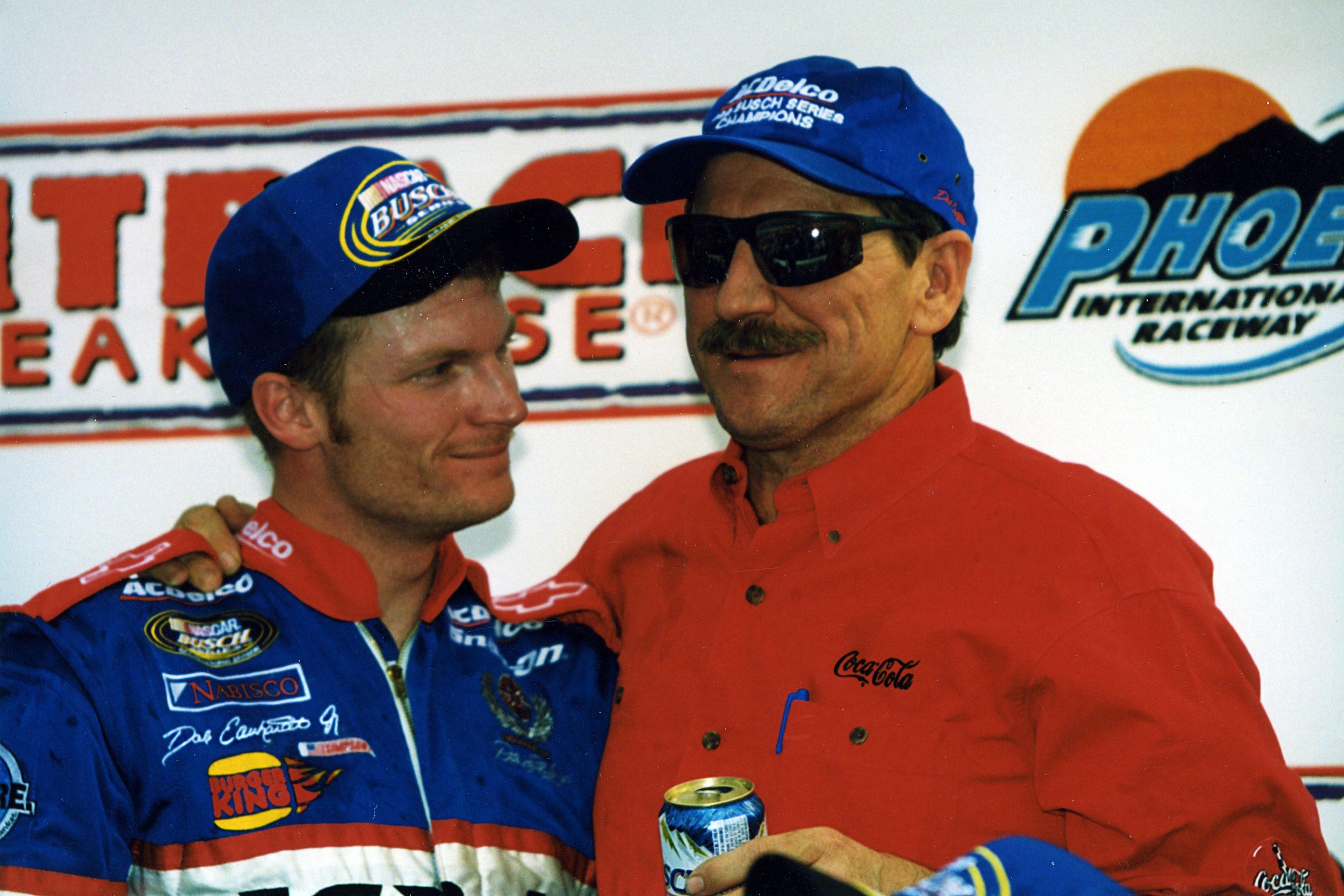 Dale Earnhardt Jr. Said Even a Mid-Race Blown Engine Didn't Stop His Father
Dale Earnhardt Jr. recalled when his father blew an engine mid-race, fixed it, and returned to the track.
On Tuesday, Dale Earnhardt Jr. offered a prime example of why his father, the late Dale Earnhardt Sr., was so dominant in the motorsports world. Without intending to toot his father's horn, Junior did so by answering a simple question on his weekly Dale Jr. Download podcast. The younger Earnhardt showed why The Intimidator was one of the best NASCAR drivers of all time.
Dale Earnhardt Jr. is a NASCAR Hall of Famer but still doesn't compare to his father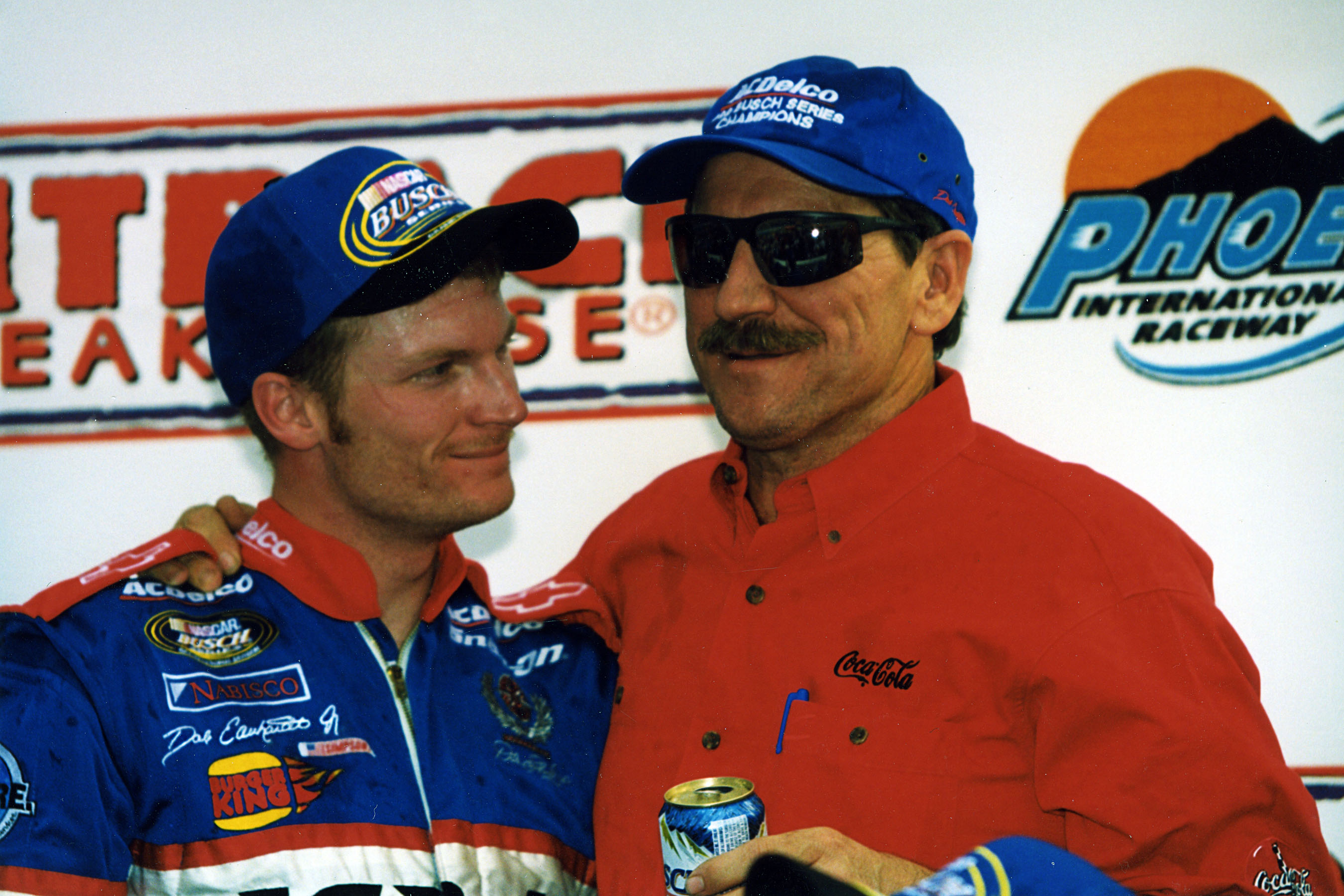 No knock against Earnhardt Jr., but as good as he was, he still didn't compare with his legendary father. Both were superior drivers, but the elder Earnhardt is right up there with the all-time greats. Earnhardt Sr, who was killed on the final lap of the Daytona 500 in 2001, finished his Cup Series career with 76 victories and seven championships.
Those seven titles rank first all-time and put him tied with Jimmie Johnson and Richard Petty. He finished with 428 top-10 finishes in 676 Cup Series races. Earnhardt Sr. was inducted into the NASCAR Hall of Fame in 2010 as a member of the inaugural class.
Earnhardt Jr. will join his father in the Hall as a Class of 2021 member. Statistically, he's not close to his father, finishing his career with 26 Cup Series victories. He did finish with more Daytona 500 victories (2) than his father, who only claimed on in 1998. Junior did capture 15 straight Most Popular Driver awards, cementing himself as one of the all-time fan favorites.
Dale Earnhardt Jr. recently explained how his father was unlike any other
During a Q&A session on Tuesday's edition of his Dale Jr. Download podcast, Earnhardt Jr. was asked if he recalled a specific event regarding his father. He was asked if he remembered his dad dealing with an engine problem during a race and getting out and fixing it himself to make his way back onto the track.
"Charlotte," Junior said as he nodded his head in the affirmative. "Charlotte Motor Speedway. They were in the points battle. I think they might've lost that championship to Rusty (Wallace). They broke an engine in the middle of the 600. Typically, if teams broke motors, they loaded 'em up. If you blow a motor, there's too much damage internally, and it's just going to break again."
That wasn't his father's thinking. He needed to find a way to get back in the race.
"In this particular instance, it was early in the race, and they thought let's fix it," he said. "Let's tear it apart as fast as we can and get back and get it back out there. I think that car got back out there and finished the race. They were able to get it going."
Earnhardt Sr. convinced his son to be like him on the tracks
Earnhardt Jr. always looked up to his father. In many cases, the elder Earnhardt wasn't always there for his son. Earnhardt Sr. was consumed by his racing career and spent much of his time at the race track. The two didn't spend a whole lot of time together until Junior got older.
"I never saw Dad," he told Danica Patrick on her Pretty Intense podcast. "I've got like one or two memories of Dad before I was probably six or so."
The two grew closer as Junior got more involved with racing. He told Patrick about a time when he crashed his Xfinity car in 1997 during a practice run and thought it was all over. "It was the only car I had so we load up and we go home," he told Patrick. "I'm upset and I'm disappointed and I thought my career was over."
His father then took charge, telling him he needed to get that car fixed and move on.
"He was like, 'the guys that are helping you on your car are some friends of mine and they're over there at the shop cutting up your car and fixing it," Junior said. "I was like, 'really?' and he was like, 'yeah, why aren't you over there? If you want to race again, you should be wanting to fix the car you just wrecked.'"
 Earnhardt Sr. proved time and again he never had any quit in him and passed it along to his Hall-of-Fame son.