Dale Earnhardt Jr. Shares Emotional Story on Podcast About Rock Star Dave Grohl's Moving Gesture and Tribute Just Days After Father's Death at Daytona 500
Dale Earnhardt Jr. is a gifted storyteller. During the latest episode of the Dale Jr. Download, he told a doozy when he shared an emotional story about the moving gesture and tribute musician Dave Grohl did just days after Dale Sr. died at the 2001 Daytona 500. 
Dale Earnhardt Jr. sends Dave Grohl Budweiser Gibson guitar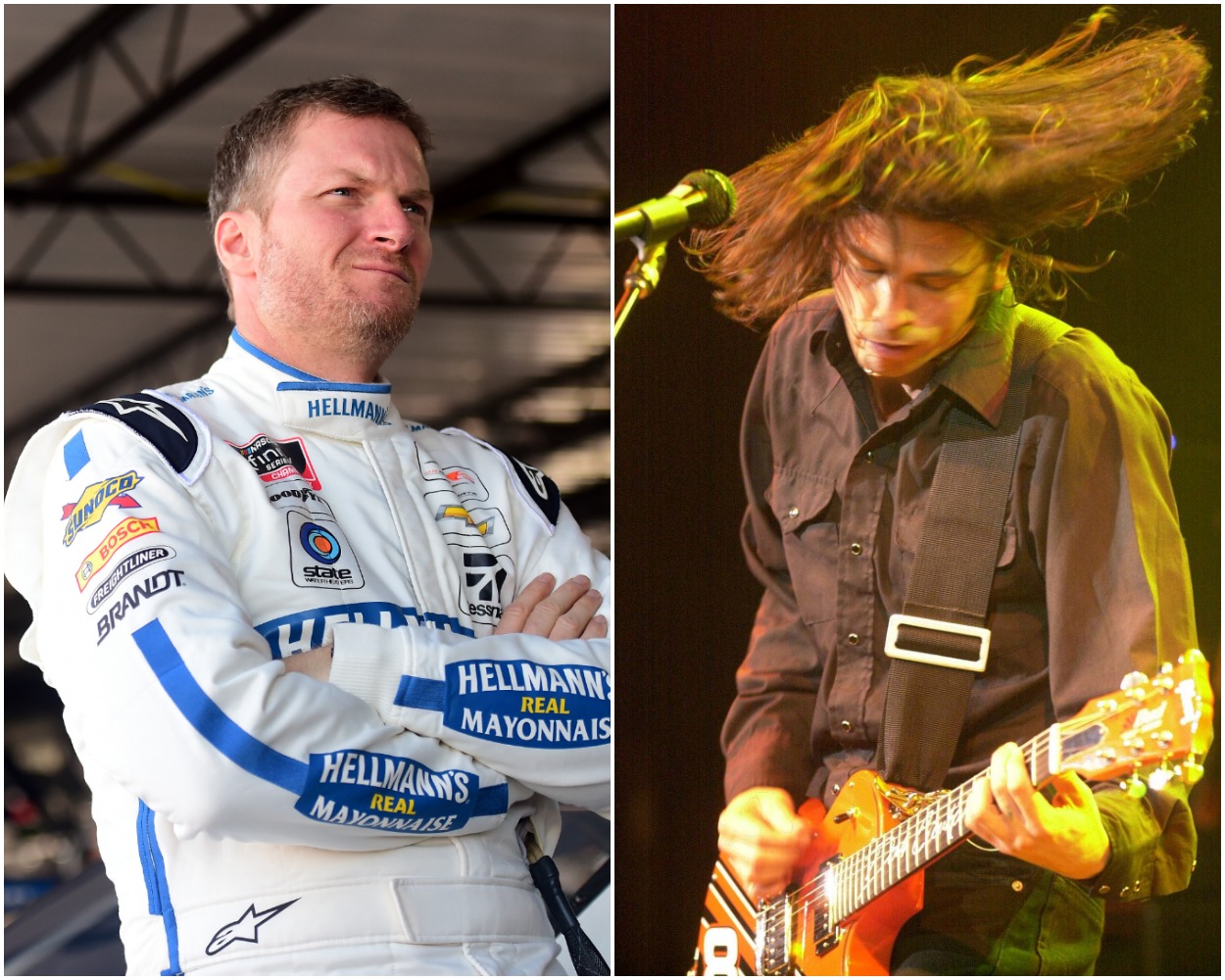 Dale Earnhardt Jr. always loved the drums. His favorite drummer played in his favorite band, Dave Grohl of Nirvana. Earnhardt said before his father died — at some point in 2000 — he concocted what seemed like a wild idea at the time.
"I love Dave Grohl. I love drumming. He's the drummer of my favorite band Nirvana. He'd moved on to the Foo Fighters and created this great band there," Earnhardt said on his podcast. "I just thought the guy was great. I had a guitar that Gibson made with the Bud and all that stuff on it. I wondered if he'd like this. So I had somebody see if they could send it to him. In my mind, it was probably never going to get to him."
Earnhardt said after the Les Paul guitar was sent off, he had no idea if it ever made it to the intended destination. He never heard from Grohl. 
Dale Sr. tragically dies at 2001 Daytona 500
Dale Earnhardt Sr. rolled into the 2001 Daytona 500 looking to add a second trophy from The Great American Race to his collection after winning his elusive first just a few years earlier. Earnhardt was in contention late in the race along with his son, Dale Jr., and teammate Michael Waltrip.
As the race entered the final few laps, Dale Sr. surprised racing fans in the stands and the millions watching on TV when he took a position unlike ever before. Instead of competing for a second Daytona 500 victory, he opted to ride back in third and block the rest of the field, while watching his son and Waltrip battle it out for the prestigious title.
Unfortunately, Earnhardt never saw Waltrip edge out Junior for the win. Sterling Marlin tapped his car, sending it up into the outside wall, where Earnhardt suffered catastrophic injuries. He was pronounced dead a short time later.   
Dale Earnhardt Jr. receives call from Dave Grohl
While Dale Earnhardt Jr. never knew whether or not Dave Grohl ever received the Budweiser guitar he had sent him prior to his dad's death, in the month following the tragedy, he not only learned the musician had received it, but that he played it during a show in honor of his father just days after his death.  
"A couple of weeks or a month later, I found a photo on the internet of him playing it. And apparently he played the guitar at a show the next day or the next few days after dad passed away. He played in LA or he played somewhere on the west coast and he played the guitar. I was like, 'Wow, he has it!'"
But that moving tribute wasn't the end of it. Grohl also called and left a message on Earnhardt's cell phone. He said a couple of years ago he finally got a chance to talk with Grohl about it all.
"I actually went to a Foo Fighters show about two or three years ago and I walked up to him, we hadn't ever talked, and I was like, 'You called my phone, that was cool. And you played that guitar.' And he said, 'Man I still got the thing, it's falling apart, but I still have it.' He said he played it a lot. It was real neat."
Dale Earnhardt's crazy idea didn't turn out to be so crazy after all. And, in fact, it turned out to be the catalyst for an uplifting moment from an unlikely source during one of the darkest times in his life.
Like Sportscasting on Facebook. Follow us on Twitter @sportscasting19.