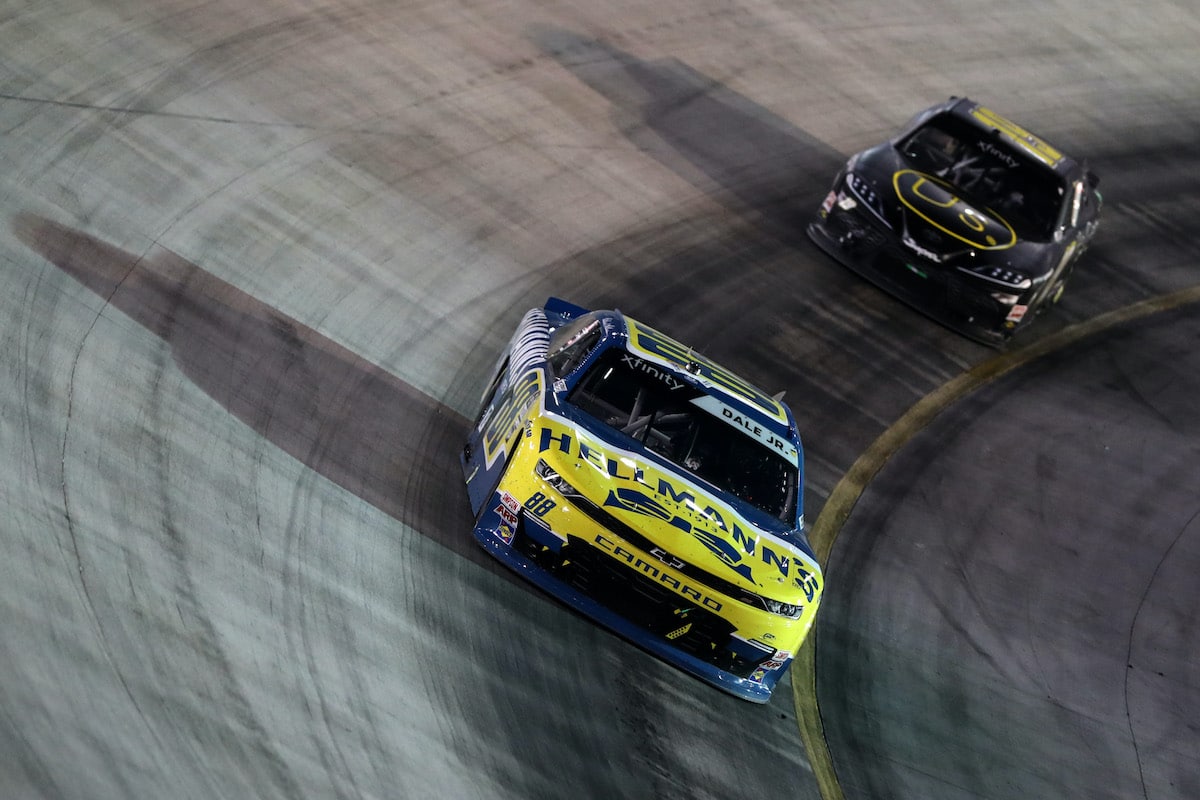 Dale Earnhardt Jr. Thinks 2 Specific Drivers Should Come Out of Retirement and Race With Him in the Xfinity Series
Dale Earnhardt Jr. was excited about his success at Bristol and thinks a pair of retired drivers would be just as successful if they join him in the future.
Dale Earnhardt Jr. retired from full-time Cup Series racing after 2017. Since then, the NASCAR Hall of Famer has done what few drivers do in retirement, running a single race each year in the Xfinity Series. 
This past weekend, the 48-year-old finished 30th at Bristol Motor Speedway, but the final result was not indicative of his overall performance, which included leading numerous laps and staying in contention late. Riding on the high of that success, the semi-retired driver talked about his race on his popular podcast and mentioned that he has two specific former drivers in mind that he would like to join him in the future. 
Dale Earnhardt Jr. impresses at Bristol
Before Bristol, Dale Earnhardt Jr. had competed in five Xfinity races and found some success, including three top-five finishes at Richmond, Darlington, and Homestead from 2018-2020. However, in the last two seasons, there had been a slight drop-off in performance as he finished 14th and 11th at Richmond and Martinsville, respectively. 
On Friday in Thunder Valley, the No. 88 was solid, running up front for much of the race, including finishing ninth in the first stage and fourth in the second. He impressively led 47 laps.
He admitted on this week's Dale Jr. Download that while there was some doubt from the lackluster results in his previous two races, once he got rolling at Bristol, everything started returning to him. 
"In the race, I got those 40 laps I needed," Earnhardt said. "Everything slowed down. Everything started to make sense. I was connected to the car. The car's connected to the track. It's all making sense. We know that went really well for the most part except for the issue inside the car, which we're going to talk about." 
The issue he referred to was a fire, which started inside the car when he was running inside the top five with 30 laps to go. That misfortune ended his night, but it didn't take away from the overall good feelings and confidence he gained from the performance. 
Earnhardt wants 2 specific drivers to join him in future 
While Earnhardt admitted that contending late against the best drivers in the Xfinity Series at age 47 was a good feeling, he didn't believe that type of success was limited to him. The two-time Daytona 500 winner said he thinks other retired drivers could achieve that same level of success. He had two particular drivers in mind.
"Honestly, I would love to see Jeff Burton drive a race in a good car, one more time," Earnhardt said. "And Jeff Gordon, I would love to see Jeff Gordon race one more time at Bristol in an Xfinity car or something like that. Somewhere he was happy to be there, right. 
"I think they absolutely would do great. And they're just like me in selling themselves short. I'm over the hill. They're just worried about measuring up or being good enough."
Earnhardt, Gordon, and Burton racing one last time together would be must-see TV. The question is — who gets the better finish?
To stay up to date on the latest happenings in NASCAR, including breaking stories you can't find anywhere else, follow Kyle on YouTube and Twitter.