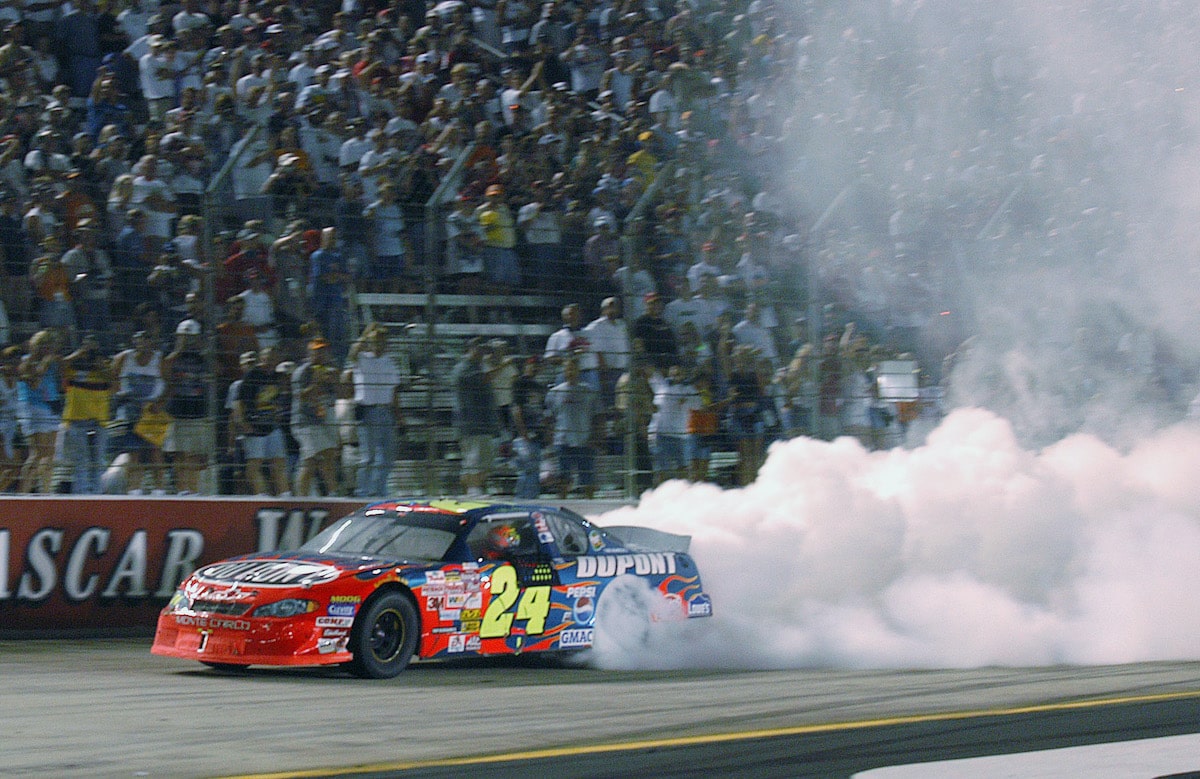 How You Can Own a Jeff Gordon Dupont Rainbow Car That Won at Bristol
Jeff Gordon fans have a unique opportunity to own a Dupont No. 24 car that won a race at Bristol.
Through the years, Jeff Gordon fans have purchased all kinds of memorabilia, including die-casts, hats, shirts, and jackets — here's looking at you, Rodney Sandstorm. While all of those are common ways fans have shown their support, nothing would convey a fan's passion for the four-time NASCAR Cup Series champion than owning one of his race-winning cars. That's the opportunity available for one lucky fan and the highest bidder on the Hendrick Motorsports No. 24 car in an online auction that closes on Sept. 13.   
Jeff Gordon 2002 car available for purchase in auction
Jeff Gordon won his fourth and final championship in 2001. A year later, he won three times and finished fourth in the points standings. His first trip to Victory Lane that season came in the second race at Bristol Motor Speedway, the Sharpie 500, where the No. 24 battled with Rusty Wallace in the race's closing laps, eventually taking the lead and holding off the Penske car for the win.
That Dupont Chevrolet is now available for any Gordon fan to bid on in an online auction at bringatrailer.com. The listing identifies the race car as being built from components used by Hendrick Motorsports during the 2002 Winston Cup and Busch Series seasons, and the body, from chassis #2449, which was nicknamed "Beetlejuice," was used on a car driven by Gordon to victory at Bristol in August 2002. It was then removed and installed on the current chassis. 
It features the multi-color Dupont flame livery and is powered by a 358ci V8 mated to a Tex Racing four-speed manual transmission and a locking differential. Equipment includes:
15″ Aero wheels
Roof flaps
A rear spoiler
A roll cage
A fixed racing seat
Wilwood disc brakes with an adjustable proportioning valve
Interestingly, the car sold on the same site in November 2022 for $44,000, and it is now offered by the selling dealer in Wisconsin with HMS certificates of authenticity, extra wheels, spare parts, a fuel can, storage dollies, and a bill of sale. The current bid is $24,000. 
The car is not legal for road use and does not have a title. 
Other Gordon cars sold online in the past
While the current car up for sale was also on the auction block a year ago, that wasn't the first time one of Gordon's cars has been available on the site. In 2021, another No. 24 rainbow-themed car from the 1996 and 1997 seasons, which won three times, was auctioned off.
That car, nicknamed "Brewser," had an interesting history on the track, including a pair of wins at Martinsville and another at North Wilkesboro. The dashboard on the car was signed by Gordon and longtime crew chief, Ray Evernham.
The sale of that car took an interesting turn when the winning bidder turned out to be Evernham, who bought it for $155,000. 
To stay up to date on the latest happenings in NASCAR, including breaking stories you can't find anywhere else, follow Kyle on YouTube and Twitter.