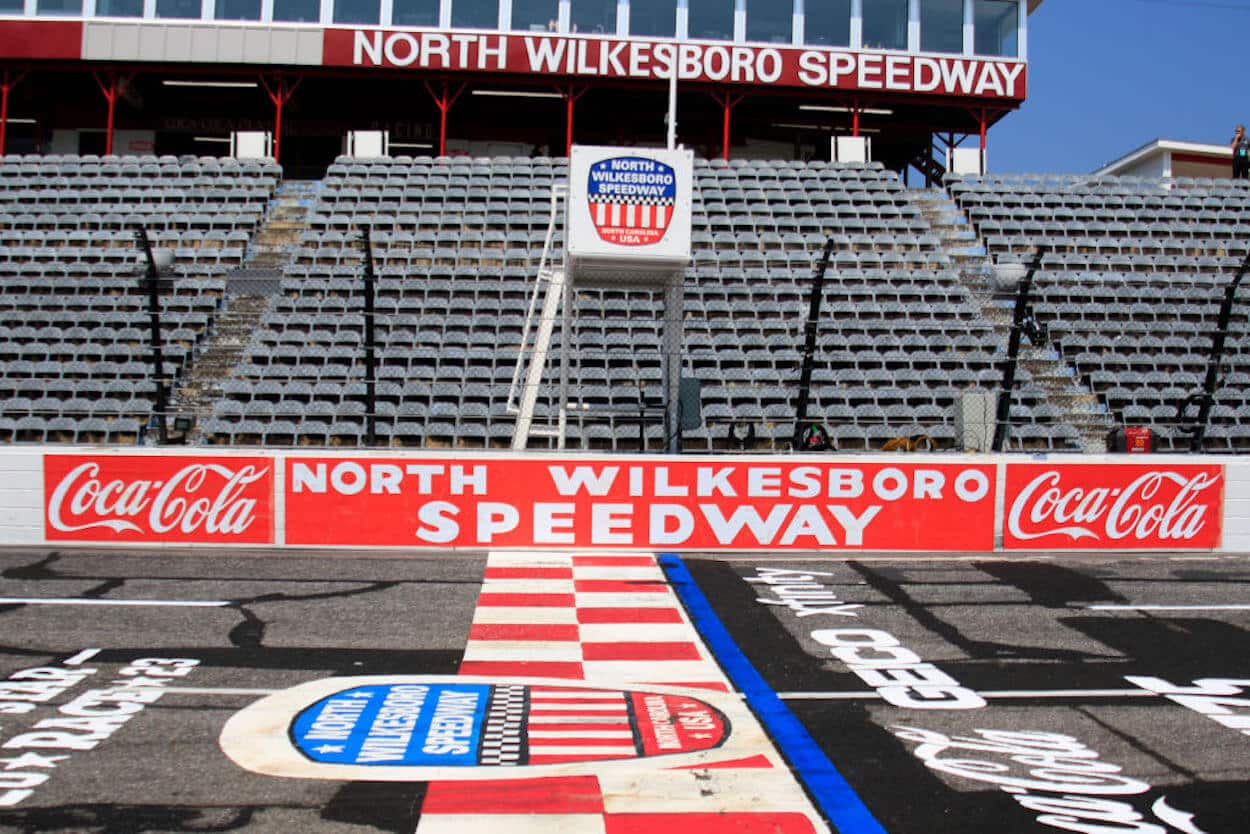 North Wilkesboro Has 1 More Chance To Get It Right If The Track Is to Have a Future in the Cup Series
NASCAR's All-Star Race at North Wilkesboro Speedway was a disappointment, and that means improvements must arrive ASAP.
This past Sunday's All-Star Race at refurbished North Wilkesboro Speedway was, in many ways, a NASCAR fan's dream come true.
While the sport's official "throwback" weekend might've taken place the previous weekend at Darlington Raceway, North Wilkesboro gained an even tighter grip on the proverbial heartstrings by the mere reality that this fabled track — once thought to be left for dead and little more than a relic of NASCAR's past — was actually resurrected to host NASCAR's premier series after 27 years of idleness.
Throw in the fact that a sellout crowd of around 25,000 fans paid to attend Sunday night's 200-lap exhibition, and you've got a recipe for the kind of event that could be remembered for a lifetime.
The only problem?
The on-track product — that is, the racing itself — stunk. Big time. And if track owner Marcus Smith, former Cup Series driver Dale Earnhardt Jr. and others who pushed to have the All-Star Race moved to North Wilkesboro want to keep the event here for the foreseeable future — and perhaps even lobby NASCAR for a points race somewhere down the line — something has to change.
The All-Star Race at North Wilkesboro was a dud, and there's no way to sugarcoat it
No matter how positive of a spin you try to put on it, the first All-Star Race at North Wilkesboro was a major disappointment.
This doesn't diminish the great lengths to which race organizers went to get the facility ready for action after nearly three decades of inoperability. Nor does it change how well NASCAR and the track promoted the race — which you'd have thought was the best thing to happen in the sport since the invention of SAFER barriers and HANS devices, both of which have undoubtedly saved numerous drivers from death or serious injury.
Unfortunately, though, the race just didn't live up to the hype. Not by a country mile. To recap: Kyle Larson basically put an ole-fashioned tale-whipping on the field, taking the checkered flag more than four-and-a-half seconds ahead of second-place Bubba Wallace and leading 145 of 200 laps.
Larson's wicked-fast Hendrick Motorsports Chevy also lapped half of the two-dozen drivers in the main event, which featured just two leaders — Larson and polesitter Daniel Suarez — along with three lead changes and minimal passing through the field from start to finish.
As for caution flags, well, the race went yellow just twice — and only once for an accident. About the only thing worse than watching Larson make a mockery of the competition and waltz his way to his third All-Star win would've been watching paint dry for the better part of 90 minutes. It was just that bad.
North Wilkesboro must make wholesale changes to keep the All-Star Race beyond next season
While NASCAR likely won't announce its 2024 Cup Series schedule until around Labor Day, it seems like a pretty safe bet that the All-Star Race will remain at North Wilkesboro for a second year.
After all, it's hard to imagine organizers of the race putting so much time, energy, and money into revitalizing the .625-mile North Carolina track only for it to get one crack at hosting the All-Star Race.
So, let's go ahead and pencil North Wilkesboro in as the host of the 2024 All-Star Race. However, the track's future beyond next year looks incredibly murky if the racing product in 2024 isn't a dramatic improvement over the snoozefest we all witnessed on Sunday night.
To all but guarantee more enjoyable viewing at North Wilkesboro, track officials need to go ahead and proceed with a full repave of the aging surface — which was last repaved in 1981. A fresh coat of asphalt, though it might take some time to get completely broken in, can't possibly produce a more boring affair than what took place on Sunday night.
In addition, North Wilkesboro officials should strongly consider having this race on Sunday or even Saturday afternoon instead of at night. While such a change might not be as aesthetically pleasing — who doesn't prefer night racing over day racing? — races held in the day typically make the cars harder to drive. In other words, the hotter it is, the more likely drivers are to slip and slide around — which opens up additional opportunities for passing and close on-track battles.
Lastly, track owner Marcus Smith should seriously consider revamping the race format. Instead of 200 laps with one competition caution at around the halfway mark, the format needs to include one or several twists designed to spice up the show — as has been the case in many All-Star Races past.
At the very least, NASCAR should throw a late caution, setting up a 10- or 15-lap dash to the checkered flag. Better yet, though, would be a partial or full-field inversion at the halfway point, which, like the late competition caution, has been used in All-Star Races from yesteryear.
Imagine how much more exciting Sunday night's race would've been if Kyle Larson had gone from leading the race to being the last car on the lead lap following an invert at halfway. He may have still won, but his path to victory would have been a whole lot harder, and the show would've been exceedingly better.
I personally like North Wilkesboro — a lot — and was thrilled when NASCAR announced plans to move the All-Star Race to the venerable short track. But North Wilkesboro must make a stronger case for keeping the All-Star Race than the one it made on Sunday night.