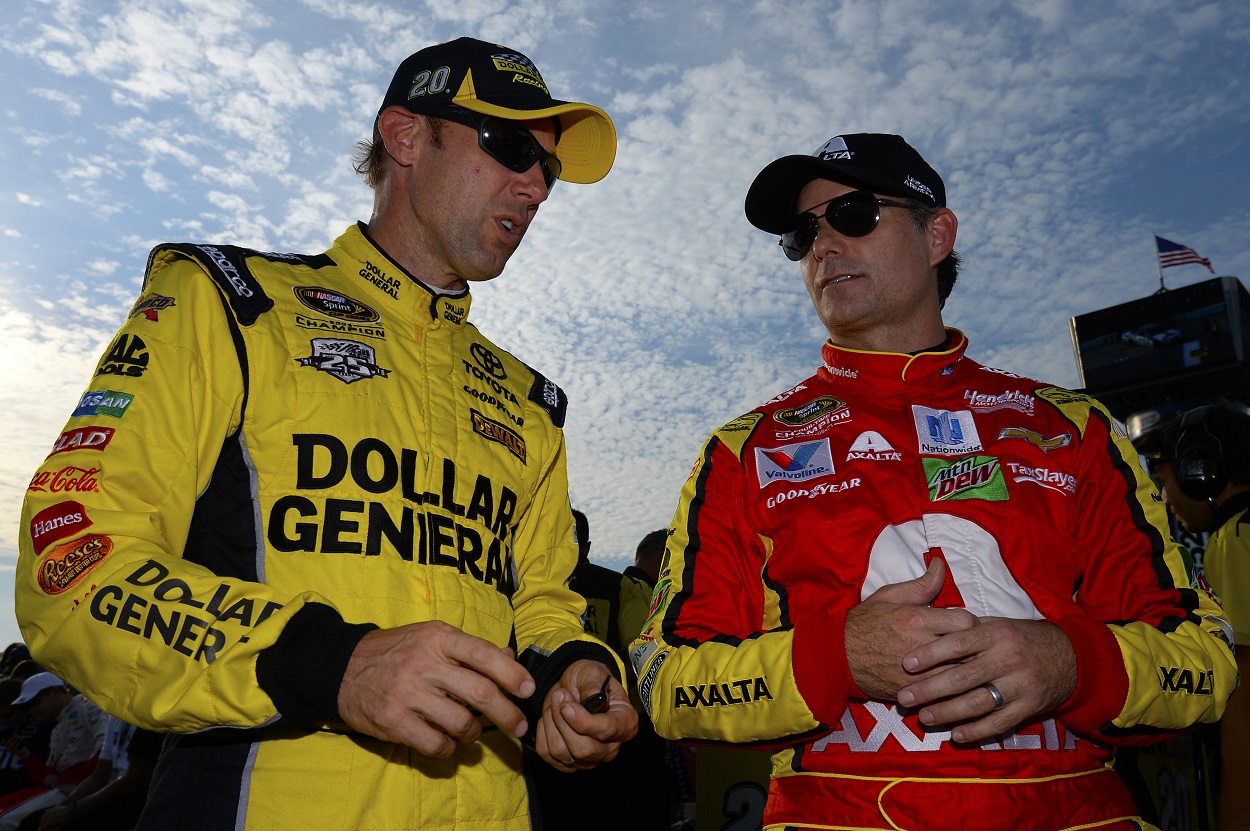 Jeff Gordon Had an Expensive Emotional Outburst at Bristol Motor Speedway After Being Spun Out by Matt Kenseth in 2006
Jeff Gordon and Matt Kenseth got into it at Bristol Motor Speedway in 2006.
The short track at Bristol Motor Speedway — or any short track in motorsports, for that matter — has a way of getting drivers a bit riled up. The straightaways obviously aren't as long as they are at regular speedways or superspeedways, and the high banking at Bristol can undoubtedly cause some clutter and a few collisions during a race.
And one such collision at "The World's Fastest Half-Mile" involving Jeff Gordon and Matt Kenseth led to some fireworks in the pits, which led to a nice little fine for "The Rainbow Warrior."
Jeff Gordon and Matt Kenseth battled down the stretch at Bristol Motor Speedway in 2006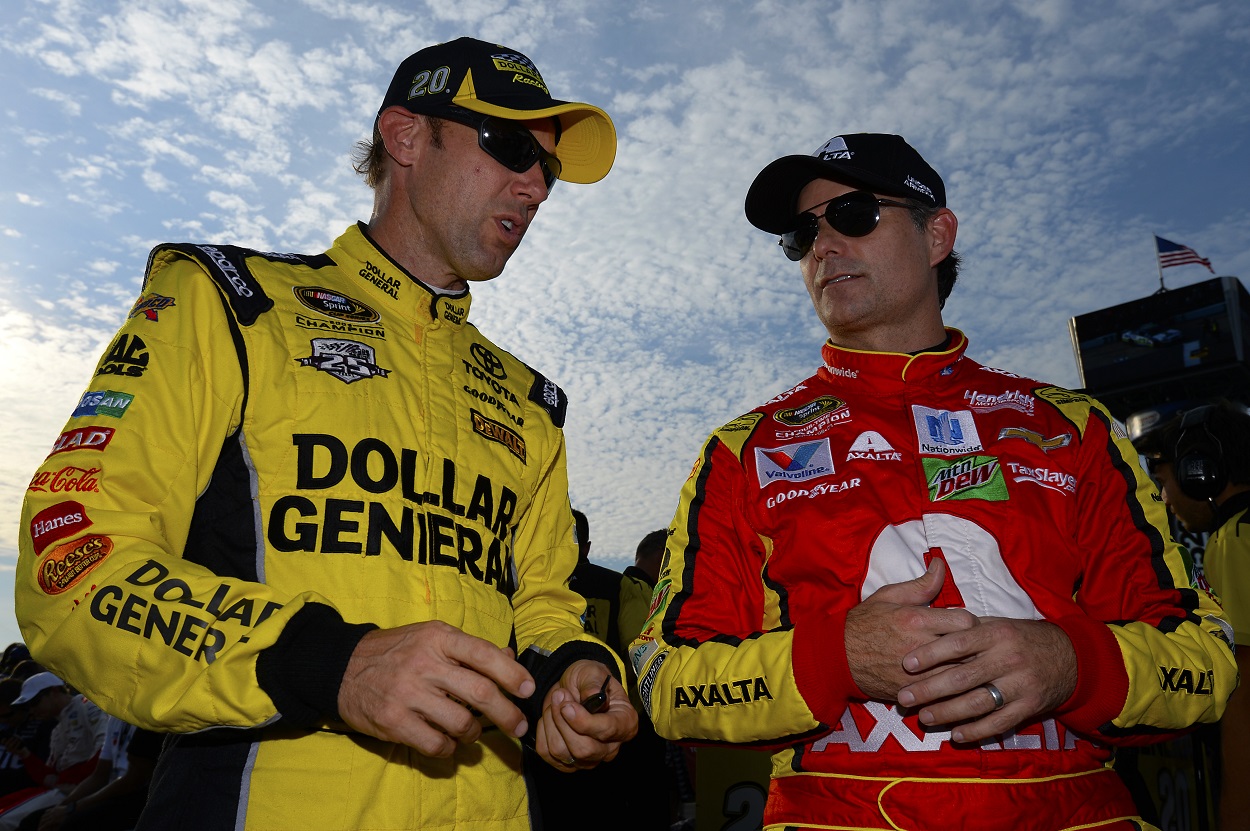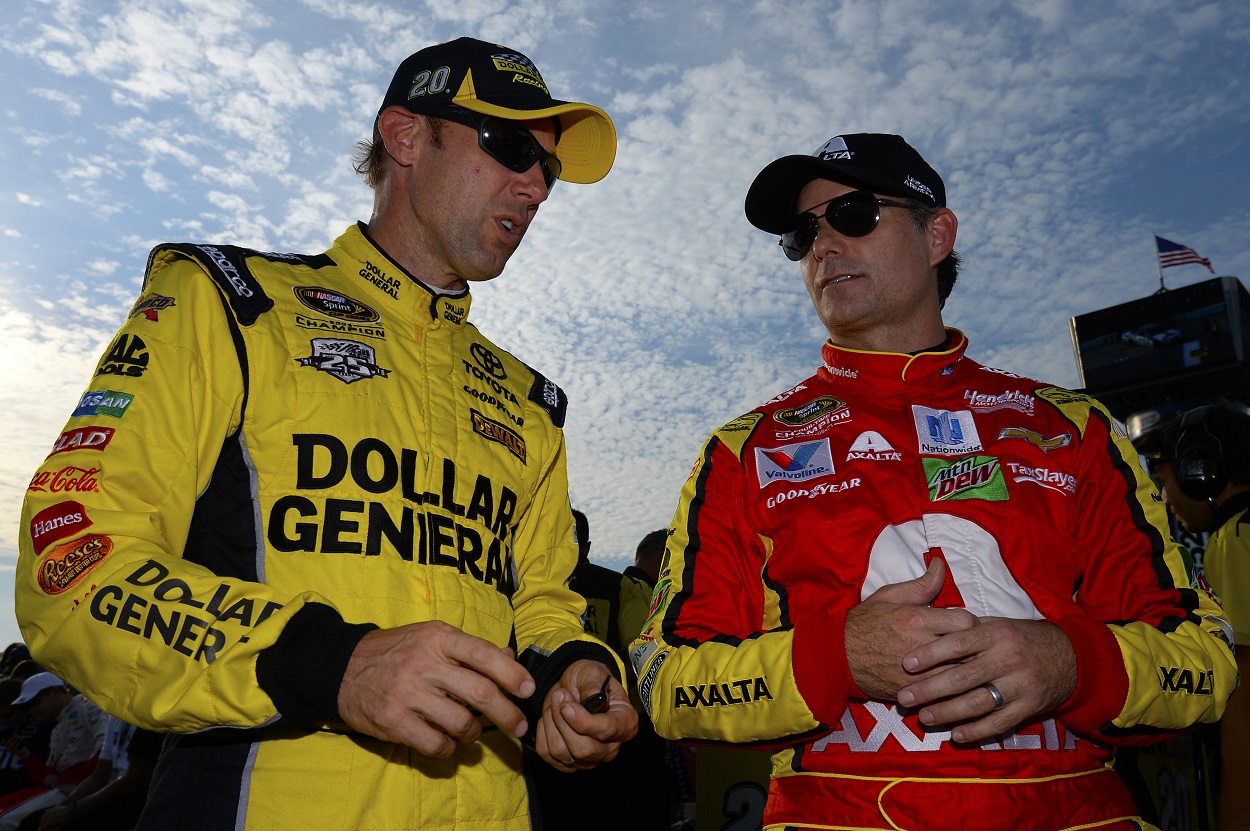 During the 2006 Food City 500 at Bristol, there was certainly more than just the one bump between Gordon and Kenseth. There were actually 18 cautions throughout the race, and more than 100 of the 500 laps that day were run with the yellow flag out.
We saw a red flag come out that day as well as Michael Waltrip, Brian Vickers, and David Stremme were collected when Gordon's future FOX broadcast partner, Clint Bowyer, spun Dave Blaney on lap 188, easily the biggest first-half wreck of the race.
On lap 415, another trio was collected as Robby Gordon, J.J. Yeley, and Jeff Burton became collateral damage when Jeff Gordon spun out Martin Truex Jr.
With five laps remaining, Kenseth was out in front of the pack with Kurt Busch just behind. Busch, who'd won four of the previous eight races at Bristol, had experienced tire problems earlier in the race and was actually down two laps at one point.
But Busch clawed his way back into contention and bumped Kenseth out of the lead and causing the No. 17 Ford to turn sideways as Busch's No. 2 Dodge blew by, as did Kevin Harvick's No. 29 Chevy. Kenseth fell to third and ended up right in front of Gordon's famous No. 24.
At the end of the penultimate lap, Gordon nudged Kenseth a touch and passed him on the inside as he made one final push toward the lead. But just seconds later, Kenseth returned the favor. But this was more than just a little nudge as Gordon completely spun out and finished 21st.
Kenseth finished third as Busch recorded his fifth victory at Bristol, besting rival Harvick by 0.179 seconds.
On the cooldown lap, Kenseth caught up to Busch and veered toward him, clearly letting him know how upset he was with what had transpired. But not long after, Kenseth was on the other side.
Gordon was fined $10,000 for shoving Kenseth after the race
As Busch celebrated his victory, Kenseth took off his helmet and was apparently heading over to apologize to Gordon. But the 93-time Cup Series winner wasn't having it. With his helmet still on, Gordon gave Kenseth a hard shove, sending the Roush Racing driver stumbling backward.
Gordon likely would have taken things a bit further if his team had not restrained him, but he backed away. But he made sure to voice his displeasure in his post-race interview (h/t NBC Sports).
"Kenseth got shuffled out and you know, he's holding guys up. I got to him a couple times and showed my nose and he shut the door on me. The next time I got the opportunity I definitely moved him, but I didn't wreck him. We went down into (Turn) 1 afterwards and he just wrecked me.

"I'm sure he didn't mean to do it and all that stuff, but I wasn't happy about it and I showed it to him after the race. … That stuff rarely ever happens with him. I'm going to give back to him what he gives to me."

Jeff Gordon on Matt Kenseth
It turned out to be an expensive emotional outburst as Gordon was fined $10,000 for the shove and was also placed on probation for five months.
Seven years later, the two were again involved in a collision at Bristol at the front of the pack. On lap 390 of 500, the No. 24 blew a tire and ran up the track. And Kenseth, then driving the No. 20 Toyota for Joe Gibbs Racing, was collected as he had no choice but to slam into Gordon.
But there were no fireworks that time as both were in good spirits following the accident.
Stats courtesy of Racing Reference