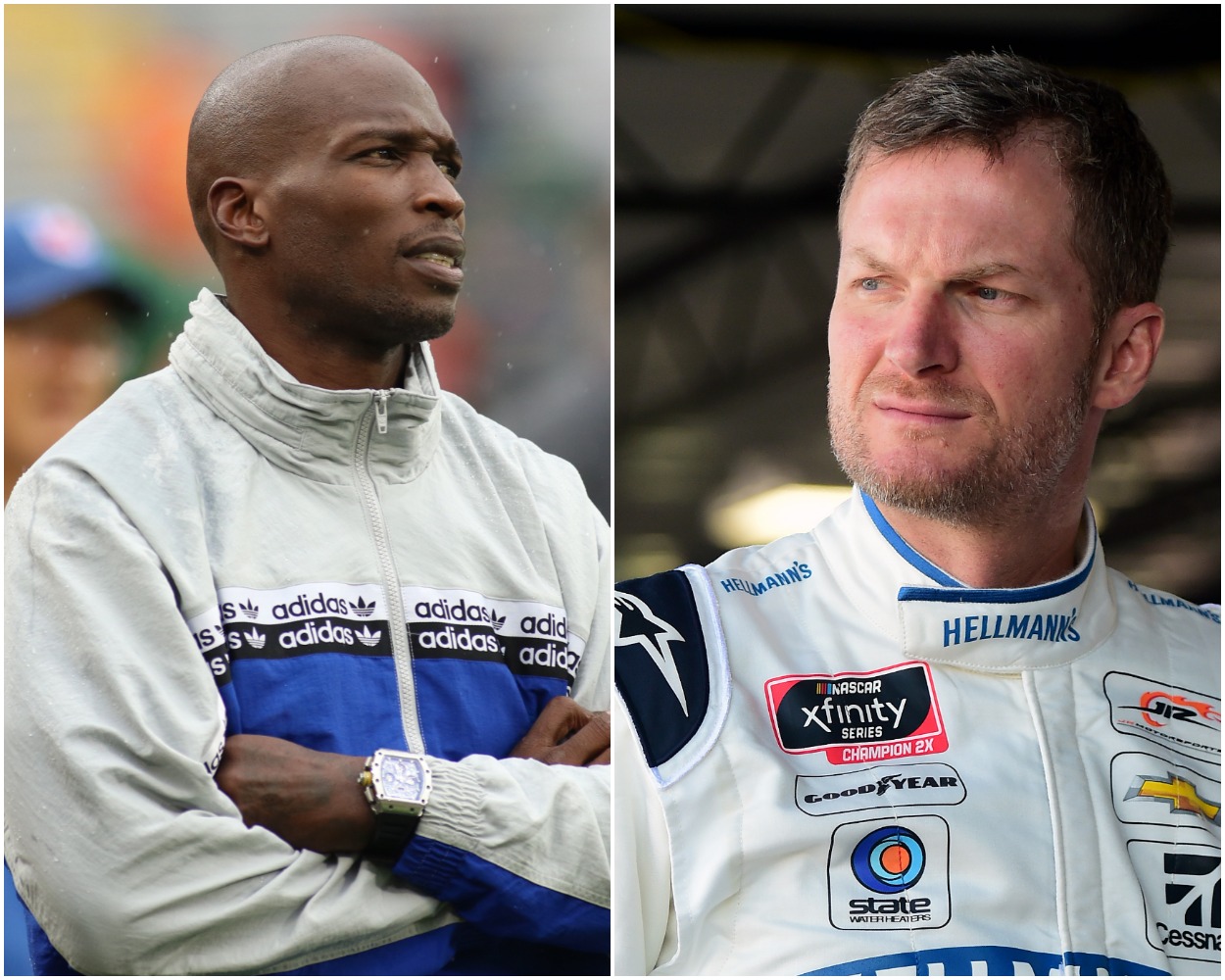 Dale Earnhardt Jr. Weighs In on a Frustrated Chad Johnson Calling Out Fox and Its Recent NASCAR Coverage
Dale Earnhardt Jr. weighed in on Chad Johnson's complaints about Fox and its NASCAR coverage.
Since Bubba Wallace appeared in March on the I Am Athlete show, which is co-hosted by former NFL players Brandon Marshall, Channing Crowder, Fred Taylor, and Chad Johnson, Johnson has shown a genuine interest in NASCAR. He's made surprise appearances in various settings with some of NASCAR's biggest names, including Dale Earnhardt Jr. and Kyle Busch.
This weekend, Johnson watched the Xfinity Series race, and at one point, he took to Twitter and expressed his frustration with Fox and its coverage of the race. In Earnhardt's latest podcast, he responded to Johnson's complaints. 
Chad Johnson develops friendship with Bubba Wallace
Bubba Wallace sat down with Chad Johnson and the rest of the crew at I Am Athlete in March and talked about his life and career as the lone Black driver with the NASCAR Cup Series. During the show, Johnson sided with Wallace when Crowder questioned whether NASCAR drivers were athletes.
A couple of weeks after Wallace's appearance, the NASCAR driver revealed his relationship with Johnson extended beyond the show when he posted a photo of a McDonald's drive-thru order screen and asked Johnson for his order.
"Hot cakes w/ sausage & large OJ," Johnson replied.
No one knows for sure whether Wallace was serious about filling Johnson's order. But the fact the two could publicly banter back and forth on Twitter showed they had developed a rapport with each other.  
Dale Earnhardt Jr. impresses Johnson on ride along
Fast-forward a month later. Brandon Marshall appeared on the Dale Jr. Download podcast, and the NASCAR Hall of Famer and potential NFL Hall of Famer talked about going out to the track later in the day. Earnhardt was going to do several ride-alongs with Marshall, as well as Johnson. 
Not long after, Johnson shared on Twitter what it felt like to travel around the track at speeds nearing 200 mph.
"Holy sh– that experience at 190mph coming off the bank (turn 4) is unexplainable," Johnson tweeted. 
Johnson critical of Fox's NASCAR coverage and Earnhardt weighs in
On Saturday, Johnson tuned into the NASCAR Xfinity Series race at Talladega. During the race, the six-time Pro Bowler revealed he had become a true NASCAR fan when he got frustrated with Fox's coverage and the inclusion of so many commercials.
"All these damn commercials FOX, I'm missing laps, Hemric isn't even leading anymore & I missed why," Johnson wrote. 
Earnhardt responded on Twitter with a humorous GIF of George Costanza from Seinfeld, but then offered a more serious response on his podcast.
"Chad Ochocinco is tweeting about the commercials during the Talladega race over the weekend. I thought that was pretty funny considering I'm an analyst for a network," Earnhardt said. "I will say that a lot of times, if there is some green-flag action going on, there is a number of commercial breaks that have to happen. They are predetermined. They try to front-load those commercial breaks and get them in as soon as they can to allow for less of them at the end of the race. … Pretty interesting to see somebody new watching our sport and having that be their takeaway." 
They say you only have one chance to make a first impression. The Fox Xfinity Series broadcast might not have done the best job of solidifying Johnson's NASCAR fandom but turning laps at 190 mph with Dale Earnhardt Jr. behind the wheel should have a lasting effect.
Like Sportscasting on Facebook. Follow us on Twitter @sportscasting19.