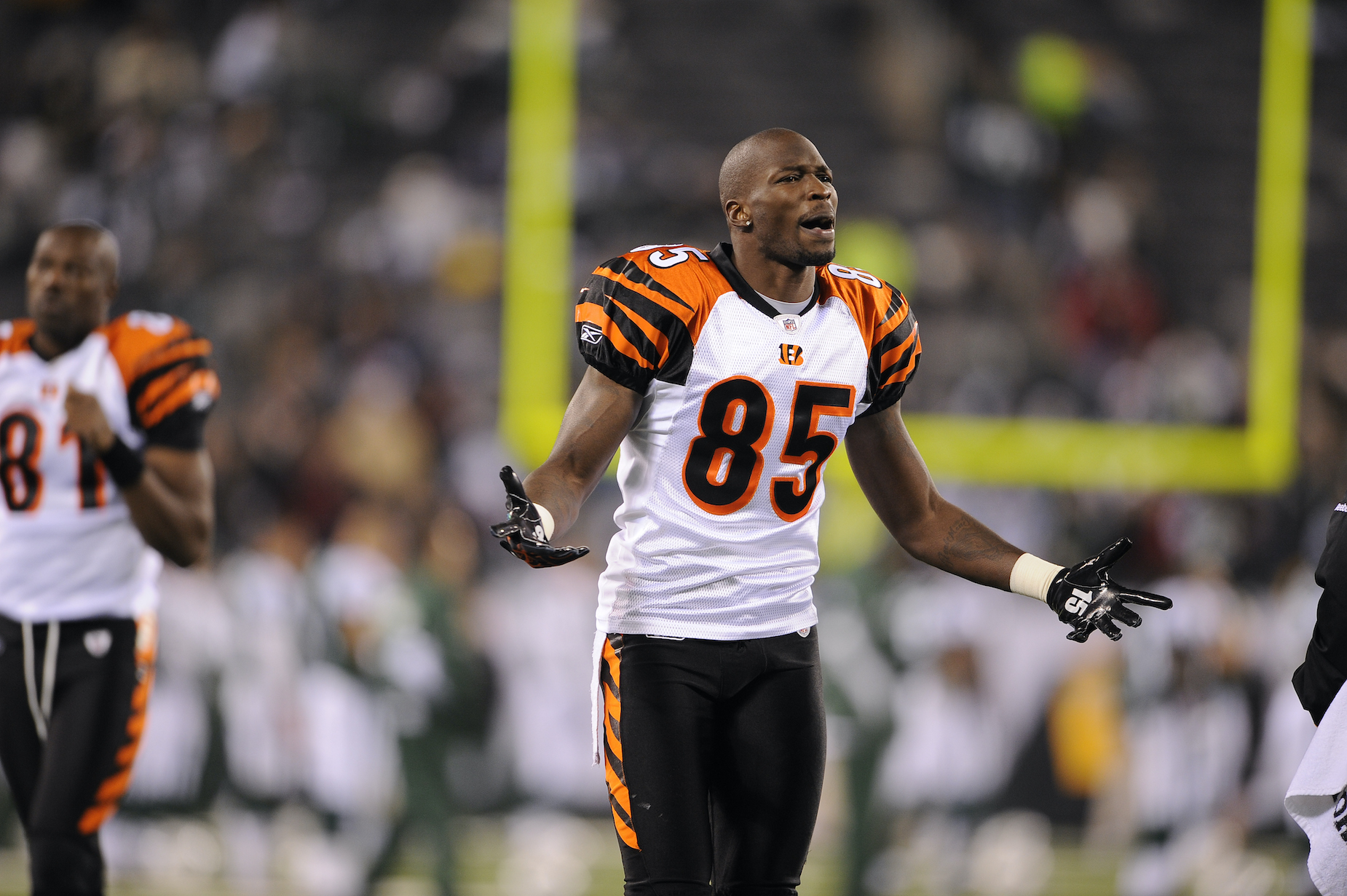 Chad Johnson Made $48 Million in the NFL but Says That He's 'Been Broke Since '78'
Former Bengals receiver Chad Johnson made almost $50 million in the NFL, but says he's "been broke" since he was born.
If you're a longtime sports fan, you've surely heard the horror stories about former athletes going broke after their playing careers came to an end. Thankfully former Cincinnati Bengals receiver Chad Johnson isn't one of those cases. You won't catch the NFL alum saying he's rich, though.
During his time on the gridiron, Chad Johnson took home roughly $48 million in salary. Despite that reality, the ex-receiver still says that he's "been broke since '78."
Chad Johnson had an impressive NFL career with the Bengals
When you think of Chad Johnson, you probably remember him breaking out a signature touchdown celebration or changing his last name to Ochocinco. Looking beyond those antics, though, you'll find that he was actually a pretty talented receiver.
Johnson wasn't always a big-name talent, though; he actually started his career at Santa Monica College. He showed enough there to earn a transfer to Oregon State, though and posted strong numbers during his one season with the Beavers.
On the back of that success, Johnson joined the Cincinnati Bengals as a second-round pick in the 2001 NFL draft. While the wide-out had a quiet rookie season, he would soon grab headlines in more ways than one.
From 2002 through 2007, Johnson broke the 1,000-yard receiving mark every season; he also was unafraid to get creative and break out unique celebrations whenever he found the end zone. During that run of form, the Bengals receiver was must-see TV.
In total, Johnson spent 11 seasons in the pros, with 10 of them coming in Cincinnati. He pulled in 766 catches across the years, good for 11,059 yards and 67 touchdowns. Even if you didn't care for his endzone antics, that resume is still pretty impressive.
The receiver earned more than $48 million in the NFL
As mentioned above, Chad Johnson developed somewhat of a reputation as a class clown in the NFL. When push came to shove, though, the receiver was able to produce on the field; that helped him earn plenty of money over the years.
According to Spotrac's numbers, Johnson earned $48.87 million during his time in the NFL. The largest chunk of it—a little more than $43 million— understandably came during his time with the Bengals; he earned the remaining $5.75 million during his one season with the New England Patriots.
Johnson did end up giving some of that money back, though. Spotrac's records also show that he received seven fines worth $115,000 during his time in the pros; the receiver has also been known to leave sizable tips and otherwise give back.
Chad Johnson said that he's 'been broke since '78'
To anyone who isn't a professional athlete, $48 million would be a life-changing amount of money. For Chad Johnson, though, it was just business as usual.
"I've been broke," Johnson told Graham Bensinger in a video that hit Youtube in February 2016. "I've been broke since '78."
As you might imagine, Bensinger pressed the former NFL star on that claim. As you might expect, Johnson isn't broke; money, though, hasn't changed the way he lives his life.
"I'm well-off, I guess you could say," Johnson continued. "I'm cheap. … The way I move, the way I live, the lifestyle I've lived over the years, if you've followed me, even if you're a fan, you know I've always shown small instances. Like, for instance, on Hard Knocks, shopping at Claire's. My jewelry has always been fake. Rolexes, diamonds, everything is cubic zirconia."
While Johnson did have some nice cars, he told Bensinger that he bought those with TV money. In the big picture, though, the former Bengal said that he never really had exorbitant living expenses to worry about.
"My only overhead was child support," Johnson continued. "That's my living expense. That's all I have. I didn't have a house here, didn't have a house there. Like you don't understand how simple I really live. … I don't drink alcohol, so I'm not in the club popping bottles and spending 50K for a group of people. I didn't have an entourage… so I didn't have to spend on them. So where's my money going? It's really nowhere for it to go."
These days, Chad Johnson's net worth is estimated at roughly $5 million. While that's a far cry from $48 million, it should still last quite a while thanks to the receiver's "broke" ways.
Stats courtesy of Pro-Football-Reference