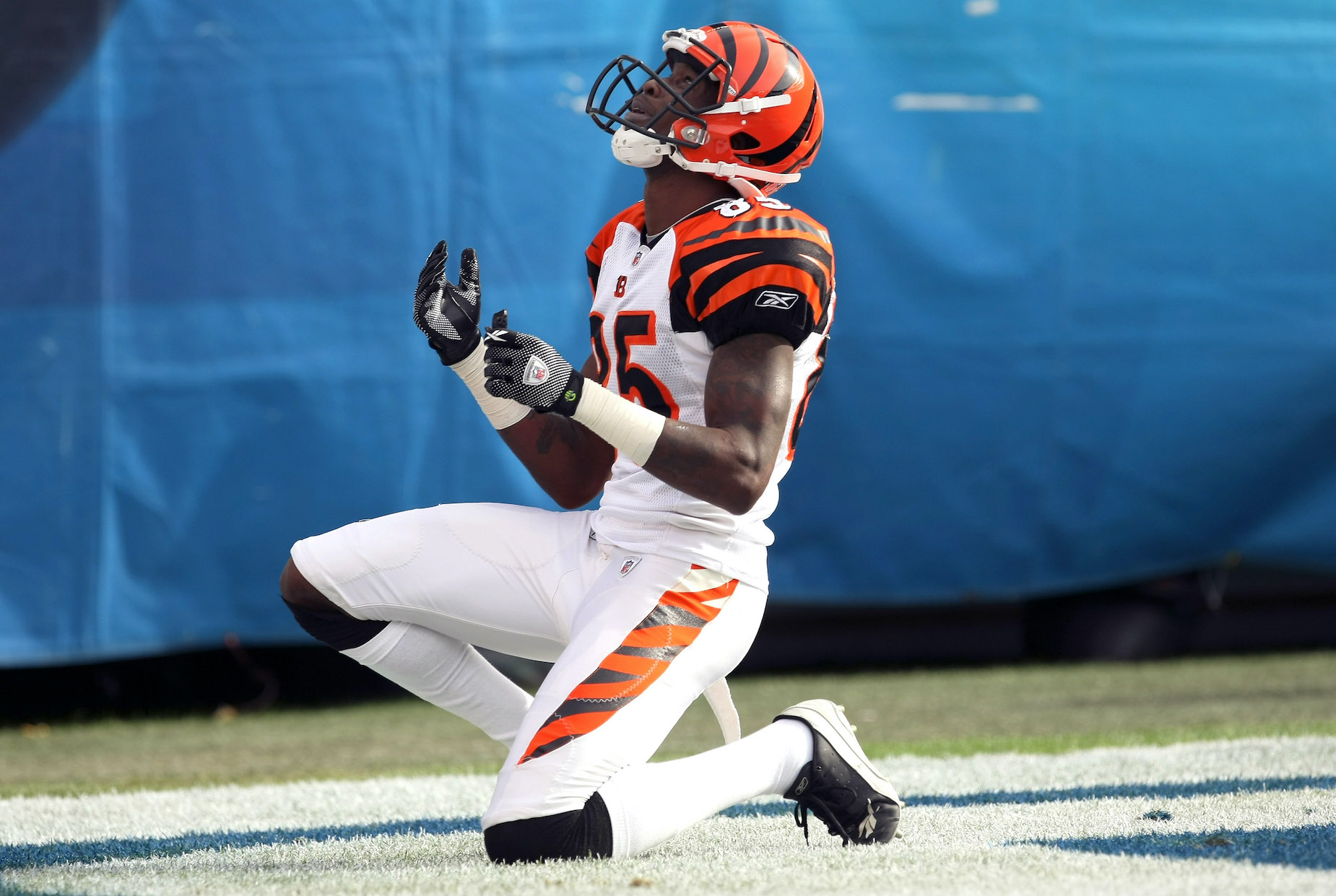 Chad Johnson's Favorite Touchdown Celebration is 1 That He Never Had the Chance to Use
While Chad Johnson performed plenty of classic touchdown celebrations during his time in the NFL, his favorite never saw the light of day.
Try as the NFL might try to enforce its rules about sportsmanlike conduct, players are always going to celebrate after scoring a touchdown. While there have been plenty of iconic dances, gestures, and well-choreographed routines, some have done things a bit differently. During his time with the Cincinnati Bengals, for example, Chad Johnson elevated those celebrations to an art form.
While Chad Johnson broke out plenty of iconic celebrations during his NFL tenure, the wide receiver knows exactly which one he'd select as his favorite. That one, however, never actually saw the light of day.
Chad Johnson scored plenty of touchdowns during his NFL career
During his time on the gridiron, Chad Johnson's behavior rubbed some football fans the wrong way. At the end of the day, though, no one can say that the wide receiver wasn't talented or productive.
Johnson began his football career at Santa Monica College before earning a transfer to Oregon State. While he only played one season with the Beavers, he caught 37 passes for 806 yards and eight touchdowns; that was enough to make him a second-round pick in the 2001 NFL draft.
The receiver joined the Cincinnati Bengals and didn't make much of an impact during his rookie year. After that, though, Johnson burst onto the scene; he posted 1,166 receiving yards as an NFL sophomore and wouldn't slip below the 1,000-yard mark for the next five seasons.
While there were some bumps in the road along the way, Johnson spent 10 campaigns with the Bengals before playing a final year with the New England Patriots. For all the claims that he was a distraction and focused on things besides football, the receiver still caught 766 catches for 11,059 yards and 67 touchdowns before hanging up his helmet for good.
Stealing the show with touchdown celebrations
While Chad Johnson made plenty of headlines with his on-field production, he became known for something more than his stats. The receiver also proved to be a master of touchdown celebrations.
Johnson took things beyond simple spikes and dances, though. On one occasion, he took control of a TV camera; on another, he headed to the sidelines and donned a golden jacket with "Future H.O.F 20??" written on the back. Those performances became fixtures on ESPN and, each Sunday, fans would wait to see what the receiver would do next.
Not every celebration was well-received, though. Based on Spotrac's numbers, Johnson received two fines totaling $35,000 for his end zone antics; one was for putting the football with a pylon, and the other was for wearing an oversized sombrero.
Chad Johnson never got to perform his favorite touchdown celebration
If you're a long-time Cincinnati Bengals fan, you probably have your favorite Chad Johnson celebration. The receiver, however, explained that his favorite never actually saw the light of day.
"I never got the opportunity to do it," Johnson told Graham Bensinger. "We were playing the Kansas City Chiefs in Kansas City…might have been the 2005 year, if I'm not mistaken. The 'Easy Button' from the Staples commercial just came out, and I put two Easy Buttons on the north and south end zone. And I was going to score and grab the Easy Button from under there and, you know, take it over to Carson [Palmer] and have him hit it."
The receiver didn't score that game, though, so his Easy Buttons never saw the light of day. Out of the celebrations that he did perform, Johnson named proposing to a cheerleader and throwing Christmas presents into the crowd as some of his other highlights.
Say what you will about Chad Johnson, but there was never a dull moment with him on the field.
Stats courtesy of Sports-Reference and Pro-Football-Reference