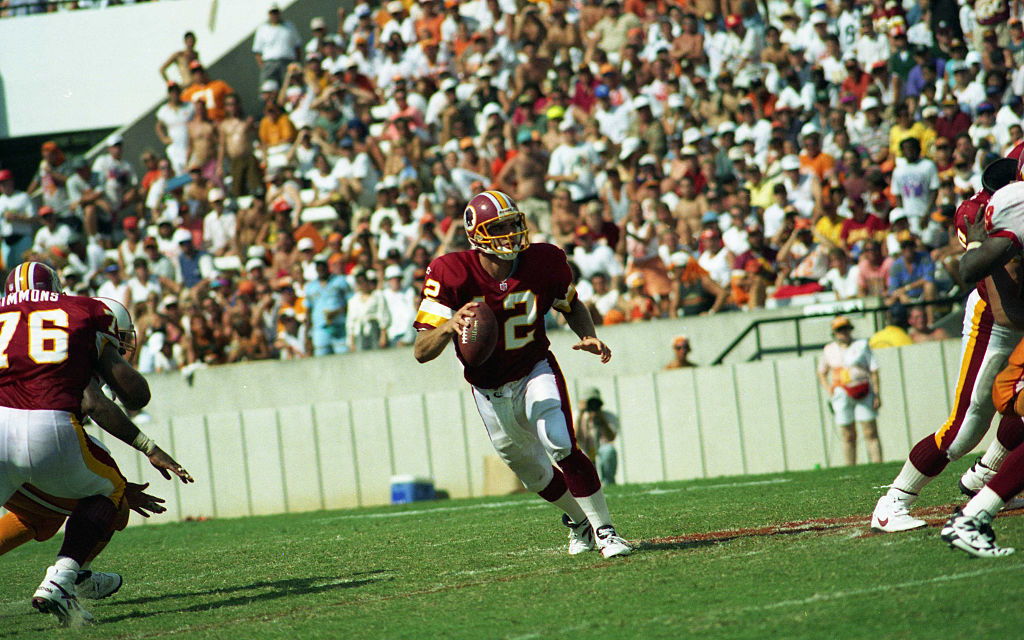 Gus Frerotte Laughs off the Touchdown Celebration That Left Him in a Neck Brace
Former Washington Redskins quarterback Gus Frerotte laughs off the touchdown celebration that left him in a neck brace.
It wasn't funny then, but former Washington Redskins quarterback Gus Frerotte can laugh about it now. It was one of the wackiest moments in the National Football League and it happened in front of a national audience on Sunday Night Football. Frerotte scored a touchdown and wound up in the hospital after his unique celebration.
Gus Frerotte's NFL career
Although he was by no means a Hall-of-Fame quarterback, Gus Frerotte was a steal in the 1994 NFL draft. After playing four years of college football at Tulsa, Frerotte was selected by the Washington Redskins with the 197th overall pick. He wound up having a 15-year NFL career, playing for even different teams.
Frerotte spent the first five years of his NFL career with the Washington Redskins. He started four games as a rookie before becoming a full-time starter in his second season in 1995. During that season, Frerotte went 3-8 as a starter and threw 13 touchdowns and as many interceptions. In 1996, Frerotte started all 16 games, going 9-7 and making his only Pro Bowl.
In 1999, Frerotte signed with the Detroit Lions, playing for one year, before moving on to the Denver Broncos. Frerotte, in 2005, threw a career-high 18 touchdown passes for the Miami Dolphins. He went 9-6 in 15 starts with Miami. He finished his career with a 45-47-1 record as a starter and threw 114 touchdowns and racked up more than 21,000 passing yards.
Frerotte injures himself celebrating a touchdown
On Nov. 23, 1997, in a Sunday Night Football showdown against the NFC East rival New York Giants, the Washington Redskins found themselves in a scoreless tie. On third-and-goal from the 1-yard line, Redskins quarterback Gus Frerotte rolled out and found his way into the end zone to put the Redskins in front. While celebrating, he headbutted a padded cement wall, spraining his neck.
Prior to halftime, Frerotte did manage to get back on the field, completing two of his four passes. The pain worsened and he wound up going to the local hospital. Frerotte was replaced by Jeff Hostetler to begin the second half of play. The Giants scored a second-half touchdown to make it 7-7 and that's how the game ended.
According to The Washington Post, Frerotte underwent X-rays at halftime. The X-rays were negative. As a precaution, Frerotte was taken to Prince Georges County Hospital by ambulance. At the hospital, he was given a CAT scan, where the results were again negative. He headed back to the stadium wearing a neck brace.
Frerotte laughs about the incident now
Gus Frerotte said he still gets asked about his neck injury and he is able to laugh about it now. "You know, if you didn't have a sense of humor about it, I don't think that you would ever survive it," said Frerotte on Thom Loverro's Cigars and Curveballs podcast. "Because I don't think I go anywhere without somebody talking about it, or asking me about it, or what happened. And they try to be nice, but they really kind of want to be mean — some people. And other people just want to know what happened."
Frerotte said the play doesn't define his 15-year career and it's just become a part of his story in the NFL. He said it's something he never dwelled on and he was able to bounce back and play another decade of football at the highest level.
"It happened, and I've been able to move on from it, but I still can talk about it, because it was a part of my life," he said. "You know, it didn't define me, and it still doesn't define me. And that's what's great. I think if I didn't laugh about it, I wouldn't have been able to go on and play another 10 years after that."