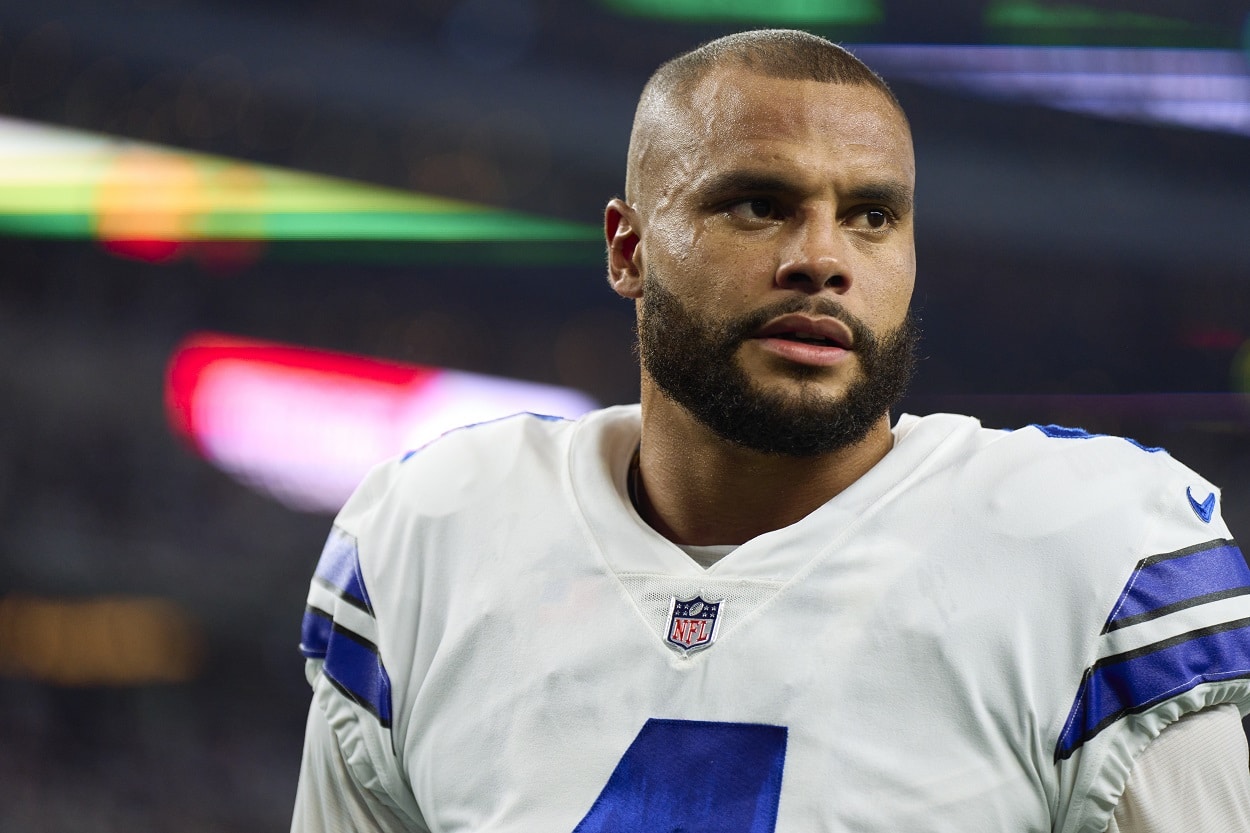 The Dallas Cowboys Could Attempt to Solve the Dak Prescott Problem With a Call to a Bitter Rival
With Dak Prescott out, the Dallas Cowboys need a quarterback and their bitter rival has perhaps the perfect fit.
Two seasons ago, the Dallas Cowboys watched their hopes of winning a Super Bowl title go up in smoke when Dak Prescott suffered a gruesome ankle injury in a Week 5 matchup against the New York Giants. Unfortunately for fans of Jerry Jones' beloved franchise, it took much less time for the team's championship dreams to dissipate. 
While Prescott's latest setback undoubtedly leaves the Cowboys in a poor position in the early stages of the 2022 season, a potential solution to their quarterback conundrum looms in the distance. In fact, if Dallas wants to avoid a disastrous start, the team needs to consider making a trade with one of its fiercest rivals.
Dak Prescott's latest injury puts the Cowboys in a desperate situation to start the season
The Cowboys started their season off by not only losing an ugly game against the Tampa Bay Buccaneers but also losing their most important player for an extended period of time. Dak Prescott sustained a hand injury on a fourth-quarter pass attempt in his team's 19-3 loss to Tom Brady and Co. 
Diagnosed with a fracture, the two-time Pro Bowler underwent surgery on his right thumb Monday. Initial reports put Prescott's recovery timeline at roughly six to eight weeks—a significant stretch that has the potential to drastically alter the Cowboys' odds of making the playoffs. 
While NFL Network insider Tom Pelissero tweeted that the veteran quarterback could return in four to six weeks, that depends on "how the bone heals and when Dak resumes throwing."
Clearly, the Cowboys face a steep challenge to survive without Prescott leading the huddle. While they certainly have experience with being forced to rely on backup quarterbacks, entering the season with just two players on the depth chart looked like a risky decision.
And with Cooper Rush as the only active player at the position, Dallas needs to bring in a better option — and quickly.
Jerry Jones can secure a temporary replacement for Prescott by calling up a division rival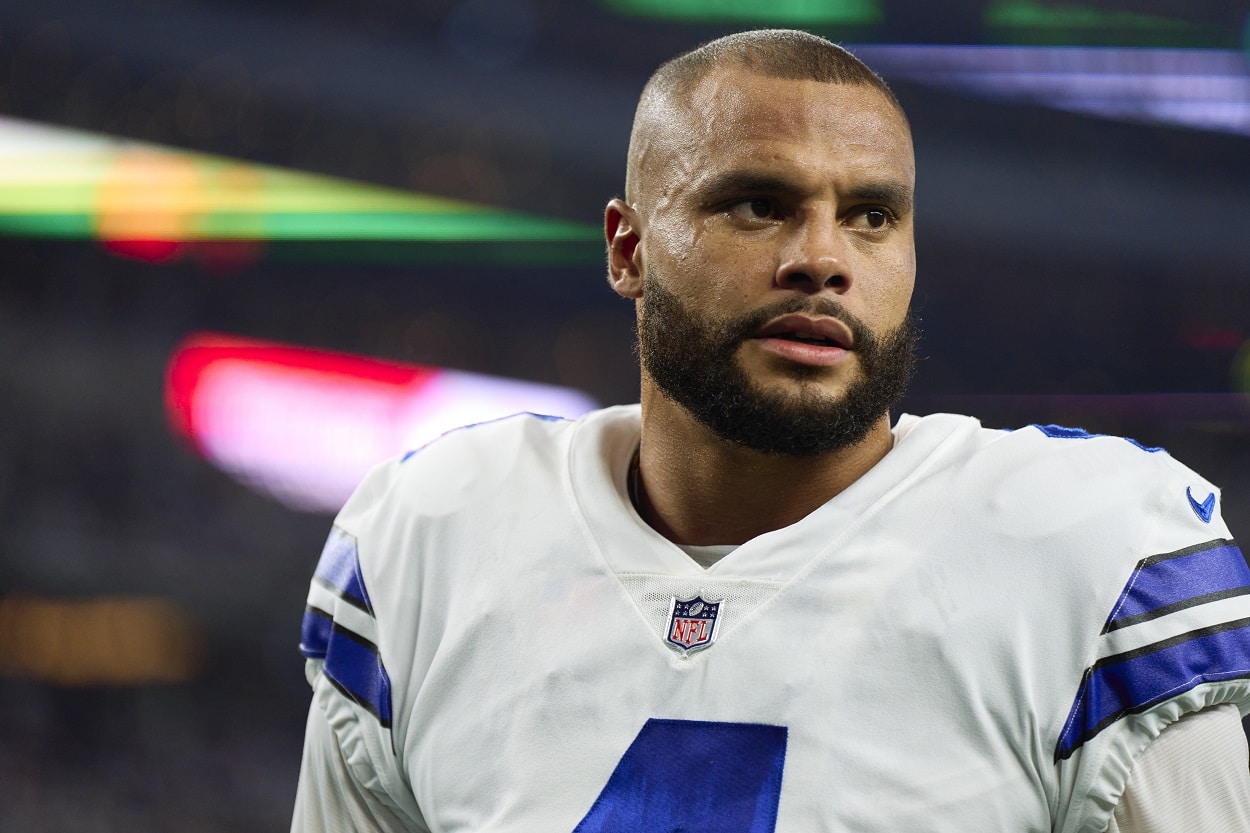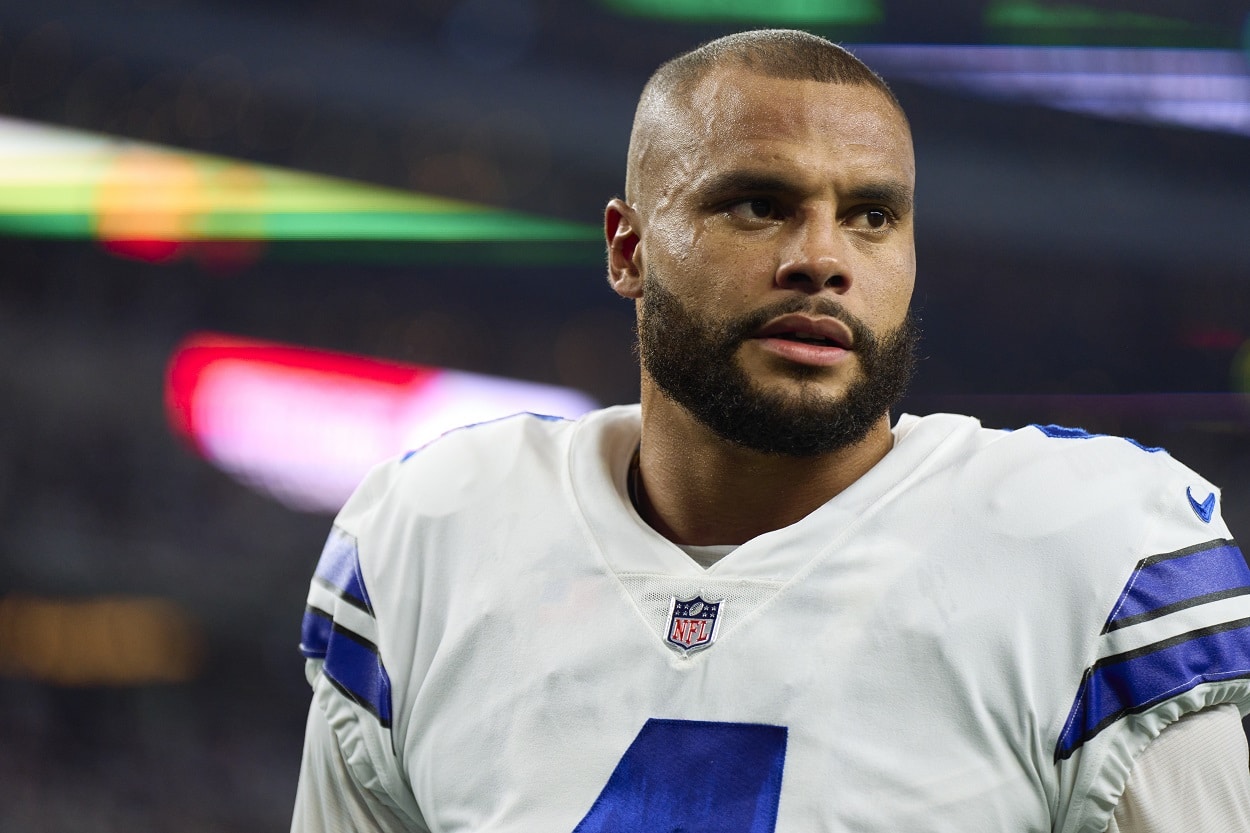 Could a foe become a friend in short order? Depending on whether the Philadelphia Eagles want to do business, Dallas could make a deal for a signal-caller representing a massive upgrade over the uninspiring Rush: Gardner Minshew II. 
Once viewed as the potential long-term answer in Jacksonville, the 2019 sixth-round pick has gone from promising starter to backup in a matter of a few years. However, Minshew has a strong resume–including a career touchdown-to-interception ratio of 41:12–for someone who's spent most of the last two seasons on the sidelines. 
Of course, the Eagles may elect to hold on to the 26-year-old as insurance for the unproven Jalen Hurts. But if aggressive general manager Howie Roseman wants to fetch a great price for a quarterback with 22 starts under his belt, he could take advantage of a Cowboys franchise that desperately needs to find a short-term solution at the most pivotal position in sports. 
Would Dallas pull the trigger if Philadelphia offers Minshew for a Day 2 pick? Sure, surrendering a conditional second- or third-rounder would deplete the team's draft capital for 2023, but would the Jones family rather give up an early-round pick to maintain some hope about making the playoffs in 2022 or essentially punt on the season?
Meanwhile, the Eagles could sell high on Minshew, who doesn't project to see the field barring an injury or severe drop in performance by Hurts. 
Ironically, the two NFC East rivals could both benefit from doing business. In many ways, a Minshew trade would represent a rare win-win scenario for all parties involved.
The Eagles would add to their war chest for the 2023 NFL Draft, the Cowboys would have a capable replacement under center until Prescott returns, and Minshew would have a chance to prove he deserves a starting job and a solid contract heading into free agency.
Trading for Gardner Minshew won't solve all the problems going on in Dallas
Unfortunately for the Cowboys, even if the Eagles are willing to send their current backup to Dallas, that may not be enough to help the team make the playoffs. After all, anyone who watched Mike McCarthy's squad in Week 1 could see there are several areas of concern. 
Besides the shaky quarterback situation, the offensive line remains a mess. The Cowboys allowed four sacks in their season-opening defeat, and the offense finished with just 71 rushing yards on 18 attempts. With longtime left tackle Tyron Smith out for several months and starting left guard Connor McGovern sidelined for several weeks, the unit already has two key losses to overcome.
In addition, will the real CeeDee Lamb please stand up? Expected to become the team's No. 1 receiver, the 2020 first-round pick delivered a dud performance against the Buccaneers. Lamb only hauled in two of his 11 targets for a mere 29 yards.
Without Amari Cooper drawing attention from opposing defenses, the third-year wideout has his work cut out for him. And if Lamb doesn't develop into the guy, the Cowboys' passing game will be in serious trouble. 
Needless to say, the state of affairs in Dallas makes it challenging to see the team earning a playoff berth for the second straight season. 
Then again, perhaps a little magic from Gardner Minshew — along with better injury luck — could keep the Cowboys in the hunt.
Stats courtesy of Pro Football Reference
Like Sportscasting on Facebook. Follow us on Twitter @sportscasting19 and subscribe to our YouTube channel.