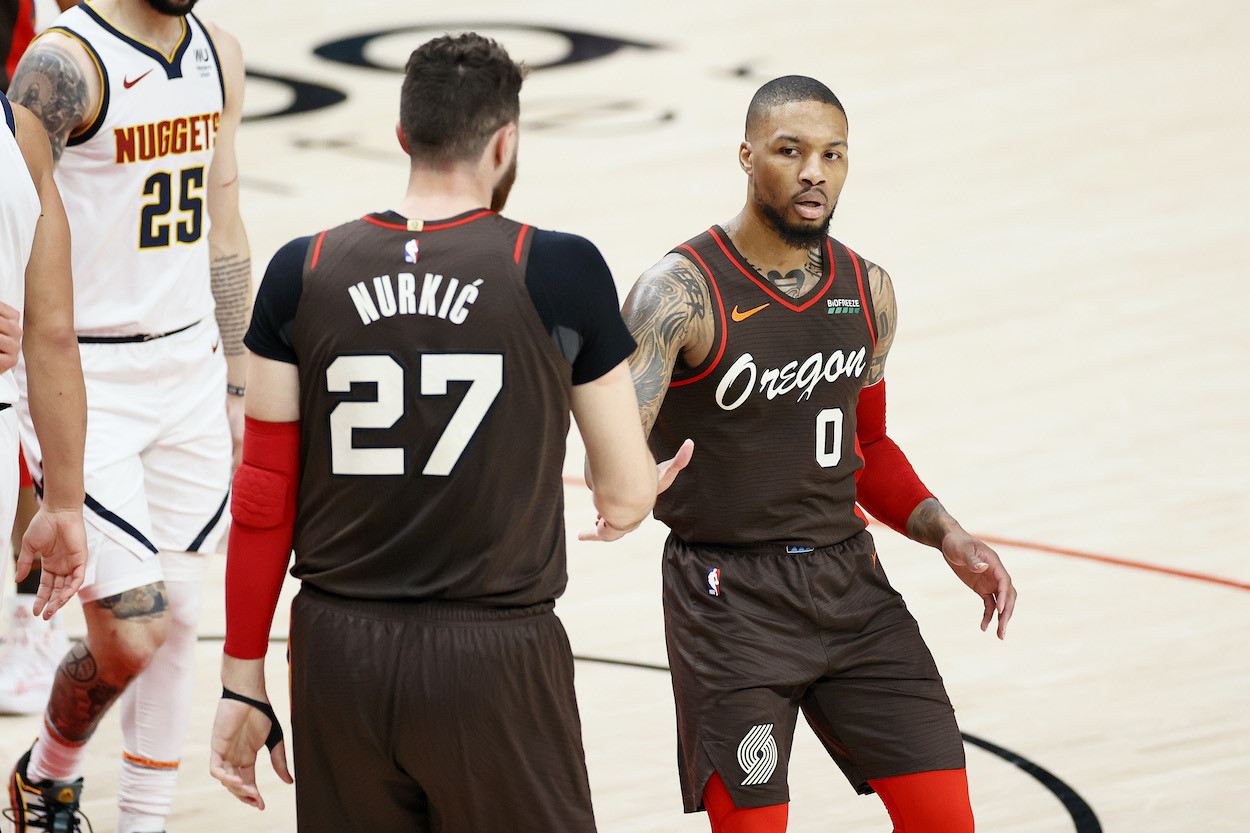 Damian Lillard's Blazers Teammate Is Prepared to Follow Him Out the Door
Damian Lillard sounds like he wants to find another NBA team, and Blazers teammate Jusuf Nurkic is in the same boat.
The Portland Trail Blazers haven't exactly gotten their 2021 offseason off to the right start. After getting bounced in the first round of the NBA playoffs by the Denver Nuggets, the Blazers fired their head coach, hired a new one, and angered their franchise player in the process.
Damian Lillard, who's spent his entire nine-year NBA career in Portland, is reportedly growing frustrated with the franchise, and he could force his way "out the door" this summer. If he does, teammate Jusuf Nurkic says he plans to join him as well.
Damian Lillard might soon be on his way out of Portland
For most of Lillard's NBA career, he's been adamant that he doesn't want to play for any other team. The six-time All-Star loves the city of Portland, its passionate fan base, and his running mate, CJ McCollum.
But falling short in the playoffs year after year can take a toll on players as competitive as Lillard. Despite making the postseason in each of the last eight seasons, the Blazers have only reached the Western Conference Finals one time during that span. They've never made an appearance in the NBA Finals with Lillard on the roster.
After yet another first-round exit this year, the Blazers decided to move on from longtime head coach Terry Stotts, much to the dismay of Lillard. The superstar suggested a few names for the opening, but the franchise didn't interview any of them, according to a report by Chris Haynes of Yahoo! Sports. The Blazers eventually settled on former Detroit Piston Chauncey Billups.
After the hire, sexual assault allegations against Billups from more than two decades ago resurfaced, and Lillard was bashed online for suggesting the hire. In reality, he didn't suggest it at all. He didn't even know about the allegations before this week, but now that he does, he doesn't seem to support Billups as his new head coach.
The hiring debacle, coupled with the Blazers' inability to surround Lillard with a legitimate title contender, may just force him out of Portland.
Jusuf Nurkic would follow Lillard out the door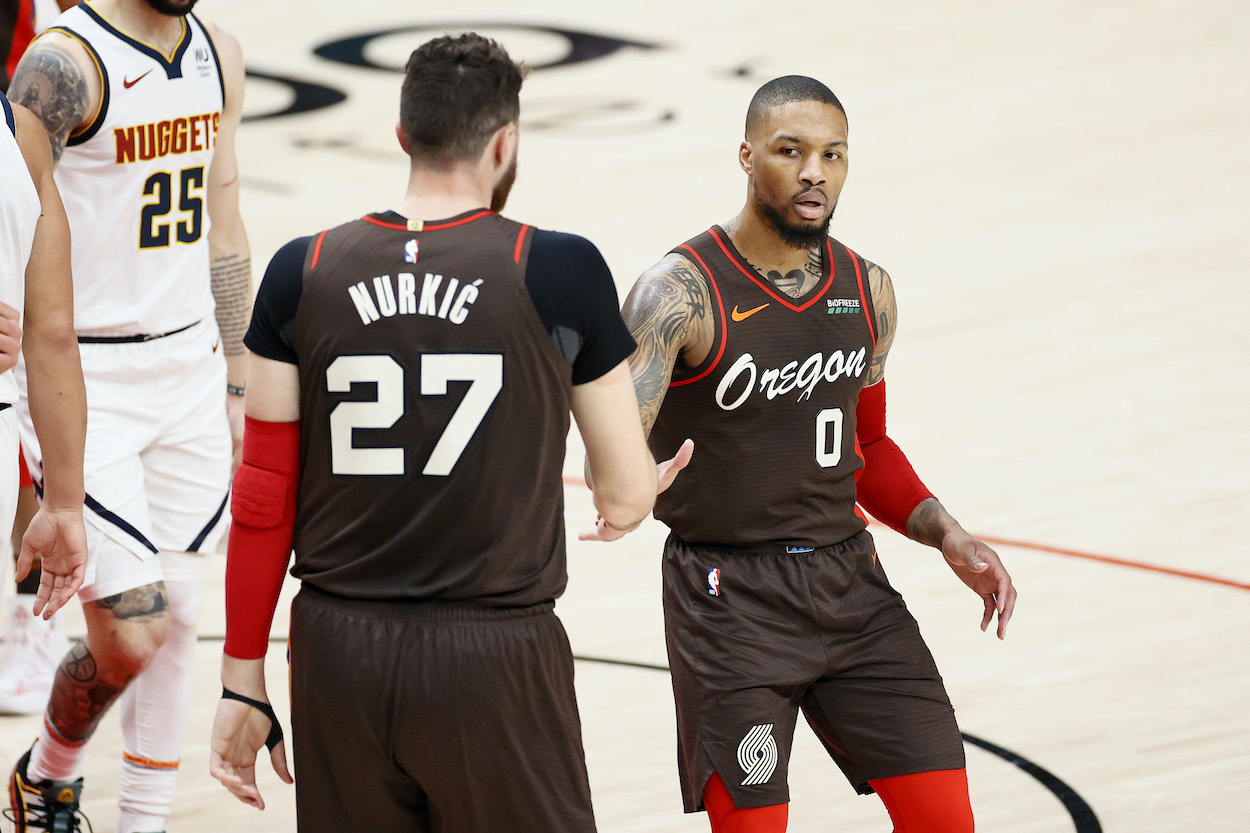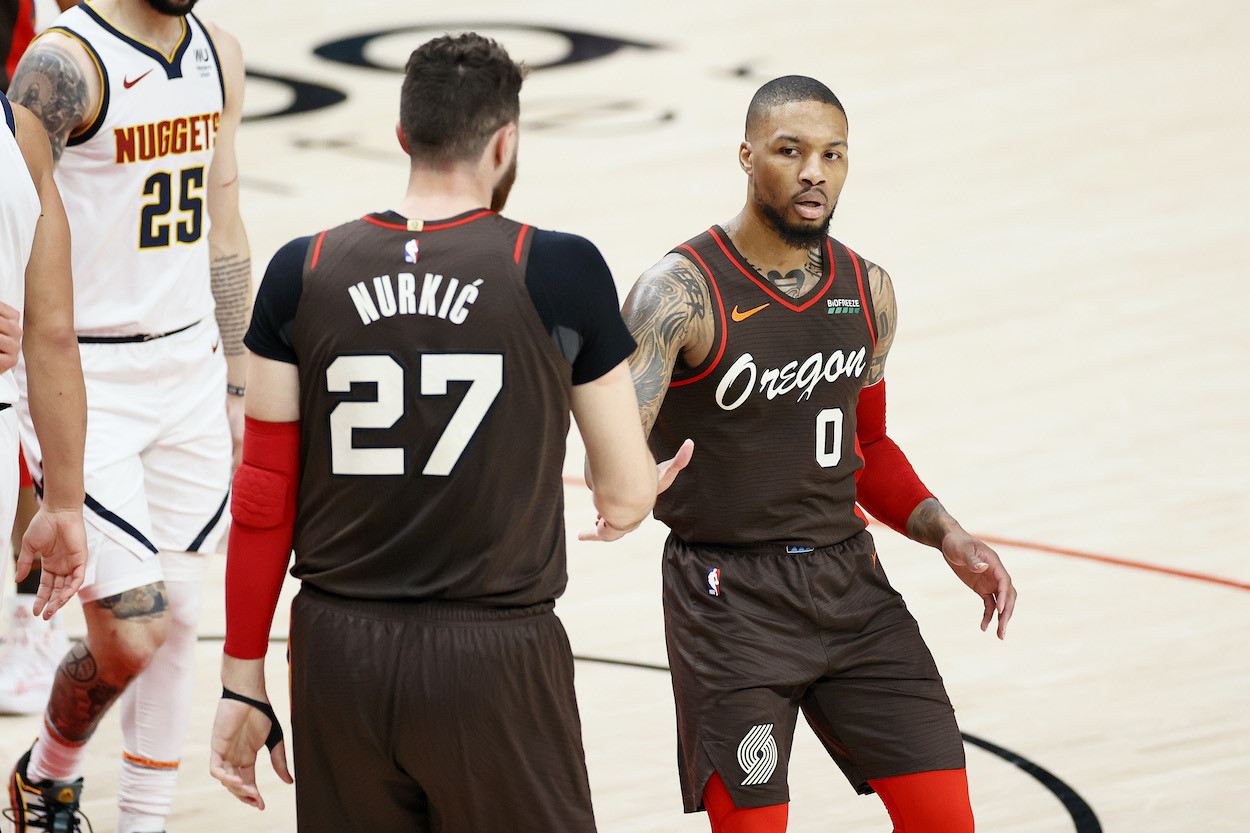 The Blazers will use this offseason to win Lillard back and attempt to build a stronger roster around him, but they'll also have another potential departure to worry about. Nurkic, who's been with the team for four full seasons, doesn't plan on sticking around if Lillard heads out of town.
Speaking recently with Bosnia's Klix.ba, Nurkic revealed he intends to follow Lillard out the door this offseason.
"I don't know what has changed with Lillard in these two days," Nurkic said, as transcribed by Oregon Live. "As far as I know, the man stays there, but if he goes, then I leave Portland as well. My opinion is that it would be stupid to let such a loyal man as Lillard go."
Nurkic knows the Blazers need a change
After their fourth first-round playoff exit in the last five years, it's clear the Trail Blazers need to make a change. However, that change isn't to deal their franchise player. Lillard is the key to a championship for Portland, and letting him go would set off a disastrous chain reaction. Nurkic's recent comments prove just that.
Nurkic knows the Blazers are right on the doorstep of being title contenders, and he wants management to stick to its word by not blowing up the roster.
"In the last game of the season, I said that change must happen," he said. "In four years, we only had one West final, which is relatively small for a team like Portland. There are people above you to decide who will stay and who to bring because the NBA is the biggest business there is.
"As far as I am concerned, I was told that no one will be traded and that only the coach will change."
Well, the coach has already changed. Will Lillard and Nurkic be next?