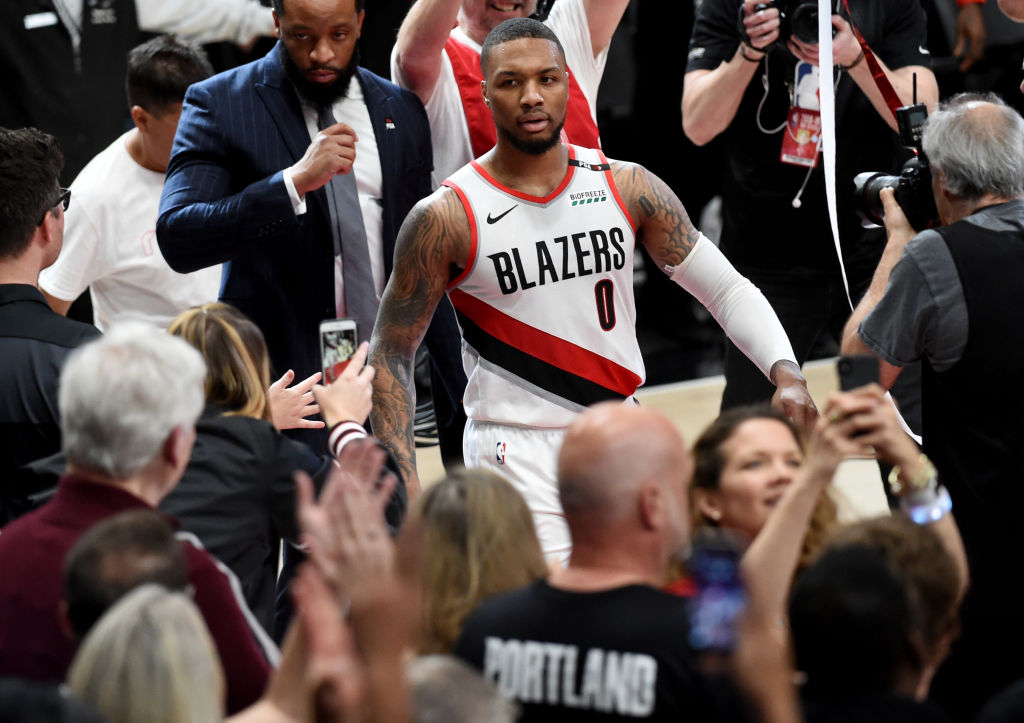 Damian Lillard Ready to Take the Selfish Approach When NBA Returns
We're all looking forward to watching live sports once again. The NBA and NHL are slowly putting pieces together about returns this season. The NFL has said it is going to play and is expecting to play in full stadiums, although that may be a stretch. While the NBA hasn't quite figured out if it …
We're all looking forward to watching live sports once again. The NBA and NHL are slowly putting pieces together about returns this season. The NFL has said it is going to play and is expecting to play in full stadiums, although that may be a stretch. While the NBA hasn't quite figured out if it will jump right into the postseason or play some games to finalize playoff seeding, Damian Lilliard of the Portland Trail Blazers said he'll return only if the format is beneficial to him.
Damian Lillard's NBA career
It didn't take Damian Lillard to make an impact in the NBA. Drafted sixth overall in the 2012 NBA draft by the Portland Trail Blazers, Lillard blossomed right out of the gate. In his rookie season, the point guard out of Weber State averaged 19 points per game and played in all 82 regular-season contests.
Lillard has spent all eight of his seasons with the Trail Blazers. He has been named an NBA All-Star five times. He was named the 2012-013 Rookie of the Year when he also averaged 6.5 assists per game in addition to his 19 points. Lillard was selected as an NBA All-Star in his second season when he averaged 20.7 and 5.6 assists per game. Through his first three seasons in the league, he played in all 82 regular-season games each year.
Lillard was having the best season of his career this year before the NBA suspended its season March 11 due to the coronavirus (COVID-19). Through 58 games, he was putting up 28.9 points and a career-high 7.8 assists per game. He was also leading the league in minutes played per game. For his career, Lillard has averaged 24 points.
When will the NBA return?
There is still no definite timetable for a return of the NBA or how the league will format the return. Brian Windhorst of ESPN, however, recently speculated that the league could return with a 16-team playoff field with no conference seeding. He also said there is a chance that all 30 teams could return and have those on the playoff bubble make their final push.
"I really think there's a good chance this is only going to be a 16-team playoff," Windhorst said on an episode of Get Up. "If that is the case, it opens up the possibility for something that Adam Silver has long wanted, which is to seed 1 through 16 in the postseason and go that route. There's no excuse with travel or anything like that."
He said there is that small chance that teams, like the Portland Trail Blazers who are on the outside looking in, could still have a chance to qualify. Windhorst did say that is the unlikeliest of scenarios. He said any form would have to pass an owner vote.
Lillard won't play in 'meaningless' games
Right now, the Portland Trail Blazers are tied for the No. 9 seed in the West but are 31/2 games out of a playoff spot. There is a chance the Blazers could make the playoffs if all 30 teams come back. Blazers star Damian Lillard said told Yahoo! Sports that the only way he will play is if his team has a legitimate chance of making the playoffs.
"If we come back and they're just like, 'We're adding a few games to finish the regular season,' and they're throwing us out there for meaningless games and we don't have a true opportunity to get into the playoffs, I'm going to be with my team because I'm a part of the team," Lillard said. "But I'm not going to be participating. I'm telling you that right now. And you can put that [expletive] in there."
It seems like Lillard is trying to say the right thing by sticking with his teammates. He then veers off the path by saying he'll be with them but will refuse to help them and play. What's the point of being there, but refusing to play when healthy? It would be understandable if Lilliard was sitting out because of COVID-19 concerns. That clearly is not the case since he would be sitting with the players on the bench.