Damian Lillard Made Big-Time Programs Like Duke and UCLA Kick Themselves
Damian Lillard is arguably the greatest scoring point guard in the entire NBA. Lillard has had immense success in his NBA career so far after being drafted in the 2012 NBA draft. His play in college was ultimately the reason Lillard was selected so high in that draft. However, he didn't play for a big-time college program. Even though he didn't play for a team like Duke, UCLA, Kansas, or Kentucky, though, Lillard certainly made them all kick themselves for not recruiting him.
Damian Lillard was not highly recruited
Coming out of high school in Oakland, California, Lillard was only a three-star recruit, according to 247Sports. Overall, he was the 20th-ranked recruit in California for the 2008 class and the 214th-ranked recruit in the entire country. Some people ranked above him from California? Tim Williams, Chris Gabriel, Collin Chiverton, and Krystopher Faber.
Those aren't names you are expected to know because none of them are NBA superstars. None of them really even had great college success either.
Sure, there were some decent schools to show some interest. Gonzaga was interested but didn't send him an offer, according to 247Sports. Wichita State sent him an offer, as did SMU. Those still aren't eye-popping, top-tier college basketball schools, though.
Lillard ended up playing at Weber State.
Becoming a star at Weber State
Not going to a big-time college basketball school didn't keep Lillard from developing into a great basketball player. After scoring 11.5 points per game his freshman season, Lillard was a stud during his sophomore year during the 2009-10 season. Lillard scored 19.9 points per game to go with four rebounds and 3.6 assists.
Lillard only played in nine games during the 2010-11 season but came back and was a star again during the 2011-12 season. He ultimately scored 24.5 points per game that season to go with five rebounds and four assists. He did this on 46.7% shooting and he was 40.9% from 3-point range.
Being so productive in college led to Lillard becoming a top prospect in the 2012 NBA draft, despite not going to a big-time program.
Lillard becomes one of the best players in the NBA
The Portland Trail Blazers selected Lillard with the sixth overall pick in the 2012 NBA draft. Since then, he has been one of the best players, and one of the best scorers, in the entire league.
Lillard is a five-time All-Star, he has earned All-NBA four times, and he was the 2012-13 NBA Rookie of the Year. Lillard averaged 19 points per game during his rookie season to go with 6.5 assists. For his career, Lillard is averaging 24 points per game to go with 6.5 assists and 4.2 rebounds. This season, before the NBA suspended its season, Lillard was scoring 28.9 points per game in addition to 7.8 assists and 4.3 rebounds.
He is easily a top-three point guard in the league, if not the best.
What were the big college programs thinking?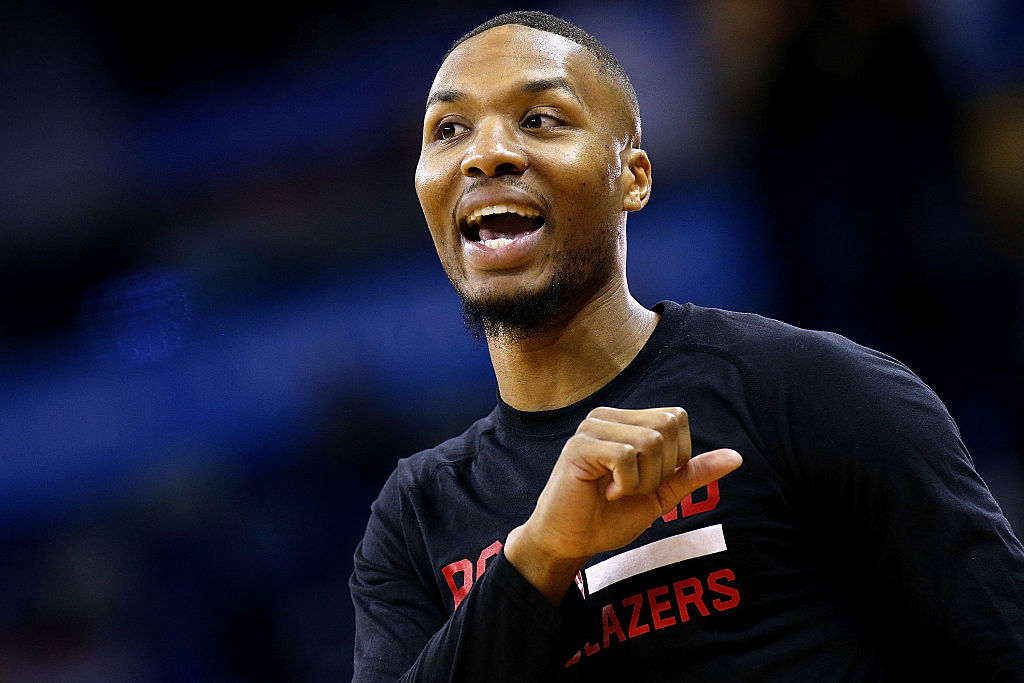 One has to wonder what in the world some of these big-time college basketball programs were thinking when Lillard came out of high school in 2008.
Duke could have used him during the 2011-12 season (Lillard's senior year). The Blue Devils' guards that year were Austin Rivers, Seth Curry, Andre Dawkins, Quinn Cook, and Tyler Thorton. Decent players, but none of them had Lillard's skills. Kansas could have used him that season too. Their guards that year were Tyshawn Taylor, Elijah Johnson, Travis Releford, Conner Teahan, Naadir Tharpe, Jordan Juenemann, Christian Garrett, and Niko Roberts. None of those names really stand out.
However, the program that should be kicking itself the most is UCLA. Lillard was from California. Why weren't they recruiting him? UCLA had a good recruit in the 2008 class, Jrue Holiday, but they still could have used Lillard. During Lillard's senior year in 2011-12, their best guard was Lazeric Jones who scored 13.6 points per game. That's not a horrible average, but his skills still didn't even touch Lillard's.
Lillard will most likely go down as one of the best point guards of his era. He can score at a high level and facilitate at a high level. He could do that in college too but did not get a chance to do it on a big stage. Big-time programs like Duke and UCLA have to wonder why they didn't look at the dominant point guard from Oakland, California.