1 Thing Keeping Damian Lillard and the Trail Blazers From Being Contenders
After a successful 2019 postseason run, people considered the cold-blooded Damian Lillard and the Portland Trail Blazers a trendy pick to come out of the Western Conference this season. Then free agency got underway, and the landscape of the conference changed.

Kawhi Leonard, Paul George, and Anthony Davis all headed to Los Angeles (Davis teamed up with LeBron James on the Lakers). That meant the pecking order in the West would be a lot different, and so far, it has turned out that way.

Portland is missing a key component to their 2018-19 success. Let's take a look at the one major weakness of the team that could hold them back from a return trip to the Western Conference finals, and some other factors contributing to their struggles this season.

Jusuf Nurkic's broken leg
When Jusuf Nurkic went down with his broken leg in February, it was a huge blow for the Trail Blazers in the middle. Nurkic's size has always been a problem for many of the game's big men, as he averaged more than 15 points and 10 rebounds per game last season.

Nurkic should return sometime this season. If he's able to play at 100% when he returns, then the Trail Blazers' shouldn't have a problem in the paint. It will be up to Hassan Whiteside to hold down the front line until he returns.

So far, Whiteside is having the second-best season of his career, averaging 15 points and 12 rebounds per game, while also making noise on the defensive end and chipping in two blocks per game.ZXXXXX
Portland's 2019 playoff run
After finishing the season third in the Western Conference, Portland made quick work of the Oklahoma City Thunder, winning that series in five games. They then had a seven-game showdown with the No. 2 seed Denver Nuggets, proving that they belonged in the discussion of elite teams in the West.

Their run ended with a loss to the Golden State Warriors in the Western Conference Finals, which actually impressed Damian Lillard, even though his team was on the wrong end of it.

Damian Lillard's comments about Portland's lack of size
Damian Lillard is a standout guard, one of the best in the game, but he can't do it all by himself. Here's what Lillard had to say about the Trailblazer's size issues when speaking to reporters after a loss to the Cleveland Cavaliers:

"We really small right now. I think teams realize that, so it seems like it's an emphasis for teams to crash harder because they know there's opportunity there."

Although the team is currently seventh in the league in rebounds per game, they are allowing opponents to shoot 49% from inside the 3-point line, which makes it easier for teams looking to attack the paint.
Was signing Carmelo Anthony a smart move?
Although it was a major surprise, Carmelo Anthony's signing with Portland has helped the team on the offensive end of the floor. He is averaging 17 points per game, but the main concern we have is his lack of intensity on the defensive end of the floor.

Anthony has never been known as a two-way player, and we wonder how much of an impact he can have once Nurkic returns later in the season.

How effective will Jusuf Nurkic be?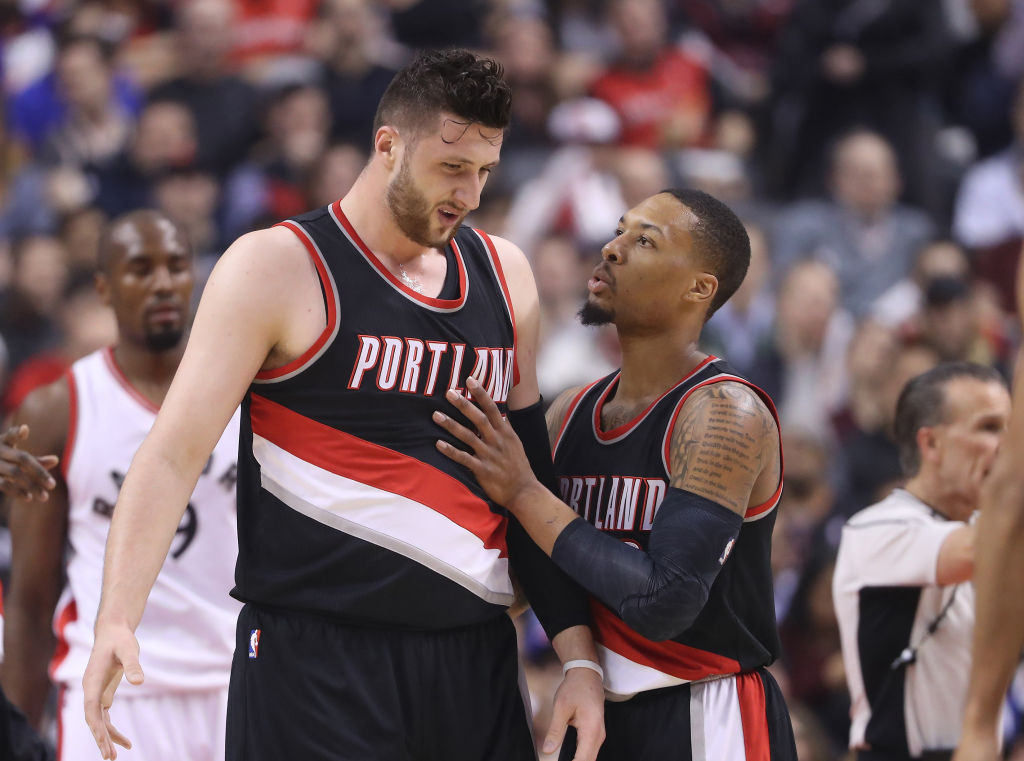 Can Nurkic come in and take care of the middle for Portland? They slate his return for February or March if he doesn't have any setbacks, and we think he could come in and make a formidable front line alongside Hassan Whiteside. But will Damian Lillard and the Blazers still be in the playoff hunt by then if teams continue to exploit their lack of size?

Portland will need him at 100% to make a push in the playoffs, and with how upside down the conference has been this year, they may be fighting for the playoff lives once he returns. Damian Lillard could continue to play at an All-NBA level, and it wouldn't surprise us to see Portland finish outside of the playoffs entirely.