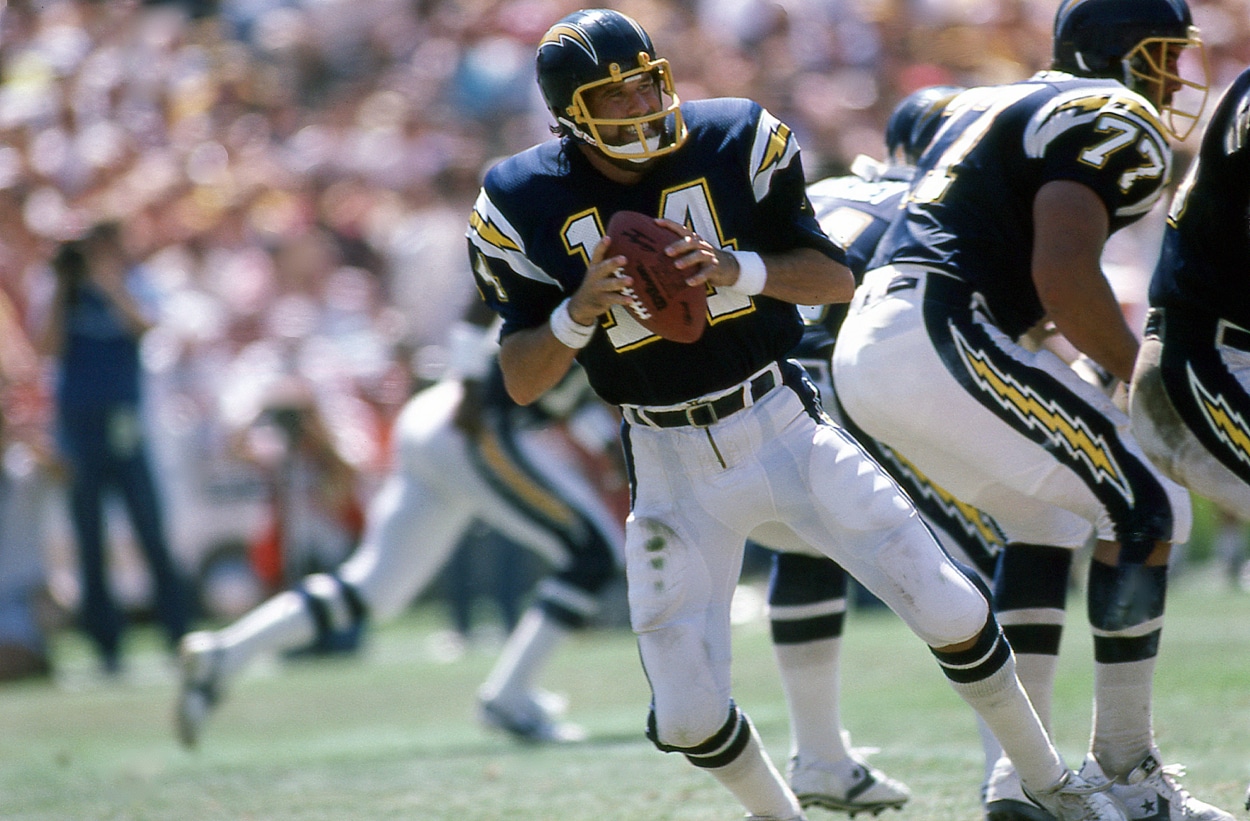 Dan Fouts Was Told to Be a Quarterback and Then Became One of the NFL's Toughest and Most Exciting Of All Time
Former San Diego Chargers quarterback Dan Fouts could sling it, but he also proved he could take a hit.
Many factors contributed to Dan Fouts becoming a Hall of Fame quarterback with the San Diego Chargers. It all started with his father. Fouts grew up playing baseball but then wanted to explore football as a 12-year-old. That's when he turned to his father, who said he'd let him play on one condition.
Dan Fouts was one of the toughest quarterbacks in NFL history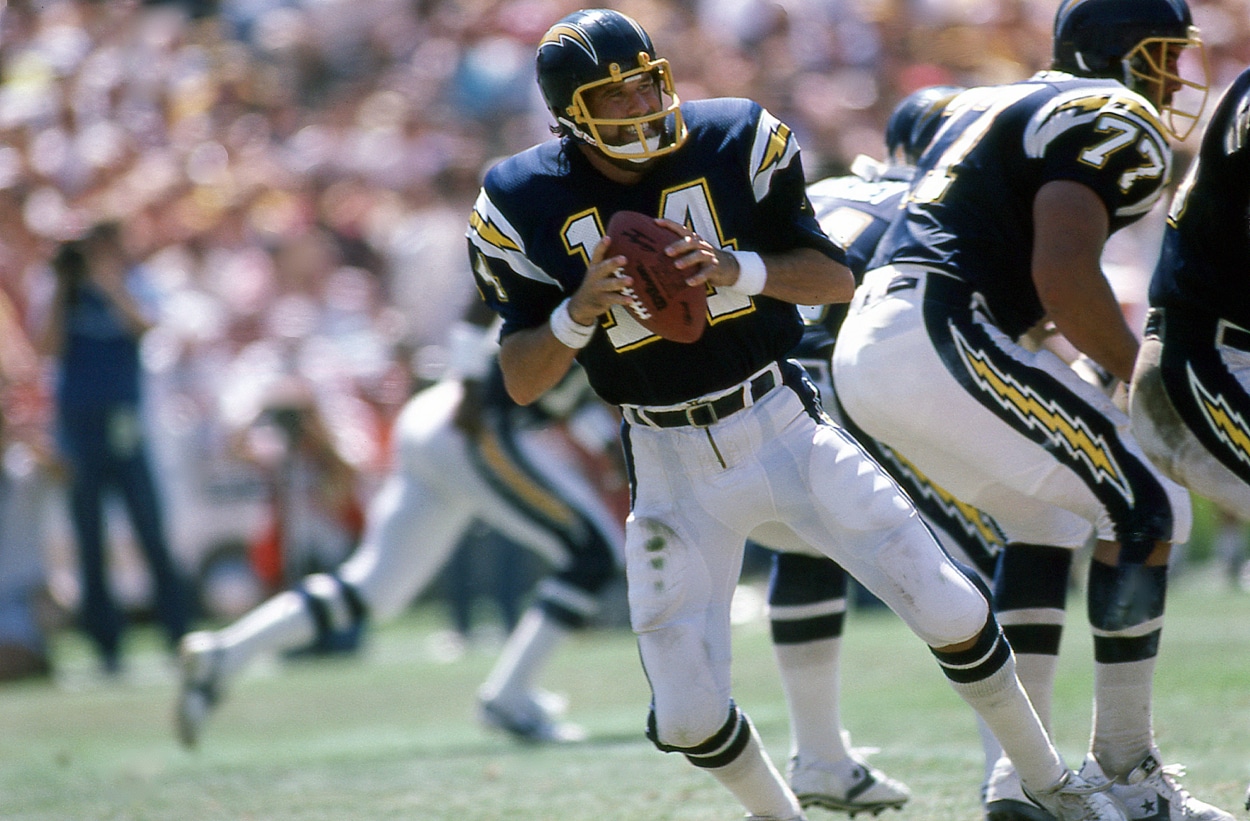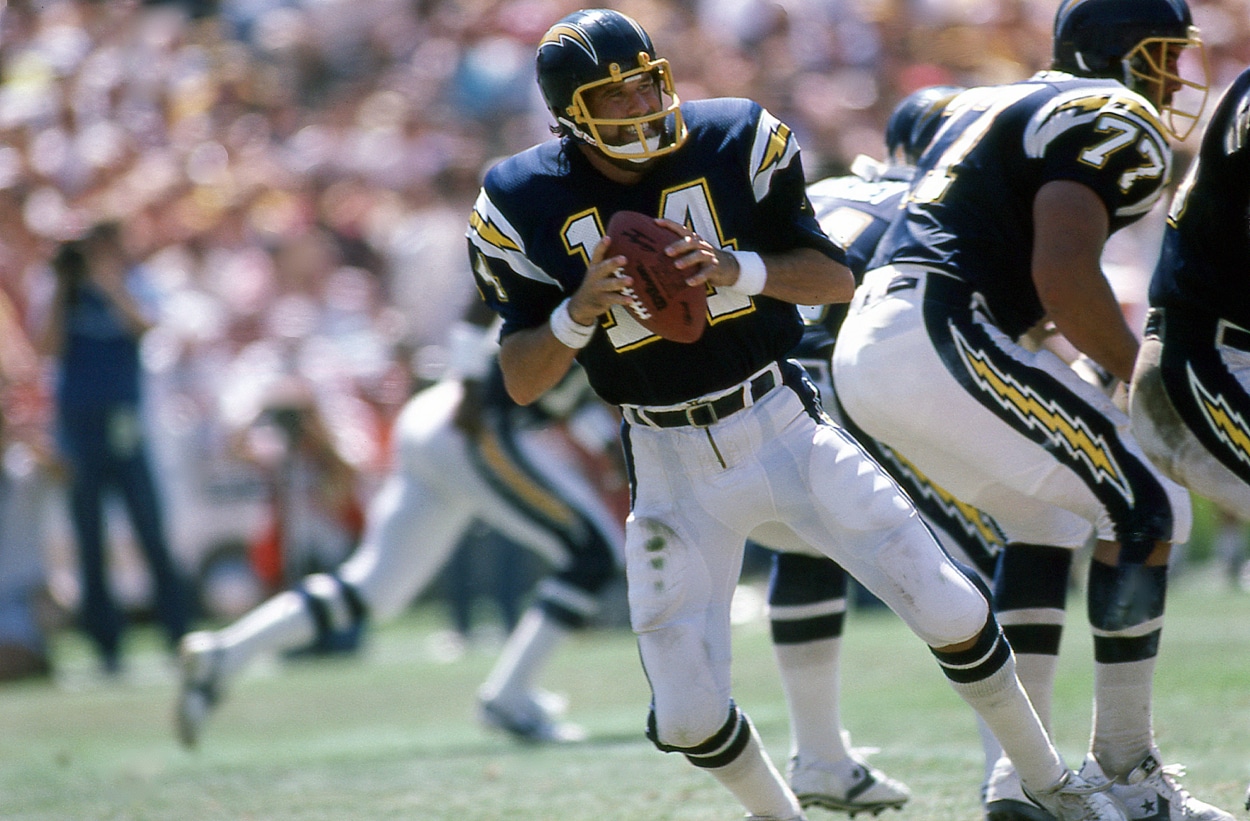 Fouts is known as a quarterback who could sling it. He threw it often in head coach Don Coryell's pass-happy offense, setting numerous passing records in the process. For four straight seasons, Fouts led the NFL in passing yards. In the first three, he threw for well over 4,000 yards, something that was unheard of in the late 1970s and early 1980s.
Fouts had the green light. He also had the receivers to complement his arm. Wes Chandler, Charlie Joiner, and Kellen Winslow helped make the "Air Coryell" system a success. Fouts was a six-time Pro-Bowler in the league's most exciting offense.
While Fouts gets credit for airing it out and putting up points, he rarely gets the credit he deserves for being one of the toughest quarterbacks ever to play. Jim Kelly of the Buffalo Bills and Brett Favre of the Green Bay Packers typically head the list of toughest NFL quarterbacks. Fouts needs to be on this list. For a QB who threw it as much as Fouts, he rarely lined up in shotgun formation. That was by design.
"Dan says he's more comfortable at the line," said former Chargers quarterback coach Roger Theder in 1987, per The Los Angeles Times. "He likes to look the linebackers in the eyes, just to get the feel of what they're going to do."
Chandler said that lining up under center and holding on to the ball too long to give his receivers time to get open often resulted in Fouts taking plenty of hits.
"Dan sort of brings it on himself, too," Chandler said in '87. "No quarterback drops back shorter. That's what Joe Namath used to do. Dan's holding the ball and holding the ball, allowing guys to get open. If it takes getting hit, he'll get hit. But, you see, a lot of times I'll be looking at the films, and it's that last second of waiting that makes the difference between complete and incomplete."
Fouts' father let him play football if he played quarterback
If not for his father, Fouts may have made a career for himself slinging baseballs. When Fouts was a rookie with the Chargers after a stellar career at Oregon, his father, Bob, told the story of how his son made the move from baseball to football.
"When he was in about the seventh or eighth grade, he came to ask me if he could play," Bob Fouts said then, according to The Associated Press. "He said he wanted to play end."
The elder Fouts said Dan had shown off a strong arm in Little League baseball, and he cut his son a deal.
"I'll let you play if you'll be a quarterback," Bob said.
It all worked out as he earned a scholarship to play for Oregon and set 19 records while playing for the Ducks. The Chargers selected him in the third round of the 1973 NFL Draft. After a sluggish start in the NFL, he became one of the league's best, throwing for better than 43,000 yards in his career. He also tossed 254 touchdown passes. He was inducted into the Pro Football Hall of Fame in 1993.