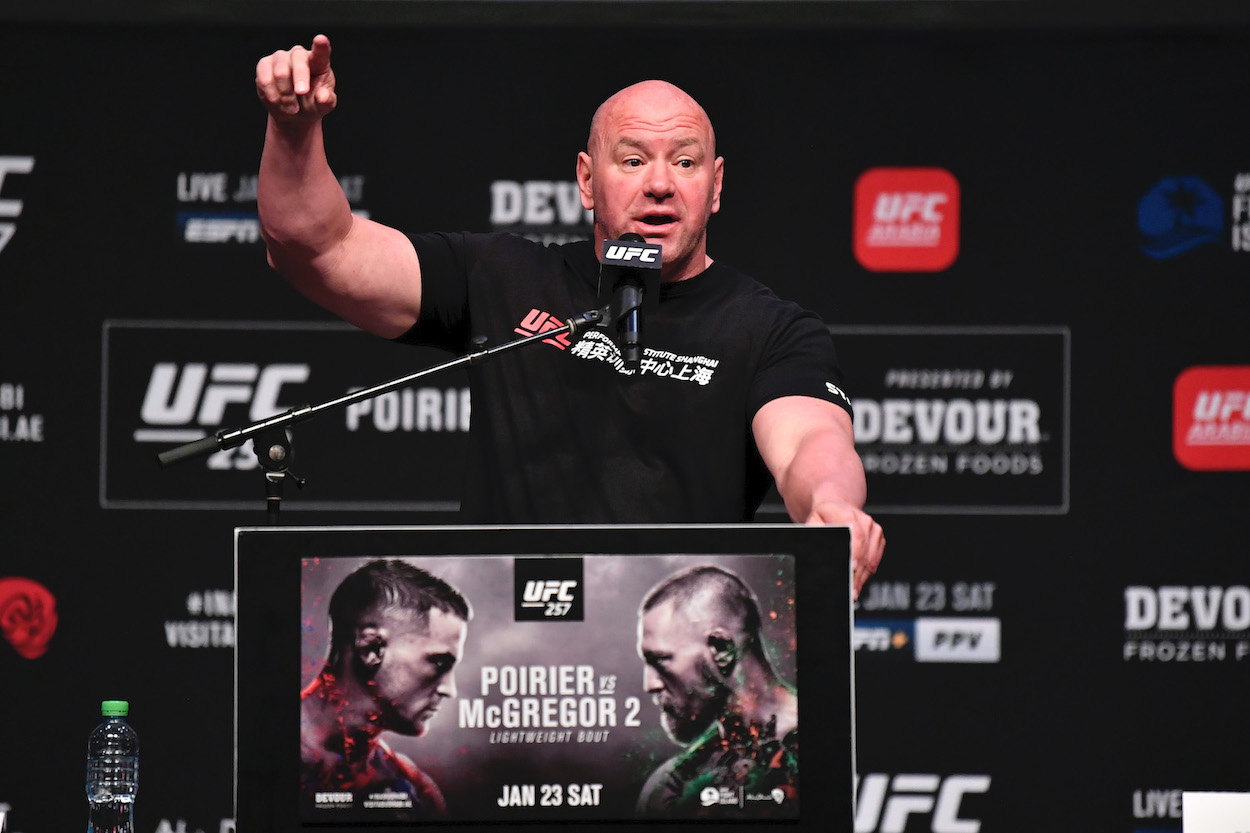 Dana White Fires Undefeated Fighter Scheduled for UFC 257 Main Card After Insane Violation
UFC's Dana White defied the odds and brought UFC back before any other sport in the U.S. following a rigorous standard of self-imposed protocols. So when one of his fighters defiantly broke a safety protocol at Fight Island before UFC 257, he fired him.
For better or for worse, UFC President Dana White has always done things his way. When the sports world shut down in March due to the pandemic, the UFC had a brief work stoppage, but White plowed forward against the advice of many experts and the UFC was the first sport that returned to action in the United States.
In hindsight, White proved all of those doubters wrong after implementing various health and safety precautions that resulted in minimal fight interruptions. After eight months of success, White faced adversity this week on Fight Island ahead of UFC 257 when a top undefeated up-and-coming fighter on the main card inexplicably decided to breach the safety protocols. White found out about it, and the fighter is no longer with the UFC. 
Dana White pulled off ambitious return of UFC from pandemic
In March 2020, as the pandemic shut down the sports world, the UFC wasn't exempt and closed down event operations. However, behind the scenes, UFC President Dana White was preparing for a return. 
White had hoped to return in April with UFC 249 but postponed the event at the request of ESPN and Disney. Late in April, White said the preparations for a May fight were in full swing and it was going to be the safest card the UFC had ever produced.
"We're gonna have an overabundance of safety. We're gonna spend what it costs," White told TMZ. "We have really smart people who've been working on this … and we're gonna spend whatever it costs to make sure the fighters, their camps, the commission, the referees, our production people and everybody is safe that's gonna go to this event."
In a surreal scene, UFC 249 took place in an empty 15,000-seat Veterans Memorial Arena in Jacksonville, Florida, with all those outside of the octagon wearing masks — a scene that has become commonplace in sports since. 
Dana White fires UFC fighter Ottman Azaitar after breach
In the last seven months since its return, UFC hasn't missed a beat. There have been multiple fighters test positive, but the organization has always found a willing replacement. The UFC's success is due to the rigorous self-imposed protocols put in place that focus on the health and safety of the fighters, their teams, and everyone else involved in a UFC event.
On Friday, undefeated lightweight sensation Ottman Azaitar didn't show up for the UFC 257 weigh-in. White explained that Azaitar had been cut from the promotion and then described a bizarre scene that sounded like it came from a movie script, not a UFC fight in Abu Dhabi.
"It's pretty amazing actually," White told BT Sport. "He and his team cut off their wristbands, gave them to somebody else outside the bubble, I don't know how they even did it. That guy taped them, showed up with a bag, went into a room, shimmied across four balconies, went into his room, dropped the bag off, changed his clothes, and then left. When security tried to stop him, he wouldn't stop. It's bad. He's gone, he's no longer a UFC fighter." 
How good was Ottman Azaitar?
Ottman Azaitar made his professional MMA debut in 2014 in Germany. For the next five years, the Moroccan fighter defeated his opponents in dominant fashion, winning all but three fights in the first round. 
Azaitar made his UFC debut at UFC 242 in September 2019 against Teemu Packalén, where he once again impressed, claiming victory with a first-round knockout, which earned him a Performance of the Night bonus and improved his overall record to 12-0.
Azaitar was scheduled to return to the octagon in April 2020 and face Khama Worthy at UFC 249, but the pandemic delayed the fight. The two finally met in September, and the 30-year-old Moroccan won by TKO in the first round. He won his second Performance of the Night bonus. 
Ottman Azaitar's prospects in the UFC looked bright as he was part of the main card featuring one of the biggest UFC cards in years with Conor McGregor and Dustin Poirier at UFC 257. However, an inexplicable decision to sneak outsiders into the bubble at Fight Island has cost him his job in the UFC, and potentially his career.
Like Sportscasting on Facebook. Follow us on Twitter @sportscasting19.