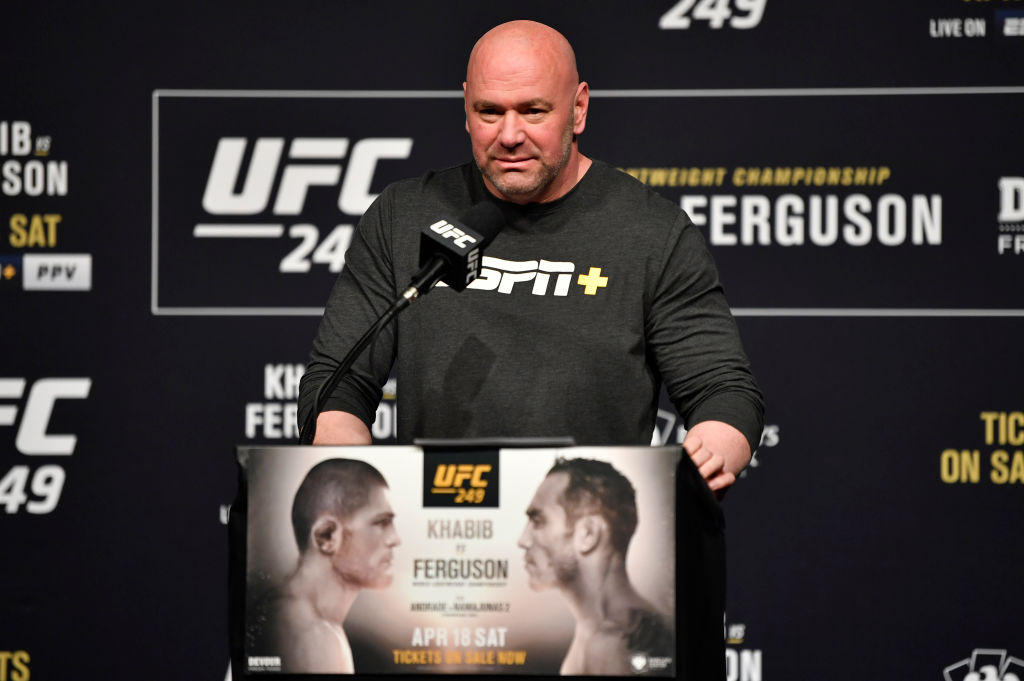 Dana White Says Khabib Nurmagomedov Versus Tony Ferguson Will Happen
The spread of the coronavirus is putting Khabib Nurmagomedov and Tony Ferguson's UFC title fight in jeopardy, but Dana White is confident it will proceed as planned
Almost the entire sports world has come to a screeching halt due to the spread of the coronavirus in the United States. Every major U.S. sport has suspended competition for the time being, but one man is determined to proceed as planned: UFC President Dana White.
White appeared on Sportscenter late Saturday night and announced the upcoming Khabib Nurmagomedov versus Tony Ferguson bout will happen on April 18 as scheduled. The UFC lightweight title fight was originally scheduled to take place in Brooklyn, New York, but White said he's actively exploring new venue options.
The UFC was one of the only sporting events across the globe to take place this past weekend. UFC Fight Night 170 was held in Brazil in an empty arena closed to fans. White said he believes the UFC schedule will continue without interruption in the coming weeks.
Fans believe Khabib versus Ferguson fight is cursed
This isn't the first time Khabib versus Ferguson was threatened to be canceled. In fact, it's the fifth time the highly anticipated matchup is in danger of cancelation. The previous four scheduled fights were all scrapped due to varying circumstances.
The first scheduled fight between the two lightweights was supposed to take place in 2015, but Nurmagomedov suffered a rib injury prior to the fight and couldn't compete. A year later, the two were slated to fight in April at UFC Tampa. This time, Ferguson was forced to pull out because of a lung issue.
In 2017, Nurmagomedov and Ferguson were scheduled to headline UFC 209 in the lightweight title bout, but Nurmagomedov fell ill a day before the event. The bad luck continued in 2018 for the seemingly cursed matchup. Again the two were slated to fight in a title match, and again Ferguson was forced to pull out. This time, it was due to a freak knee injury suffered at a media event when Ferguson slipped and fell.
Dana White has no plans to cancel any UFC events
Dana White made it clear Saturday on Sportscenter that the UFC will do everything in its power to ensure this title fight will go on. Fans have been yearning for this bout for five years.
"Unless there's a total shutdown of the country where people can't leave their houses, these fights will happen," White said. "We're going to move on. These guys will compete, we'll find venues, and we will figure this thing out. The only thing that's going to stop us is a complete government shutdown where everybody is confined to their homes."
White added that he will be exploring options for safe venues for UFC 249. If the fight does go on as planned on April 18, it will have to be moved to a different country and most likely won't have any fans in attendance.
Khabib vs. Ferguson is the most anticipated fight in UFC history
The build-up for the title fight between Nurmagomedov and Ferguson is unlike anything the UFC has ever seen. The fighters are widely considered the two best in the lightweight division, but fans have been stripped of seeing them fight four separate times.
Nurmagomedov is still undefeated in his UFC career at 28-0. Ferguson is 25-3 and has won his last 12 UFC fights. If anyone can dethrone the undisputed champ, it's Ferguson.
Dana White is confident the fight will take place next month. UFC fans around the world are crossing their fingers and hoping he's right.