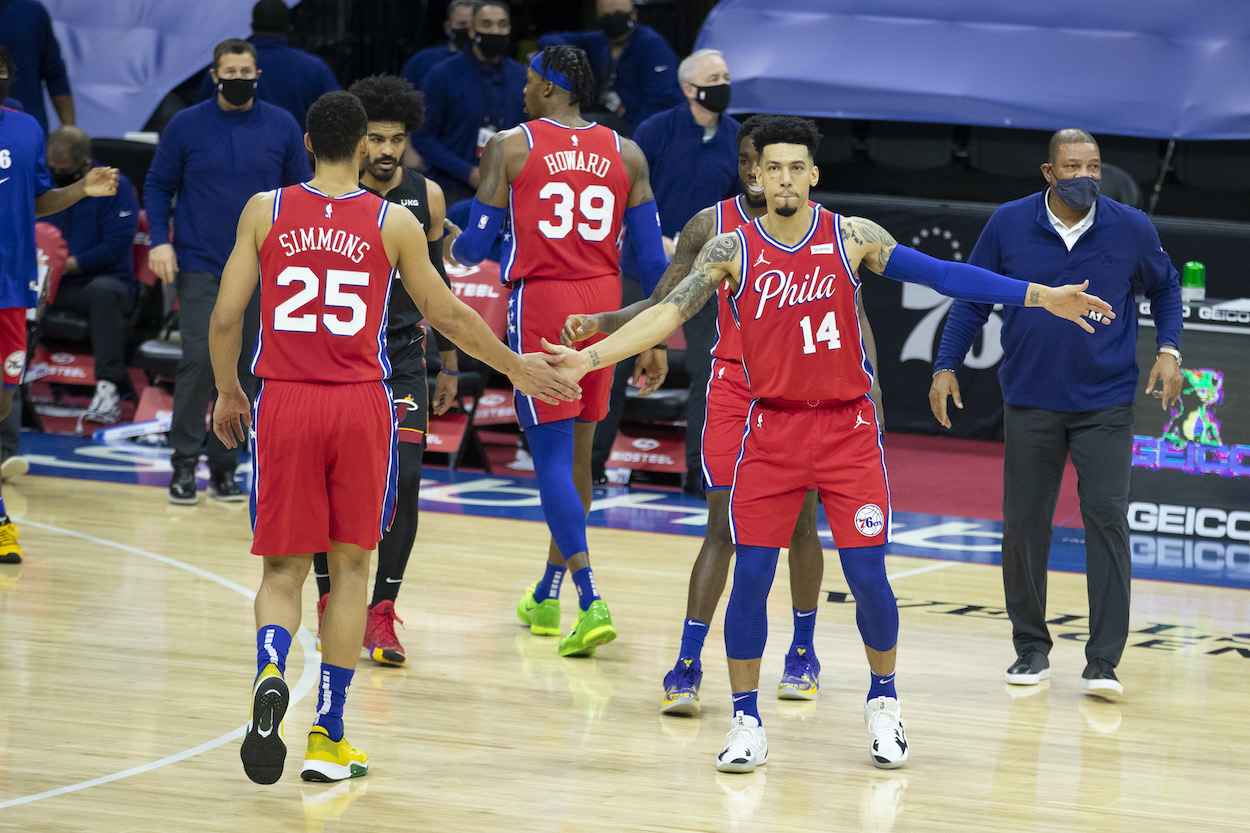 Danny Green Adds More Fire to Ben Simmons' Return to Philadelphia
Ben Simmons will have a decision to make when the Brooklyn Nets visit the Philadelphia 76ers on March 10.
Ben Simmons was ecstatic to free himself from the shackles of the Philadelphia 76ers earlier this month. The three-time All-Star refused to play in front of Philly's rabid fan base inside the Wells Fargo Center this year, and his wish was granted when the Sixers shipped him to the Brooklyn Nets in exchange for James Harden.
But even though Simmons is no longer a 76er, he'll have to return to his old city and suit up in front of 20,000 angry fans soon as an Eastern Conference rival. This can happen as early as March 10, but Sixers guard Danny Green believes Simmons will do everything in his power to avoid taking the court that night.
Danny Green is ready to move on from Ben Simmons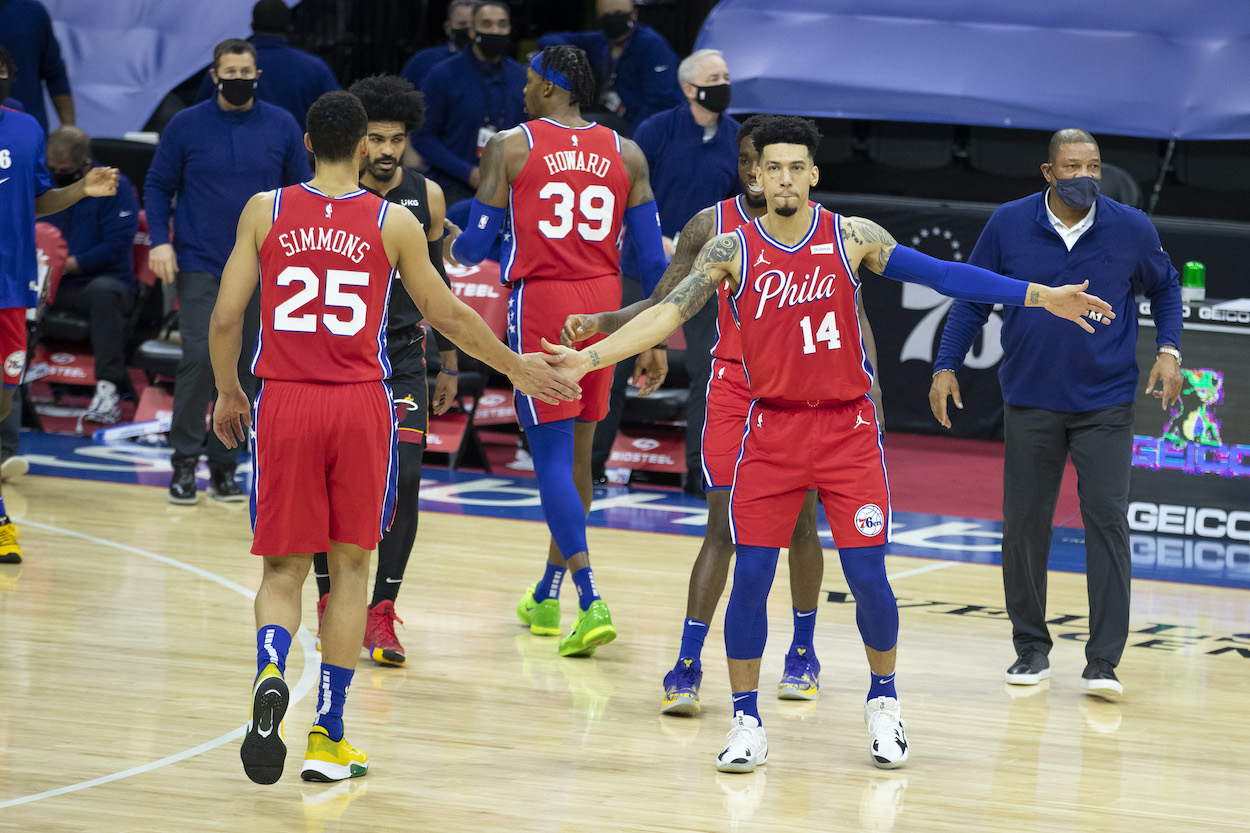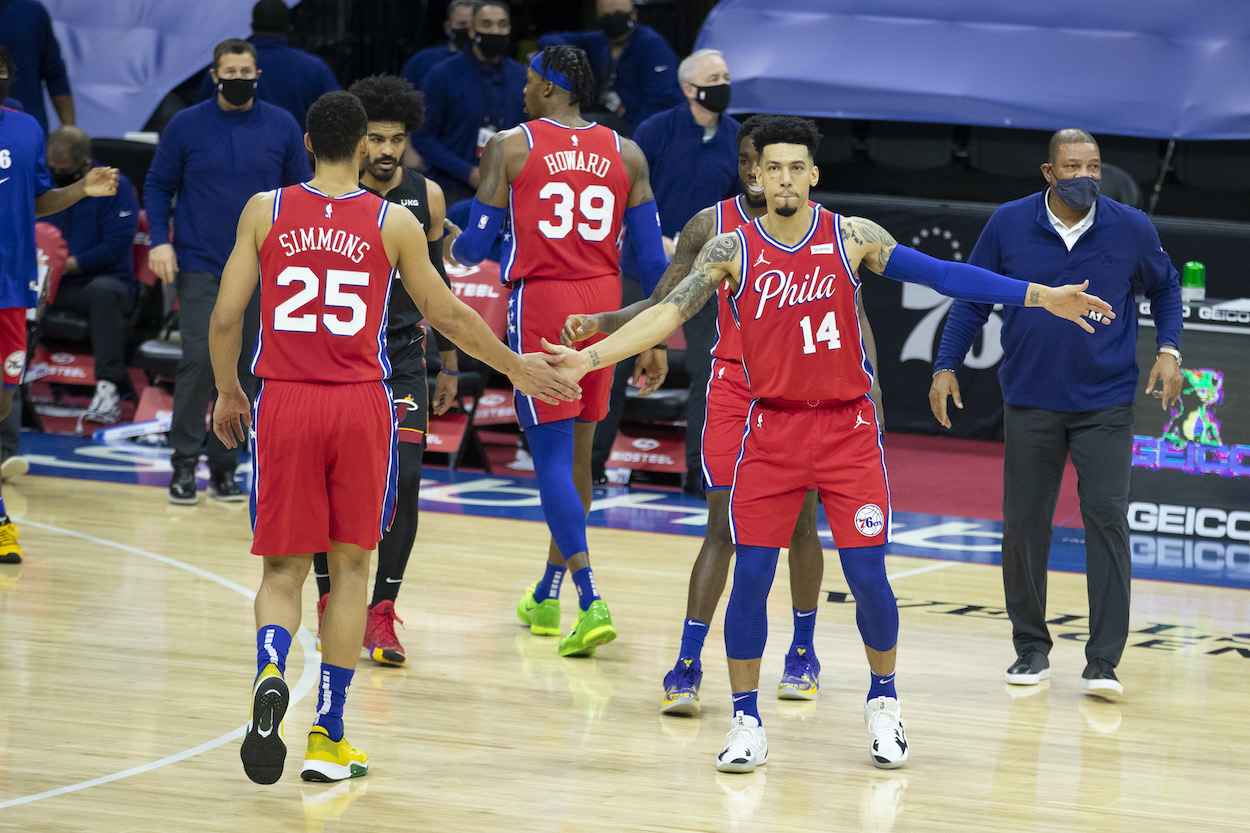 After watching Simmons hold the Sixers hostage for eight months, Green understandably grew tired of the drama. He, along with many of his other teammates, was relieved when Philadelphia finally found a trade partner for the disgruntled point guard.
Speaking recently on his Inside the Green Room podcast, Green said he was disappointed with how the Simmons saga shook out, but he's willing to forgive and forget.
"That's it, let bygones be bygones," Green said. "I understand you have a mental health issue. I understand you don't want to play where you want to — whatever it is. You did what you needed to do to make better for you in your life. That's cool. Do I think you could have handled it better? For sure, because we had nothing against you as teammates, still have nothing against you."
Green echoes Joel Embiid's thoughts that the team would've welcomed Simmons back to the lineup, but that was clearly never on the table.
Green doesn't believe Simmons will play in Philly on March 10
Simmons is scheduled to return to the Wells Fargo Center on March 10 when the Nets visit the 76ers for a regular-season matchup. But considering the 25-year-old hasn't suited up for Brooklyn since being traded, there's no guarantee he'll be on the court that day.
If you ask Green, he'd be shocked if Simmons plays, and he surely doesn't expect a warm reception either way.
"Will we shake hands to start? Probably not," he said. "First, I'd be highly surprised if he even plays in that game. I don't know where his health is mentally, physically. I know he had other issues, and we all know he does not like to play in Philly. If he does play in that game, I'd be highly surprised. But say that does happen, I see it as being a very hectic, playoff-like atmosphere and environment to where it may be very rough for him."
He's got that right. Philadelphia fans weren't going to take it easy on Simmons if he ever returned to the court in a Sixers jersey. Now that he's in a different uniform, his first trip to the 2-1-5 is going to get rowdy.
Simmons can't hide from Philly forever
It'd be hard to blame Simmons for skipping the March 10 matchup against the 76ers. The wounds of the breakup are still fresh for both sides, and he might think letting some more time pass will ease the tension between him and Philadelphia fans.
But that would be a foolish assumption.
No matter how hard Simmons tries to avoid the storm, he will eventually have to step on the Wells Fargo Center court in an enemy uniform. And the Philly faithful will be prepared to do what it does best. If we're lucky, the Nets and Sixers will end up facing each other in the postseason, and Simmons will have no where to hide.
He might as well get it over with on March 10, because the longer he waits, the angrier fans will become. Be careful what you wish for.
Like Sportscasting on Facebook. Follow us on Twitter @sportscasting19.