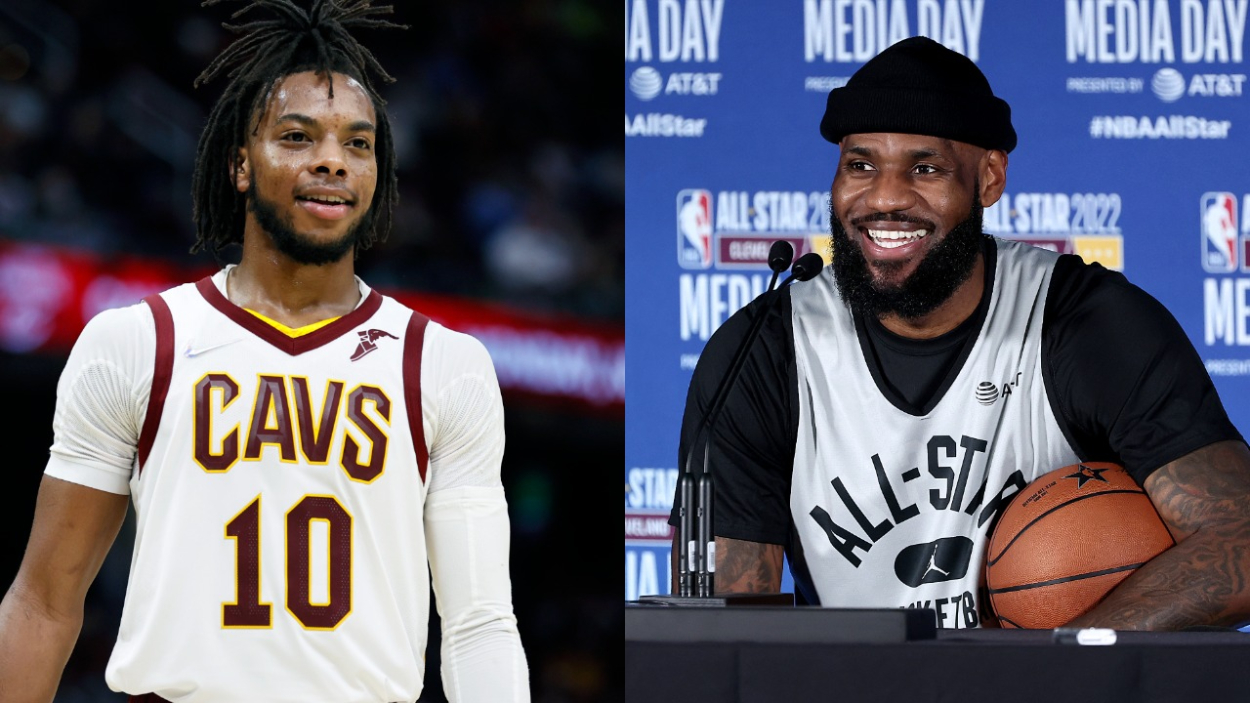 Darius Garland Unintentionally Adds to LeBron James' Cavs Speculation
LeBron James' recent comment has resulted in a ton of speculation around his potential return to the Cavs, and Darius Garland may have just added some fuel to the fire.
LeBron James essentially broke the internet with his recent comment about leaving the door for a potential Cleveland Cavaliers return open. In light of the Cavs having a stellar year and the Los Angeles Lakers looking horrible, his remark laid the groundwork for an interesting 12-plus months leading up to his 2023 free agency.
However, James isn't the only one adding fuel to the speculation fire; Cavs point guard Darius Garland just did too, but his comments have flown under the radar a bit more.
Garland recently discussed his relationship with James — the greatest player in Cavaliers history — and no one should take the up-and-coming star's words lightly. In fact, they may just be a piece to the puzzle when trying to figure out what LeBron will do next.
LeBron James isn't shutting the door on a potential Cavs return
With LeBron James back in Cleveland for NBA All-Star Weekend – and with the Cavs having a stellar season this year – The King recently addressed whether he could return to the Cavaliers for a third stint with the organization.
The Cavs drafted him out of his Akron, Ohio high school in 2003. James then spent seven years with the franchise before going to the Miami Heat in 2010. He returned to his home team in 2014 and won Cleveland a championship in 2016, but LeBron later left again in 2018, signing with the Lakers.
"The door's not closed on that," James said of a potential return to the Cavaliers, per The Athletic's Jason Lloyd. "I'm not saying I'm coming back and playing, I don't know. I don't know what my future holds. I don't even know when I'm free."
Let's be real; there's no way James doesn't know when he's free. His impending 2023 free agency is approaching faster than he does on a fast break.
And current Cavs star Darius Garland just added fuel to the fire.
Darius Garland called LeBron a 'big brother'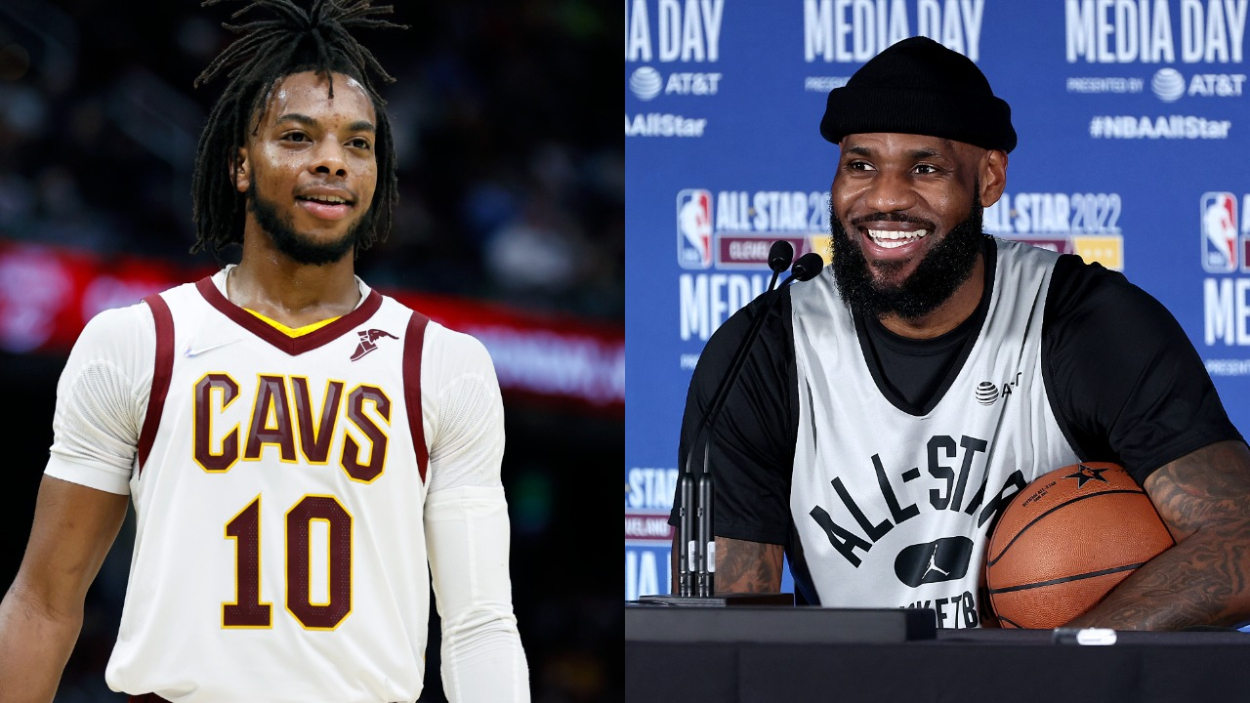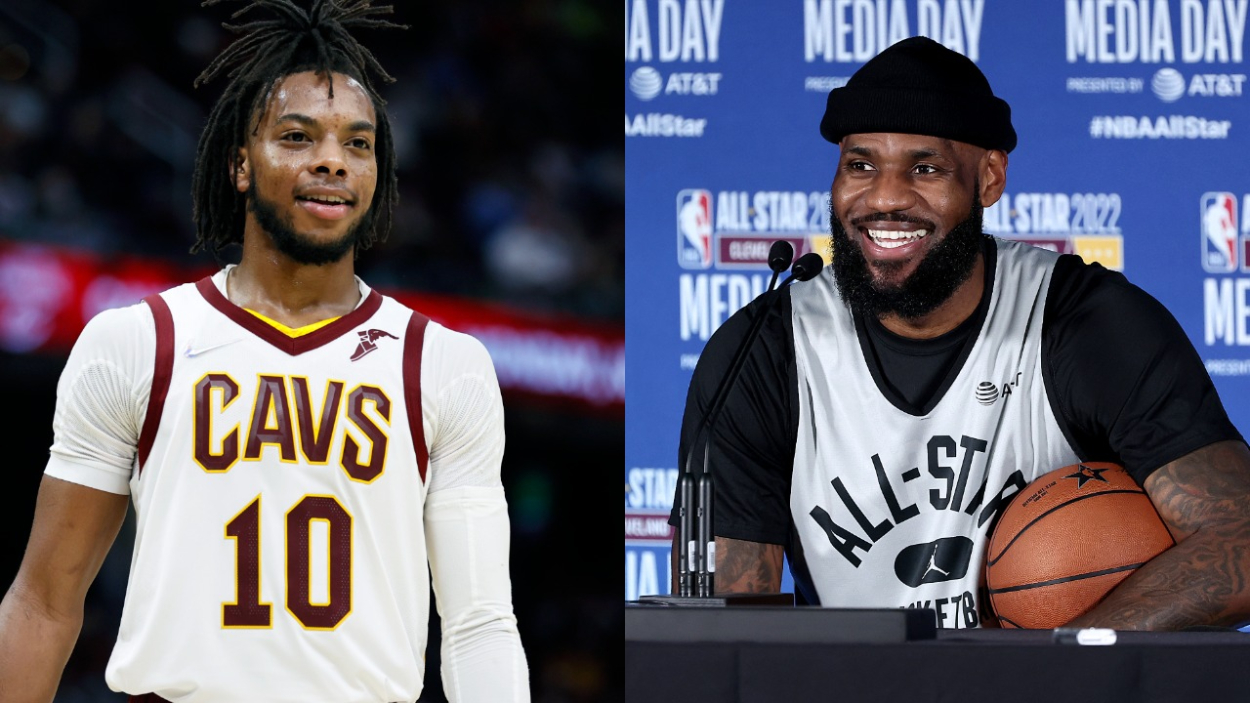 The Cleveland Cavaliers have become the NBA's surprise team this season behind the play of young stars Darius Garland, Jarrett Allen, and Evan Mobley.
Garland and Allen are having career seasons, earning All-Star selections, and Mobley is currently leading the race for the league's Rookie of the Year Award.
In a recent interview with Bleacher Report, Garland, who has the same agency as LeBron James, discussed his relationship with The King. And he made some interesting comments about how close they actually are.
"Yeah, Bron's been a big brother to me since before I was even drafted, really," he said to Bleacher Report's Jake Fischer. "Klutch is really a big family. I don't really consider them as an agency. Everyone's super close. Everyone's on the same page. They make life a lot easier, in my opinion."
He added: "Bron's always been in my ear, just telling me to be great, just go be myself, go play my game. He's told me a lot about All-Star because he's done that a lot. He's given me a few pointers."
However, Garland also wants the Cavs to have a LeBron-free identity this year, and he said he hasn't discussed the possibility of the four-time NBA champ returning to the team again.
"Our guys want to make our own legacy," he said, per The Athletic's Jason Loyd. "It's a new look, a new feel. It's a rebirth in Cleveland. It would mean a lot to all of us."
But not discussing it doesn't mean he hasn't thought about it. And everyone should consider Garland's relationship with James when thinking about where the four-time NBA MVP will go next.
Darius Garland's relationship with LeBron James could become a factor in The King's potential return to the Cavs
We're still over a year from LeBron James' free agency, and there's a good chance he doesn't return to the Cavs. While they may actually have enough money for him, they also have a good thing going, so they may not want to mess things up.
But if he does want to return to Cleveland, having solid relationships will certainly help.
James already knows Cedi Osman and Kevin Love well from his last stint with the organization, so there's already familiarity with some of the players on the roster. But also becoming well-acquainted with the team's top star in Garland could be crucial for his free-agency discussions next year.
It's much easier to go to a team when you know their best player than it is to go one and not know them. How do you think James landed with the Heat in 2010? He was best friends with Dwyane Wade.
All in all, numerous factors will play a role in what team LeBron James goes to in 2023. But having a relationship with Darius Garland certainly won't hurt The King, and the point guard's comments just added fuel to the speculation fire.