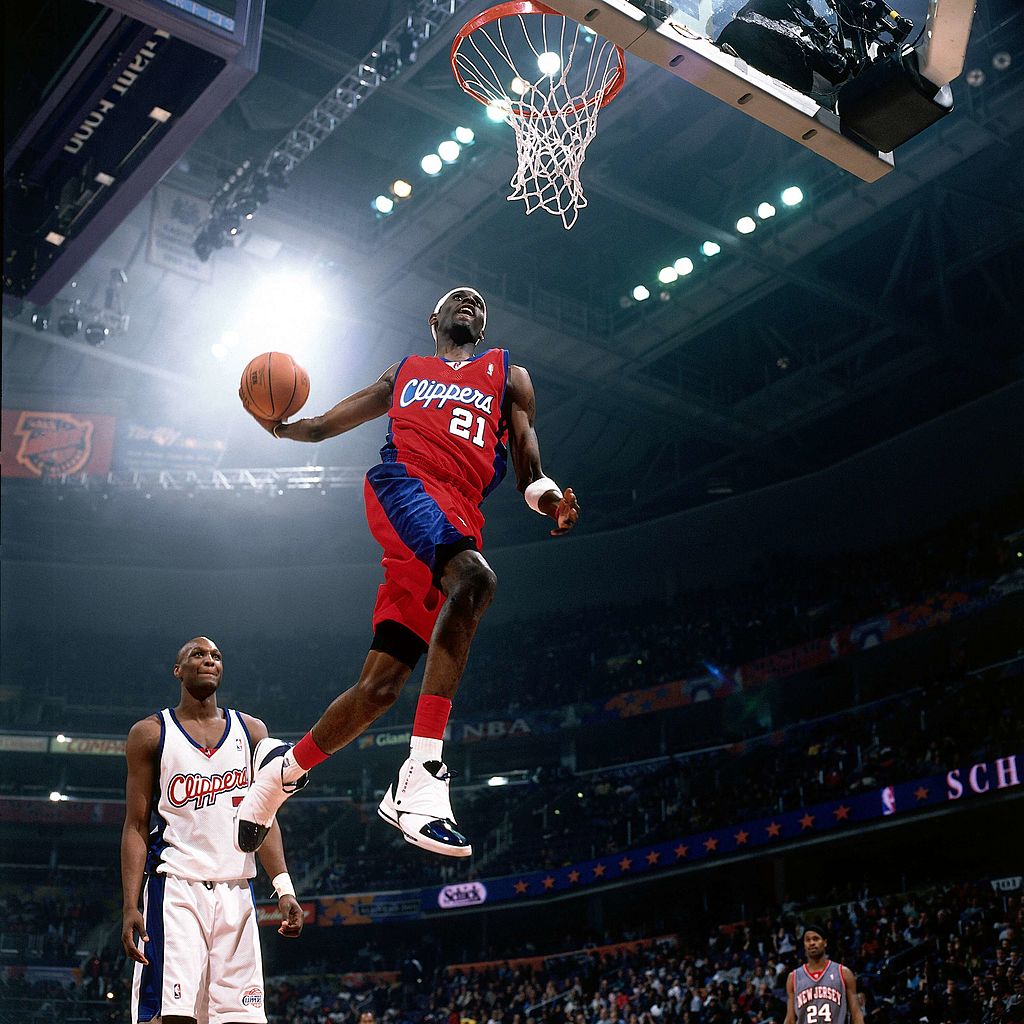 Darius Miles: The Rise and Fall of a Basketball Phenom
Former prep basketball phenom and NBA player Darius Miles made a lot of money playing basketball and saw it all go away quickly.
As a high school basketball player in East St. Louis, Illinois back in 2000, Darius Miles had it all. He had signed to play college ball for Mike Jarvis at St. John's. He also had the opportunity to jump right to the NBA because of his rare athletic skills. Basketball life was good for Miles. He had the chance to use the game to get out from the drug-infested neighborhood and build a life of his own, whether it be at the college or professional level.
Darius Miles opts to join the NBA
Darius Miles' low ACT score prohibited him from playing at the NCAA level and he declared for the NBA draft of 2000. Miles said the decision to turn pro had nothing to do with his low score. He was going that route anyway.
"He simply stated that knowing what he knows now (about where he might go in the NBA Draft), even if he did have an ACT score that was high enough, he would be entering the draft," said Rick Lewis, assistant coach at East St. Louis High, back in 2000.
Miles, a 6-foot-9 small forward, was selected by the Los Angeles Clippers with the third overall pick in the draft. At the time, that was the highest a prep player had been drafted. He was voted to the All-NBA Rookie Team in 2001.
Miles went on to play seven seasons in the NBA for four different teams. He averaged 10.1 points per game throughout his career. His career numbers were mediocre at best, but disappointing overall for someone who was selected third overall.
Darius Miles made $62 million playing in the NBA
Darius Miles' first contract with the Los Angeles Clippers averaged roughly $3 million per year. By the time he was with the Portland Trail Blazers in the 2009 and 2010 seasons, he was making $9 million per season.
After two seasons with the Clippers, Miles was traded along with Harold Jamison to the Cleveland Cavaliers in exchange for Andre Miller and Bryant Stith on July 30, 2002. Miles collected more than $7 in those two seasons with the Cavs.
In January of 2004, Miles was traded once again. He was shipped to the Portland Trail Blazers for Jeff McInnis and Ruben Boumtje-Boumtje. It was in Portland where he made the most of his money despite missing both of the 2007 and 2008 seasons because of a knee injury.
Miles struggled with his sudden wealth
In an article written by Miles in The Players' Tribune in 2018, Miles admitted that life in the NBA, especially for an 18-year-old, was too much too handle. He said it was a culture shock going from his drug-infested neighborhood to the bright lights of LA.
"When you pop out the womb in East St. Louis, it's guns, drugs and danger, from start to finish," Miles writes. "And I'm not saying that to brag or nothing. It's just what it is. It's the murder capital."
Miles wrote that when he came into such a large sum of money, he figured it would last him a lifetime.
"When you're young, you think the money is gonna last forever," Miles writes. "I don't care how street smart you are, or who you got in your corner, when you go from not having anything to making millions of dollars at 18, 19 years old, you're not going to be prepared for it."
How Miles lost all his NBA money and filed for bankruptcy
In his article, Miles said it was bad business deals that led to his financial downfall. "Listen, it takes a long time to go broke buying Ferraris," Miles wrote. "What makes you go broke are shady business deals. They'll make the money disappear quick."
The article didn't get into great detail about specific deals gone bad, but he reportedly lost more than $100,000 in one 2008 California real estate deal that he noted when he filed for bankruptcy protection three years ago.
Miles also noted that personal issues exacerbated his financial problems, including suffering from depression for several years following his mother's death from cancer in 2013. After declaring bankruptcy, Miles was forced to auction off many of his belongings in order to raise money to pay off his debts in 2016.