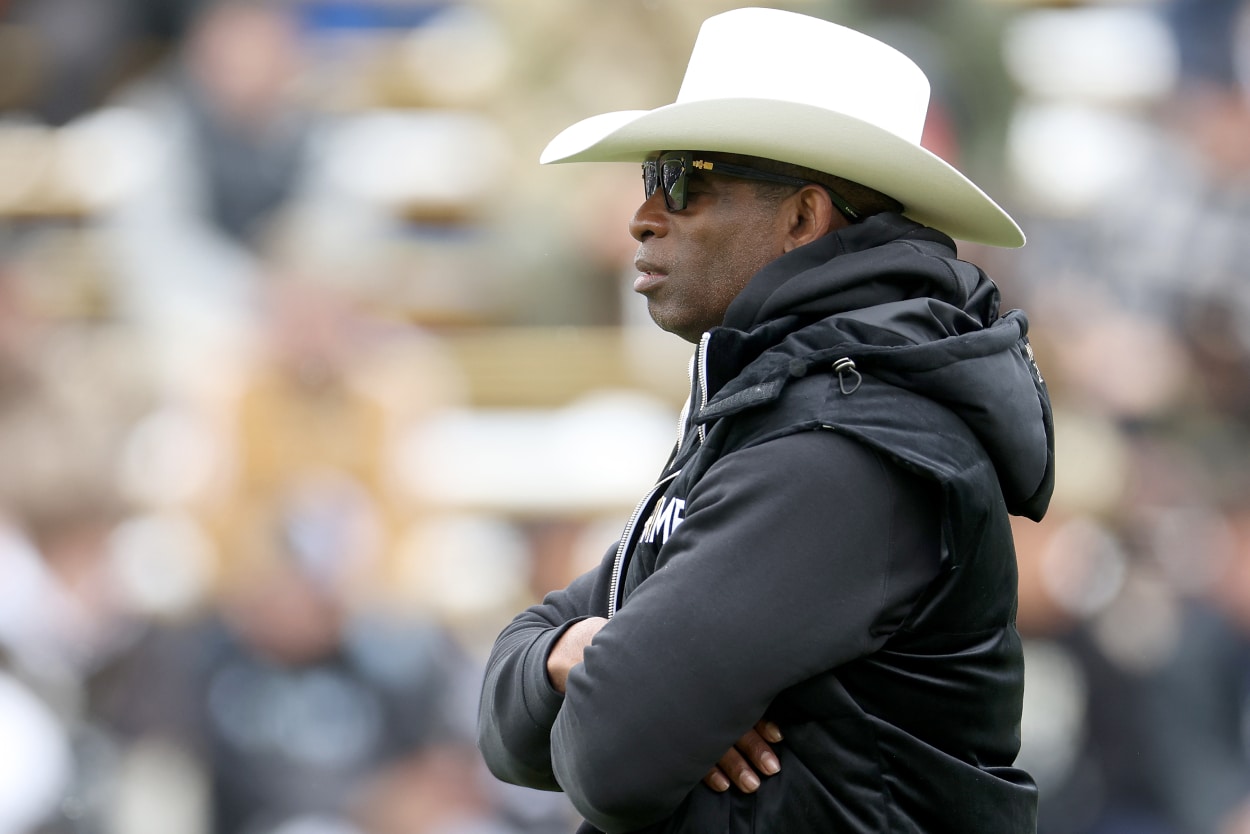 Deion Sanders Explained Why Saturday's Upset Victory Wasn't One of His Most Satisfying Wins
Deion Sanders admitted Saturday's win was emotional, but it wasn't the most satisfying one he's ever had.
Deion Sanders had plenty of critics heading into Saturday's college football game against TCU. It was his first game as head coach of a Colorado team that he completely blew up and rebuilt. The always-talkative Sanders cleaned house and brought in his son to run the show at quarterback. There were plenty of doubters going into Week 1.
The Buffaloes were three-touchdown underdogs against a 17th-ranked TCU team that played in the national title game a year ago. That didn't matter to Sanders as Colorado shocked the college football world with a thrilling 45-42 victory. Although that victory was the talk of Week 1 football, Sanders revealed it doesn't top his list of most satisfying wins.
Deion Sanders hushed many of his critics Saturday
Deion Sanders has never been short on confidence. He's also never been short on words. The former two-sports professional athlete took over a 1-11 Colorado team and reshaped it to his liking. That includes having his son, Shedeur, quarterbacking the Buffaloes, and one of his other sons, Shilo, playing safety.
Shedeur stole the show, completing 38 of 47 passes and throwing for 510 yards and four touchdown passes. Shilo tied for the team lead in tackles with 10. Many believed Deion Sanders was in over his head when he took the job and cleaned house. The Buffaloes had 53 incoming transfers this season, the most any team has had in one year.
Deion Sanders promised victories at Colorado. He figured it would take some time, but he did promise to turn the program around.
"I've been talking about it and talking about it and you didn't believe me," he said after the victory, per ESPN.
Shedeur played like his father did when he was a six-time All-Pro cornerback in the NFL — with tons of confidence. He also was happy to prove the doubters wrong.
"A lot of you didn't believe in us," Shedeur Sanders said. "It's crazy because you just got to understand our coach, Coach Prime, my dad, everywhere he went, he was a winner. Every game, every opportunity, he took advantage of."
Sanders says the win over TCU isn't one of his most satisfying wins
During an episode of Undisputed this week, Deion Sanders recapped the victory over TCU with host Skip Bayless and Sanders' former Dallas Cowboys teammate Michael Irvin.
Bayless asked Sanders if Saturday's victory was possibly the most satisfying win he's ever been a part of. Sanders was quick to respond.
"No. No. No," he said. "Super Bowl ring, man. Playmaker got me a Super Bowl ring and Jerry (Rice) got me another. Those were satisfying wins."
He did say emotions took over after the TCU win.
"As a coach, as a leader, that was truly remarkable," he said. "It was hard to put anything up against that because the emotions that I felt when that last second ticked off that clock. To share it with three of my sons on the field. My sister is over there as well. It was phenomenal. It was a phenomenal moment, man, that I will never forget."