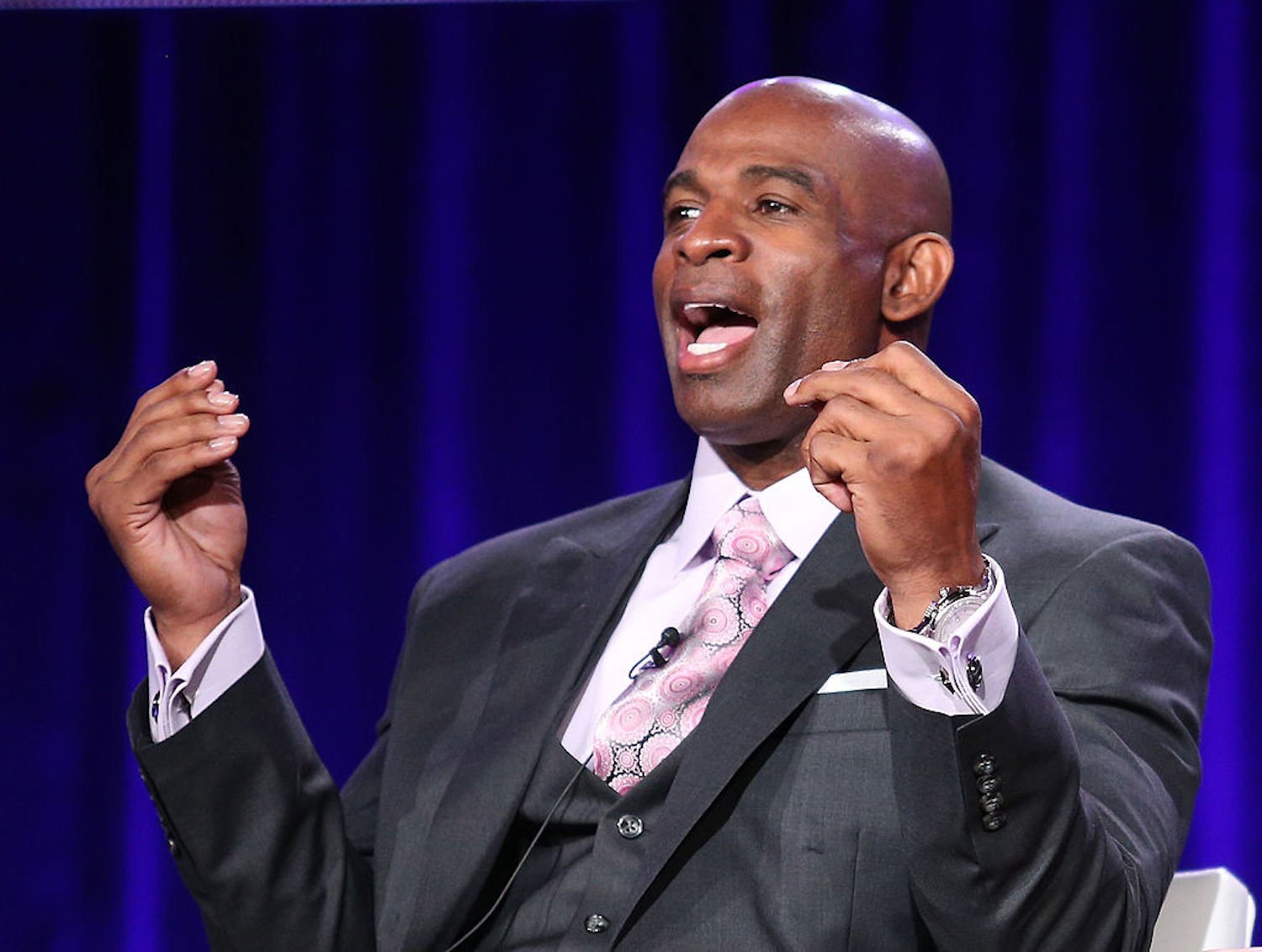 Deion Sanders Plans to Unleash His Full Prime Time Self at Barstool Sports
Deion Sanders has been wanting a bigger platform to share his uncut opinions, and he finally found it with Barstool Sports.
Deion Sanders is never one to hide his true feelings. Prime Time tells it how it is, and his fan base loves him for his genuine and straight-forward style. The NFL Hall of Famer took his unique takes and impressive public speaking ability to television after his football career ended, but he couldn't be his true self in a censored environment.
So, Sanders is moving on to Barstool Sports, where he can say and do whatever he wants. Sanders is excited to unleash his true Prime Time self at his new gig.
Deion Sanders worked at the NFL Network for 14 years
Deion Sanders has been a pillar of NFL coverage on television for over a decade. For the last 14 years, Sanders has offered in-depth analysis on the league as well as postgame interviews and daily talk show appearances.
Sanders was one of the longest-tenured analysts on the NFL Network before his departure this week. His contract expired recently, and it was Sanders who decided to willingly walk away.
Many thought Sanders was leaving to focus on his coaching career. He's stated numerous times that coaching football is his true love at this point in his life, but his announcement to join another media company shocked NFL fans.
Deion Sanders left the NFL Network to work for Dave Portnoy and Barstool Sports
Just a day after his departure from the NFL Network, Sanders announced the next chapter in his life. Prime Time will be joining Dave Portnoy and Barstool Sports as a podcast host and sports personality.
Sanders will have his own podcast called 21st and Prime on the Barstool podcast network. He will also be a regular guest on the ever-popular Pardon My Take during the NFL season. Sanders will join the show every Sunday to talk about the day's football slate.
The choice to jump ship from a reputable football network to an online media company might puzzle NFL fans, but Sanders now believes he's in the perfect place to let his true self be heard.
Sanders will unleash his true Prime Time self at Barstool Sports
While at NFL Network, Sanders was restricted by what and how much he could say. Television programs are strictly censored, and he could only express his opinions for short periods of time before another analyst jumped in.
Now, with his own podcast and the freedom to say whatever he wants, Sanders is finally in the right place for his outgoing personality.
The official Barstool Sports Twitter account shared a video of Sanders making his announcement. In it, Sanders shared how excited he was to be able to share his true feelings with a massive audience.
Now I have the platform that I can spread what I got to the masses. Barstool has the young generation of fans that I want to help cultivate. I wanna talk to you. I wanna speak to you. See, I love to speak my mind, and now, baby, I got the platform to do it year-round. Controversy ain't never scared me. See, podcasts are the future, and I'm so excited about this opportunity.

Deion Sanders