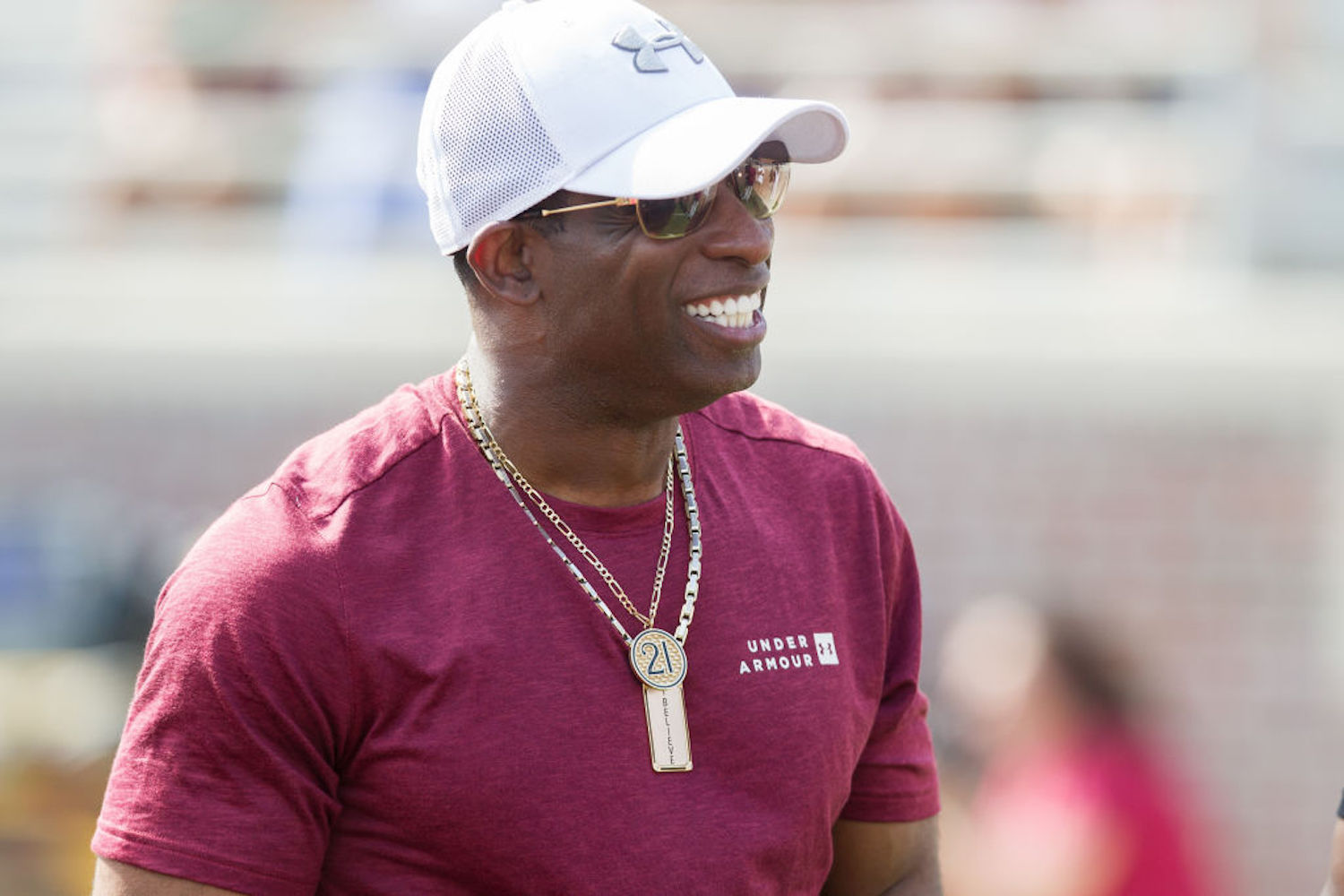 Deion Sanders Says He Could Still Play in the NFL and MLB at 52: 'I Could Play a Limited Role'
Deion Sanders dominated two professional sports in his prime, and he didn't hesitate when asked if he could still do so today at 52.
Deion Sanders is one of the greatest pure athletes to ever step foot on a field. He was one of the few to compete in two professional sports at the same time, and he dominated both in his prime. Sanders played 14 seasons in the NFL and nine in the MLB, and he thinks he could still suit it up with the young guns today.
Sanders recently appeared on Barstool Sports' Pardon My Take podcast and said he could play both football and baseball professionally at 52 years old. Would you want to see "Prime Time" make a comeback?
Deion Sanders played in the NFL and MLB during his prime
There's only a handful of athletes in history that can pick up any ball and instantly be considered the best in the room at that sport. Bo Jackson might be the first name that comes to mind, but Deion Sanders is right on his level in terms of effortless athleticism.
Sanders wasn't just an All-Pro cornerback in the NFL. He could switch to the other side of the ball and be the No. 1 wide receiver if he wanted to. Oh, and have you seen him return kicks? There weren't many players more dangerous than "Prime Time" in the open field.
And that was just football.
In his free time, Sanders played baseball at the highest level. He hit .263 for his career and stole 186 bases in nine MLB seasons.
In 1992, Sanders led the MLB in triples, batted .304, and was later named a First-Team All-Pro in the NFL. We'll never see that type of domination in two professional sports ever again.
Sanders says he could play in the NFL and MLB today at 52
Sanders appeared as a guest on Monday's episode of Barstool Sports' Pardon My Take podcast. When asked if he could still suit it up in the NFL and MLB today, Sanders didn't hesitate.
I could play nickel at free safety in football, and in baseball I could pinch run. I could get in late, drop a bunt down to third, and beat it out. I could play a limited role.

Deion Sanders
If there's one thing Sanders doesn't lack, it's confidence. Plenty of teams are struggling to find a decent cornerback or a lethal base-stealer. Maybe one should give Prime a call.
Is Deion Sanders too old for a comeback?
It's inconceivable to think a 52-year-old man could play in an NFL or MLB game, but if one person could pull it off, it would be Deion Sanders.
The oldest player to ever suit up in the NFL was George Blanda. Blanda played his final season when he was 48 years old, but he was just operating as a kicker at the time. Football might be impossible considering the violent nature and the position Sanders played, but baseball would make for an interesting comeback avenue.
Satchel Paige played professionally until he was 60 years old. Sanders, being eight years younger and far more athletic than Paige, could conceivably get back on the diamond and compete in a limited role.
Who wouldn't want to see Prime back in action?
All stats courtesy of Pro Football Reference and Baseball Reference