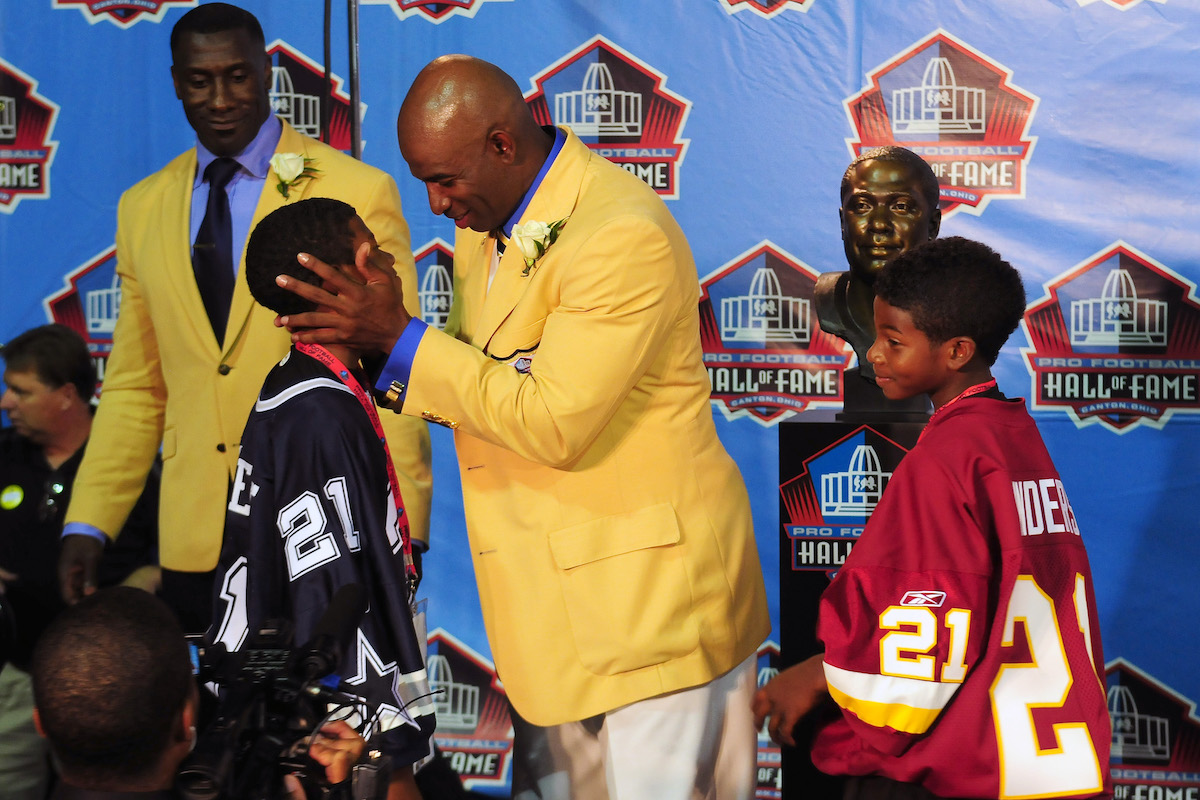 Deion Sanders Has Had 3 Football-Playing Sons, Including Deion Sanders Jr., but None of Them Are as Good as Primetime
While Deion Sanders has three football-playing sons, none of them look poised to steal Primetime's star status anytime soon.
Playing one sport at the professional level is tough enough, but Deion Sanders wasn't an ordinary athlete. During his playing career, Primetime starred in both the NFL and MLB. The former defensive back also has three sons, all of whom are following in his footsteps on the gridiron.
As you'd assume, all three of Deion Sanders' sons have a pretty solid genetic advantage. Even with that headstart, however, they don't seem like they'll surpass their father's legendary status anytime soon.
Deion Sanders' legendary two-sport career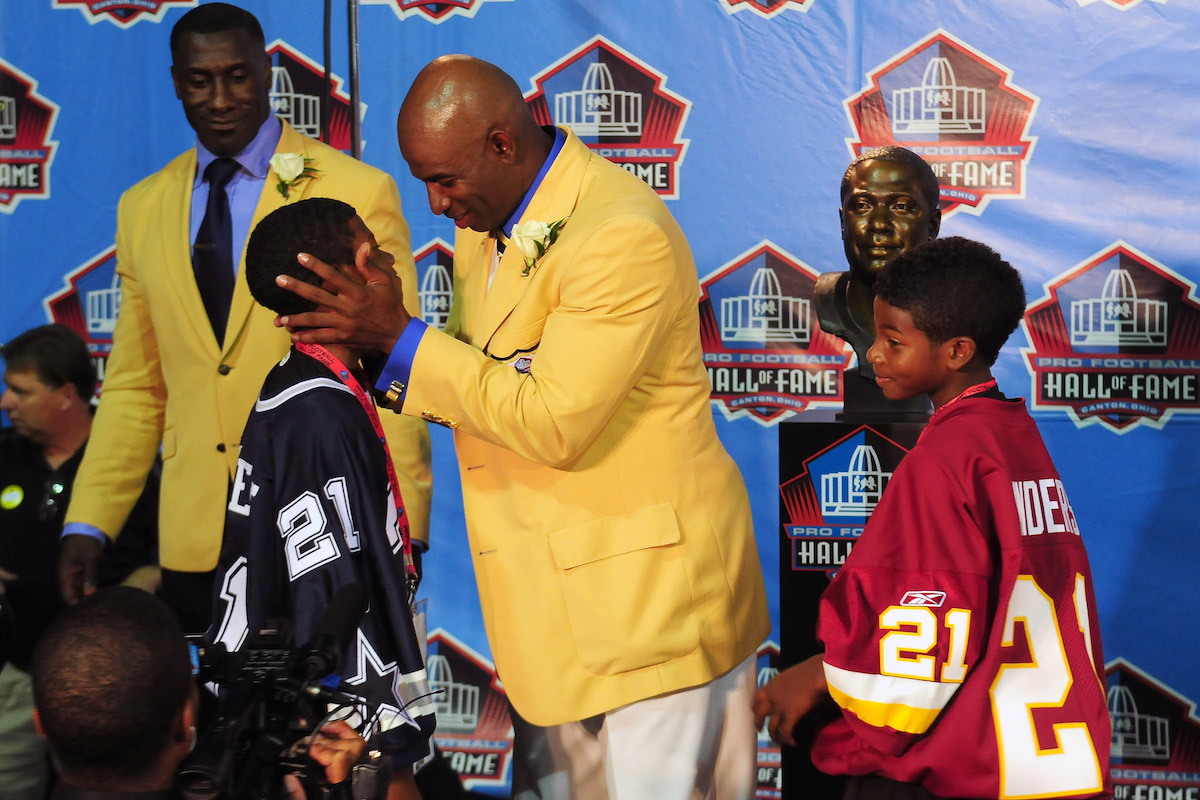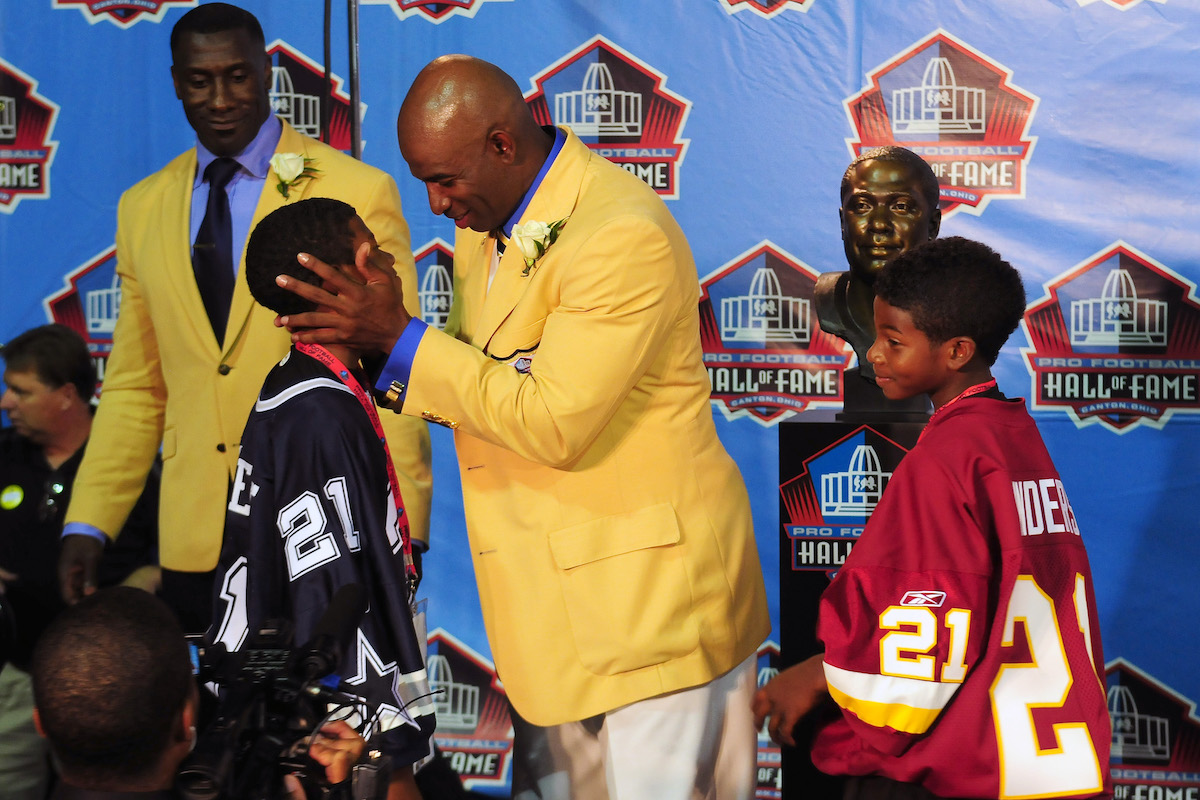 Looking at guys like Patrick Mahomes or Terrell Owens, it's not uncommon for NFL players to show talent in other sports. Deion Sanders, however, wasn't going to let football hold him back.
During his time at Florida State, Sanders played three different varsity sports. Depending on the time of year, you could find him on the football field, the baseball diamond, or the track. No matter the arena, though, one truth was apparent: Deion had serious star potential.
After graduation, Sanders didn't want to choose between football and baseball, so he simply decided to play both sports professionally. While he had a solid career on the diamond, batting .263 with 558 hits and 186 stolen bases over nine part-time seasons, his highest heights came on the gridiron.
In all, Sanders spent 14 seasons in the NFL, with most of that time coming in Dallas and Atlanta. Primetime's dazzling speed made him a dangerous defensive back and an electric return man; in his 188 total appearances, he intercepted 53 passes, returning nine for touchdowns. He also piled up 5,722 yards and nine touchdowns returning kicks and punts.
Sanders won the 1994 Defensive Player of the Year title, claimed two Super Bowl rings, and earned a place in the Pro Football Hall of Fame.
Deion Sanders Jr. was a college football player
Given Deion Sanders' athletic pedigree, it's unsurprising that his sons have also taken to the gridiron. Their talent, however, hasn't matched up to their famous father.
Sanders' oldest son, Deion Sanders Jr., played his college football at SMU. According to Sports-Reference, he lined up as a wide receiver, catching 69 passes for a total of 1,499 yards during three seasons with the Mustangs. Like his dad, Deion Jr. also showed some potential as a return man.
His football career, however, ended after his junior year. It's not exactly clear what happened, though. While we know that Deion Sr. complained about his son's playing time, SMU's spokesman told the Dallas Morning News that there was "no particular reason [why] Sanders [was] off the team."
These days, Sanders Jr. is the man behind the Well Off Forever brand. "I stopped playing football my junior year in college. I didn't go to 'the league.' I had to find another way to 'ball' without sports," he explains on the Well Off Forever website. "I had to find another way to be creative and express myself. I had to find something else that I loved doing and that I could put my time into".
Sanders Sr.'s two younger sons, Shilo and Shedeur, have potential but don't seem poised to dethrone their dad
Deion Sanders has two more sons, though, named Shilo and Shedeur. Shilo is Deion's middle son who played football at the University of South Carolina. Like his dad, he plays defensive back. But he didn't make much of an impact during his freshman season. Shilo appeared in two games for the Gamecocks, making two total tackles and recovering one fumble.
On December 15, 2020, he transferred to Jackson State where his dad serves as the head coach. Since then, the redshirt freshman has improved significantly, according to Sports Illustrated.
Shedeur Sanders, the youngest of the three boys, plays quarterback. One of the first times he appeared in headlines was when he worked working out with Tom Brady. While it was tough to assess Shedeur as a high school football player, he's exceeded expectations during his time at Jackson State so far. In fact, the QB won the 2021 Jerry Rice Award, which goes to the top FCS freshman.
The youngest of Deion's sons, Shedeur has taken advantage of the NIL rule change that occurred in 2021. He has major deals with Gatorade, Beats by Dre, and Tom Brady's apparel line.
Both young men seem like they're on the right path to football glory. Only time will tell if they can hone their skills enough to catch the attention of NFL teams.
Stats courtesy of Sports-Reference, Baseball-Reference, and Pro-Football-Reference