Deion Sanders Throws a Tantrum and Walks out of SWAC Media Day After a Reporter Called Him This Name
"Neon" Deion "Prime Time" Sanders has gone by many names during his Hall of Fame football career. He has also almost always been very friendly with the media, dating back to his days at Florida State. After retiring, he even worked at the NFL Network as a member of the media.
All this makes his behavior at SWAC Media Day, now as head coach of the Jackson State football team, that much more surprising. Sanders got uncharacteristically snappy with media members and ultimately walked out of the press conference. This happened after a reporter called him a certain name that Coach Sanders took offense to.
NFL great Deion Sanders is the head football coach of Jackson State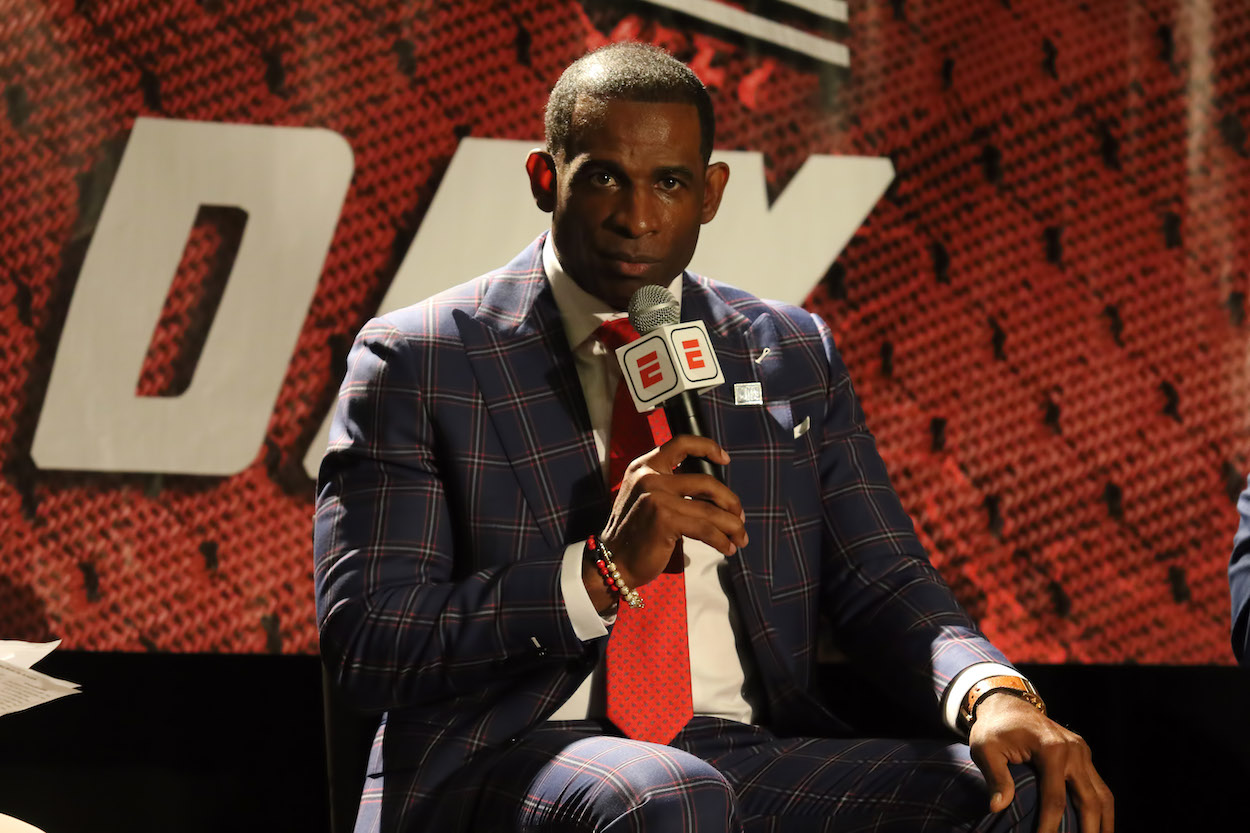 Sanders is one of the greatest football stars of the 1990s. He also one of the best pure athletes to play professional sports in generations. The Florida native starred in the NFL for 14 years on the Atlanta Falcons, San Francisco 49ers, Dallas Cowboys, and the now Washington Football Team. He retired for three seasons in 2001 but returned to play two more years for the Baltimore Ravens.
Meanwhile, while building his HOF resume, Sanders also played Major League Baseball. He spent his nine-year career as an outfielder in the big leagues with the New York Yankees, Atlanta Braves, Cincinnati Reds, and San Francisco Giants.
He made eight NFL Pro Bowls, won two Super Bowls, played in a World Series, and is a member of the Pro and College Football Halls of Fame.
In 2020, after publically lobbying for several college football coaching jobs, Sanders accepted the head role at the FCS school Jackson State, an HBCU in Mississippi. Upon taking the job, Sanders said, per Yahoo! Sports:
I am truly blessed to be the 21st head football coach of Jackson State University. This amazing HBCU has always enjoyed a high level of commitment academically and athletically. It's my desire to continue this storied tradition and history of JSU and prayerfully bring more national recognition to the athletes, the university, the Sonic Boom of the South, and HBCUs in general. I am TRULY proud to be a part of the JSU Tiger family. 'I BELIEVE.'
Sanders led the Tigers to a 4-3 record in 2020 as part of an abbreviated spring season due to COVID-19.
Sanders walked out of the 2021 SWAC Media Day after a tense exchange with a reporter
Heading into his second season, Sanders attended the 2021 SWAC Media Day with his fellow conference coaches.
While taking questions at the Sheraton-Birmingham in Alabama, a reporter from the Clarion Ledger addressed the second-year coach as "Deion," and Sanders took offense. He told the reporter, Nick Suss:
You don't call Nick Saban, 'Nick.' Don't call me Deion. If you call Nick, Nick, you'll get cussed out on the spot, so don't do that to me. Treat me like Nick.
A few moments later, another reporter addressed the former cornerback as Deion, and he stormed out of the room.
Suss, who has actually covered Nick Saban as well as other prominent coaches such as Lane Kiffin, told his paper he always calls coaches, even Sanders in the past, by their first names.
"When I interview people, I call them by their first name," Suss explained. "Whether it's someone I've been working with for years or someone I'm talking to for the first time. This is true of the coaches and players on the Ole Miss beat, the coaches and players at Mississippi State and Southern Miss when I help out covering their teams, and, as recently as January, even Sanders, too.
Jackson State is at odds with the Clarion Ledger
The incident might have been less about what the reporter called Sanders and more about where he works. Prior to SWAC Media Day, Jackson State University banned a reporter from the Jackson, Mississippi-based paper from covering the team.
JSU director of internal football operations LaToya Williams told Clarion Ledger reporter Rashad Milligan that "Sanders did not want Milligan interviewing JSU players and coaches."
This stems from a report by Milligan about Quaydarius Davis. The four-star wide receiver from the Dallas area is the most highly ranked recruit in school history. Milligan wrote a story about a domestic violence charge against Davis and that he is expected to plead guilty to a misdemeanor, "assault causes bodily injury family violence."
After the Clarion Ledger published the story, an attorney for Davis disputed the fact that his client would plead guilty. The paper says Milligan tried to contact Davis and his attorneys on multiple occasions before publishing the story, but never heard back.
A spokesperson for the University played down the incident stating:
Two Clarion Ledger reporters were credentialed for SWAC Media Days, those credentials were not taken away and the SWAC also said they were not taken away. I am not privy to any reporter being barred or banned. Rashad Milligan has not been barred from covering Jackson State. We have no further comment at this time.
Sanders also has no comment so far about his actions at Media Day or if anyone is allowed to call him Deion in the future.
All stats courtesy of Pro Football Reference and Baseball Reference