DeMar DeRozan's Daughter Is the Bulls' New Secret Weapon, but She Won't Be Able to Help Against the Heat
The Chicago Bulls will have to face the Miami Heat without their new secret weapon.
In the Chicago Bulls' do-or-die matchup against the Toronto Raptors in the first round of the NBA Play-In Tournament, Zach LaVine was the star on the court with 39 points on 12-of-22 shooting. DeMar DeRozan wasn't too shabby himself with 23 points on 10-of-19 from the floor, but it was DeRozan's nine-year-old daughter, Diar, who really powered the Bulls to a season-saving victory.
Diar could be heard screaming her lungs out during every Raptors free-throw attempt in the contest, and Toronto missed its most free throws in a single game since 1997. Coincidence? I think not.
Diar saved Chicago's season and set up a win-and-in game against the Miami Heat, but I've got bad news for you, Bulls fans. DeRozan's daughter won't be in attendance Friday night.
DeMar DeRozan's daughter was the Bulls' secret weapon against the Raptors
If you were watching the Eastern Conference play-in game between the Bulls and Raptors Wednesday night, you likely noticed a high-pitched scream echoing through Scotiabank Arena every time a Toronto player stepped to the free-throw line.
You weren't hearing things. That was actually DeMar DeRozan's eldest daughter, Diar. Diar grew up watching her father play in Toronto for most of her life, so when the Bulls drew the Raptors in the first round of the Play-In Tournament, she begged him to bring her along.
DeMar obliged by getting her a day off from school, but he had no idea how crucial that decision would turn out to be.
Throughout the game, Diar screamed as loud as she could from behind the basket as Raptors players bricked free throw after free throw. Most notably, Pascal Siakam missed two straight free throws with a chance to tie the game with 12 seconds remaining, and the Bulls went on to win the game, 109-105.
The Raptors, a 77.8% free-throw shooting team this season, made just 18 of their 36 free-throw attempts in the game (50%). Toronto's 18 misses from the stripe marked its most misses in a single game since 1997.
The Diar DeRozan effect.
The Bull won't have their secret weapon against the Heat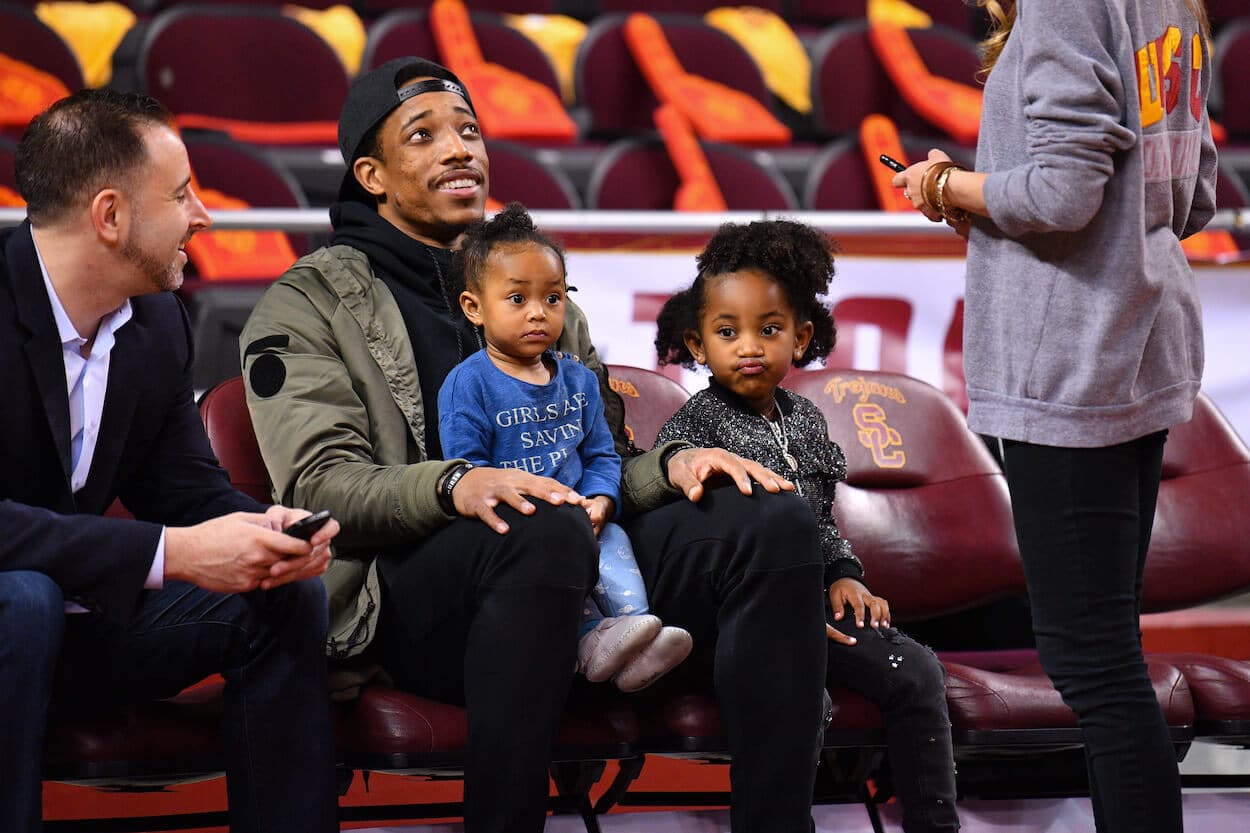 The Bulls extended their season by upsetting the Raptors, and now they'll play for the No. 8 seed in the Eastern Conference playoffs against the Heat Friday night. Only, they'll have to do so without their new secret weapon.
"My daughter called me the other day when she was getting out of school, and she just said, 'Dad, can I come to the Toronto game?' I remember her going to all the Toronto games when she was a kid," DeRozan told reporters after the game. "I almost said no because she's in school back home. She kept asking. She was just adamant about coming to support. And I just said, 'Alright, you can miss one day of school and come to a game,' and I'm glad I did. I owe her some money for sure."
But what about Friday night's game in Miami?
"Nah, she gotta go back to school."
This is devastating news to Bulls fans everywhere. Can Chicago keep its season alive without its MVP heckling from the stands? We'll find out Friday night.