DeMar DeRozan's Surprisingly Massive Career Earnings Make Him the 26th-Richest Player in NBA History
DeMar DeRozan has been an underappreciated superstar for more than a decade. All he does is pour in clutch buckets and lead his teams to the playoffs year after year, but he's rarely talked about as one of the purest scorers in the NBA.
Well, sometimes, money speaks louder than words, and DeRozan's massive career earnings prove just how valuable he's been throughout his incredible career.
DeMar DeRozan has been underrated his entire career
We need to have a conversation about DeMar DeRozan.
You know, the guy who's averaged 20.4 points per game over the course of his career, which is a higher scoring average than Magic Johnson's, Moses Malone's, Tim Duncan's, and Kawhi Leonard's.
The same guy who ranks inside the top 50 all-time in points per game in the postseason (21.9).
DeRozan is one of the greatest scorers of this generation, but you never hear his name mentioned alongside the likes of LeBron James, Kevin Durant, and James Harden. Now, he's not exactly on that tier, but DeRozan is going to have a juicy Hall of Fame case when it's all said and done.
Now with the Chicago Bulls, DeRozan is having arguably the best season of his lengthy NBA career at age 32.
DeRozan has earned more than $200 million in the NBA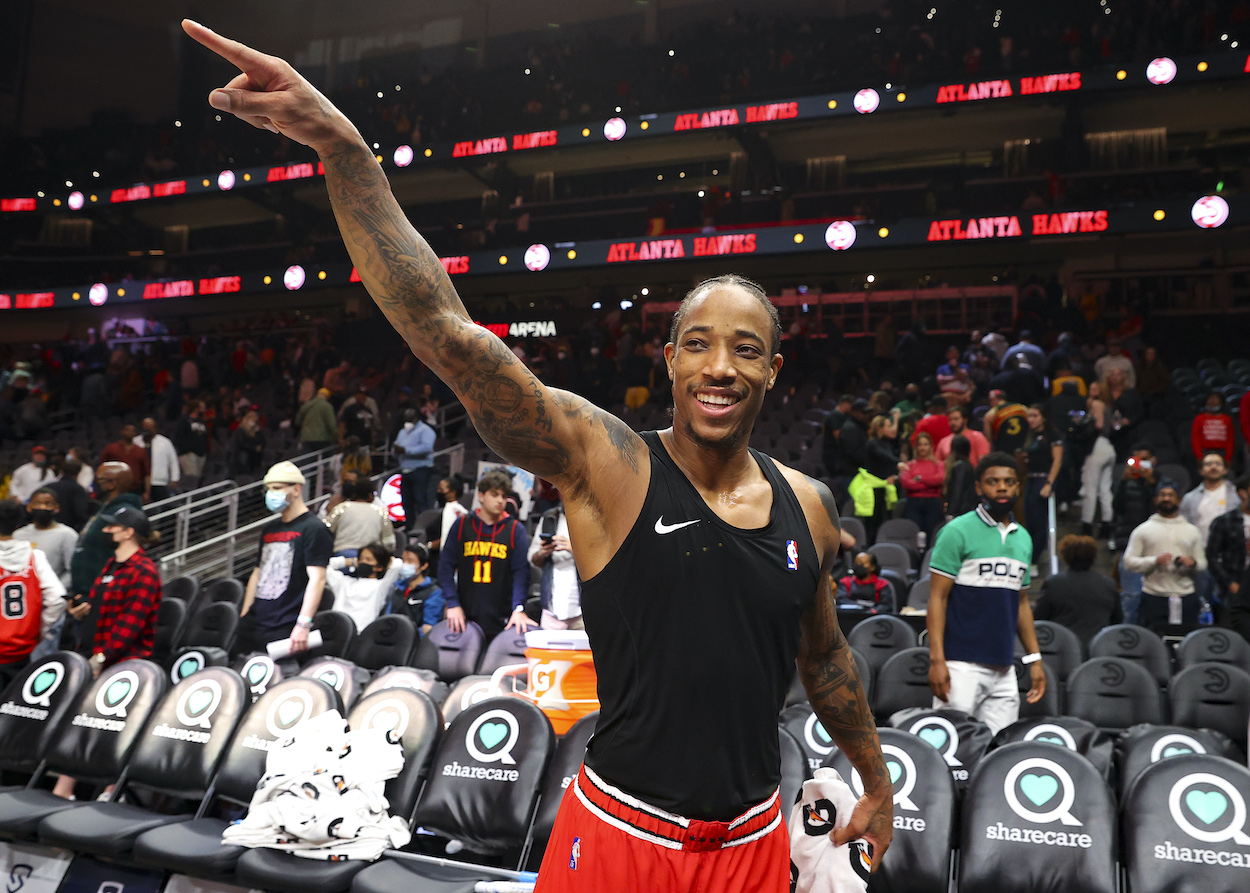 DeRozan might not be considered one of the elite players in today's NBA, but he's sure been paid like one. Over the course of his 13-year career, the veteran has earned more than $201 million in salary alone.
Most of that cash has come in the last six years. In the 2016 offseason, DeRozan signed a five-year, $139 million contract with the Toronto Raptors, which was the second-largest contract in NBA history at the time. He only played two more seasons in Toronto, but he still earned more than $50 million from the team over that span.
DeRozan earned the rest of that contract as a member of the San Antonio Spurs. After being traded to the Bulls this past offseason, he signed a three-year deal with Chicago worth $85 million. By the time he plays out his current contract, he'll have made more than $257 million in 15 seasons.
As of 2022, DeRozan is the 26th-richest player in NBA history based on salary earned.
The fourth quarter king in Chicago
Most players fall out of their prime once they reach their 30s, but DeRozan is having arguably the best season of his career this year at age 32. He's averaging 26.8 points per game on 49.5% shooting from the field, and he's been the most lethal scorer in the clutch in the entire NBA.
DeRozan is No. 1 in the league with 241 fourth-quarter points this season while shooting 53% from the field and 54% from three. He's the main reason why the Bulls find themselves in first place in the Eastern Conference through 34 games.
All stats courtesy of Basketball Reference.
All contract figures courtesy of Spotrac.
Like Sportscasting on Facebook. Follow us on Twitter @sportscasting19.