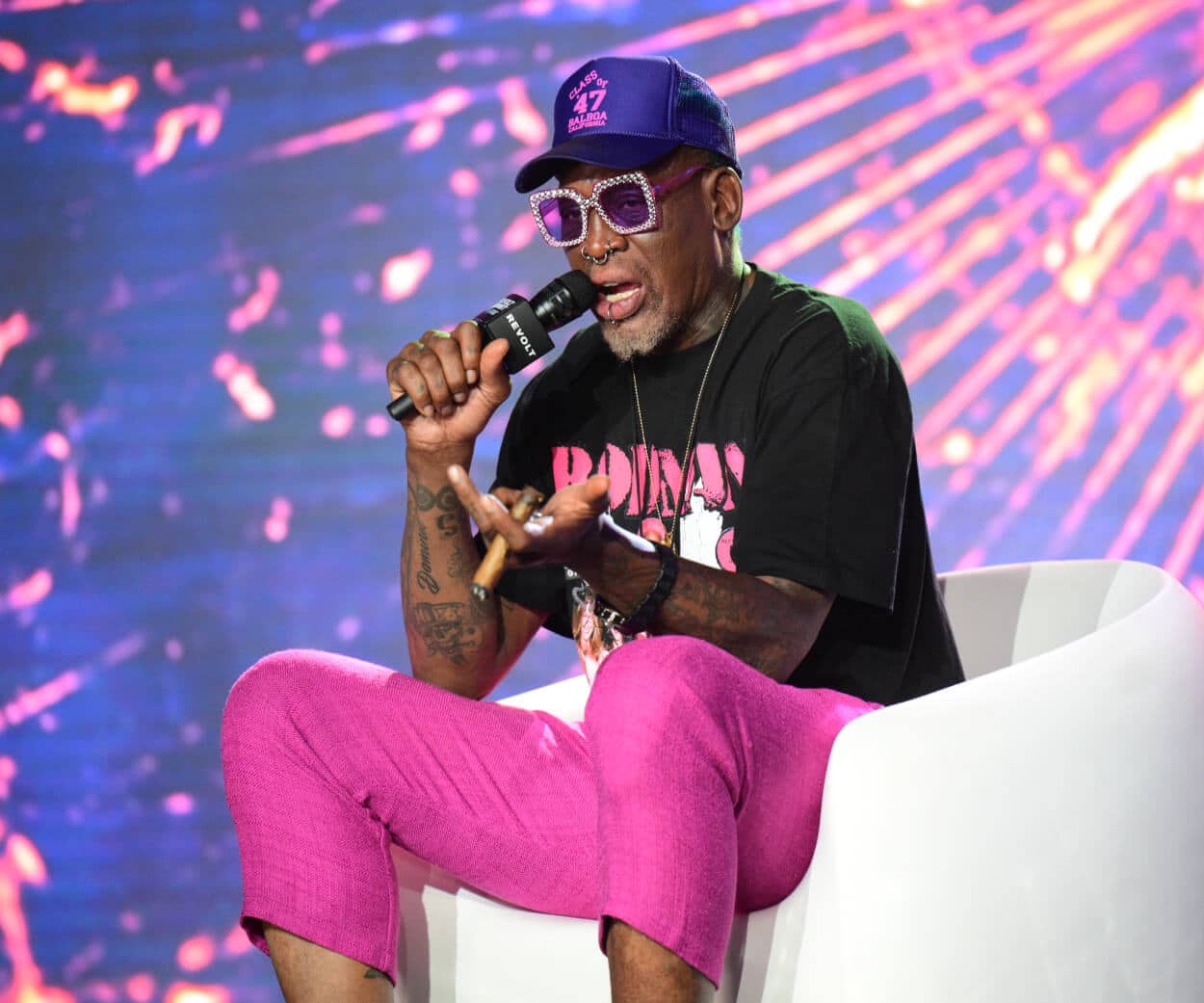 Dennis Rodman Doubles Down and Rips Larry Bird Again
Dennis Rodman still struggles to give Boston Celtics legend Larry Bird the credit he deserves.
Dennis Rodman clearly hasn't learned from his previous mistake. Remember when the former Chicago Bulls and Detroit Pistons star blasted Larry Bird with a racial comment in 1987, saying he only wins MVPs because he's white? Well, he's back at it again, minus the racial part.
In a recent interview with Vlad TV, Rodman said Bird wouldn't last in today's NBA. He said the Boston Celtics legend, instead, would play his professional basketball career in Europe.
Dennis Rodman blasted Larry Bird after the Boston Celtics eliminated the Detroit Pistons in 1987
Larry Bird ripped the heart out of the Detroit Pistons in 1987. With Rodman's Pistons holding a one-point lead and the ball with five seconds left in Game 5 of the conference finals, Bird literally stole the show. Bird intercepted an Isiah Thomas inbounds pass, somehow managed to stay inbounds, and fired a strike to a cutting Dennis Johnson, who put in a game-winning layup.
The victory gave the Celtics a 3-2 series lead as they headed to Detroit for Game 6. Although they lost that one, they closed out the series with a Game 7 win in Boston, earning their fourth straight appearance in the NBA Finals.
After the series, Rodman blasted Bird, who had won three straight MVPs from 1984 to 1986.
"He's not God," Rodman was quoted as saying in The Orlando Sentinel. "He ain't the best player in the NBA, not to me. He's white. That's the reason he gets the MVP award. Nobody gives Magic Johnson credit. He deserved it last year, too. I don't care. Go ahead and tell him. You'll put it in the paper anyway."
According to Forbes, Rodman's agent at the time, Billy Diamond, forced Rodman to apologize to Bird. In fact, Diamond wrote the apology and made sure it was read before the start of the 1987 NBA Finals between the Celtics and the Los Angeles Lakers.
"I'd asked it be placed on the media table in the hospitality room before the Lakers practice," Diamond recalled of the apology.
"I wanted to make sure the media read the apology before practice, and it was reported the day after he said it and written in the paper the following day, which was the day of Game 1 of the NBA Finals. I wanted to get ahead of this and make sure it was a non-issue and didn't carry over into the Finals."
Rodman puts down Bird again in a recent interview
This time, Rodman was a little more careful. He didn't bring in race, and he praised Bird for his play back in the 1980s. He did, however, make another foolish claim. Rodman said Bird would never make it in today's NBA.
"If Larry Bird played in this era, I think he'd be in Europe," Rodman said during an interview with Vlad TV. "I'm just letting you know, man.
"He'd be somewhere over there. His game was fit for Boston at that time in the 80s. In today's world, oh hell no, there's no way. I'm not downplaying him because he was a great player at that time — like I was — but I'm saying there's no way."
Bird is arguably a top-five player ever. Bird showed he could play any type of style of basketball. He could post up. He could shoot. Bird showed he could get physical.
Some have recently compared Bird to Denver Nuggets center Nikola Jokic, a two-time MVP who just won his first championship. Rodman says there's no comparison, saying Jokic is "way better" than Bird.
"He's slow as hell, but that guy has game," Rodman said. "He's better than Larry Bird. Compare him to Larry Bird, and I think people pick him."