Dennis Rodman Humiliated Dirk Nowitzki and the Entire Mavericks Organization During His Ill-Fated Run in Dallas: 'Other Than That, They're Ready to Go'
Dennis Rodman's career could only end one of two ways. Either he would go out on top in accordance with his status as a five-time NBA champion, or he'd crash and burn in a glorious fashion more akin to his eccentric personality. The latter scenario ultimately won out.
The Worm played his final 12 games with the Dallas Mavericks as part of an unremarkable yet entertaining saga. Despite the short-lived nature of his stint, however, he made sure to criticize just about everyone in the organization before bidding farewell to basketball.
Dennis Rodman's last two seasons in the NBA brought all sorts of drama
Dennis Rodman cemented his place in NBA history after helping the Chicago Bulls to a three-peat during the 1997-98 season. But while Rodzilla's tremendous resume guaranteed him a place in Springfield, his final two seasons belong in the Hall of Shame.
Following Michael Jordan's retirement and trading Scottie Pippen to the Houston Rockets, the Bulls released Rodman days before the start of the lockout-shortened 1998-99 season. He signed with the Los Angeles Lakers about a month later, though he came into a shaky situation.
The Lakers fired former head coach Del Harris just before Rodman arrived and ultimately settled on Kurt Rambis. Rodman struggled to coexist with Kobe Bryant and Shaquille O'Neal, and he lasted just 23 games with the Purple and Gold until LA released him. He did not play another game in the lockout season. Still, Worm's career had yet to reach its conclusion.
The Mavericks signed Rodman to a one-year deal in February 2000. After 12 games, the relationship came to an end. Dallas hoped that Demolition Man would help them fight for the final playoff spot in the Western Conference, but the Mavs went 3-9 with Rodman on the floor. He never played in the NBA again.
Dennis' career crashed and burned, but he gave the Mavs one final parting shot before hanging up the sneakers.
Rodman ridiculed the entire Mavericks organization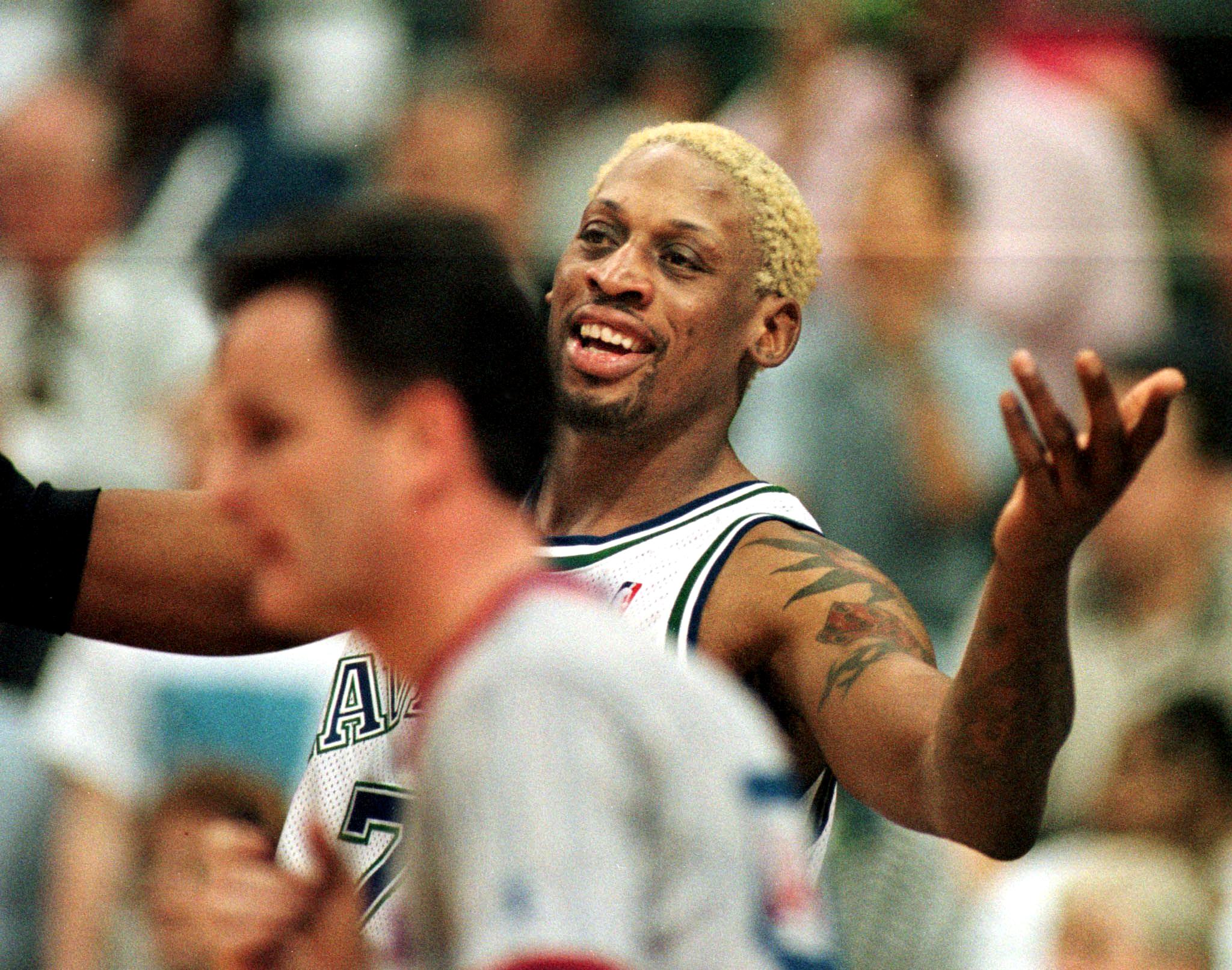 Dennis Rodman did not hold back when asked for his thoughts on the Mavericks.
Mavs legend Dirk Nowitzki recalled (h/t Dallas Morning News) an interview Worm did back in 2000 in which he basically humiliated the entire organization, including Nowitzki. Rodman suggested Dallas needed an entirely new roster and owner — Mark Cuban had only just bought the team — to move forward.
"Well they need a new point guard, a new shooting guard, a new power forward and a new center and a new owner. Other than that, they're ready to go."

–Dennis Rodman (2000), via the Dallas Morning News
Bear in mind, at this point in time, the Mavericks had an abundance of talent.
In his age-21 season, Dirk averaged 17.5 points, 6.5 rebounds, and 2.5 assists. Michael Finley made the All-Star team, averaging a team-high 22.6 points to go with 6.3 rebounds and 5.3 assists. Though Steve Nash hadn't fully blossomed, he showed glimpses of the perennial All-Star he eventually became.
The interview Rodman gave sounded like sour grapes. Dallas couldn't win with Demolition Man in the lineup, so he saw fit to criticize everyone in the organization.
However, the Mavericks quickly showed their upside in the following seasons.
Dallas realized its winning potential after saying goodbye to The Worm
The Mavericks started winning games immediately after releasing Rodman. They went 15-5 to end the season. The strong finish served as a springboard, as Dallas won 53 games during the 2000-01 campaign and made it all the way to the Western Conference Finals in 2003.
Nowitzki and Cuban had to wait a bit longer before hoisting the Larry O'Brien Trophy. The Mavericks lost to the Miami Heat in the 2006 NBA Finals. They struggled to build upon the success early in the decade in the following seasons, as regular-season success never translated in the playoffs. However, Dirk and Cuban finally got their ring in 2011.
In hindsight, Rodman's criticisms come as little surprise. The Mavericks had young players and an ambitious owner. Worm never found it easy to appreciate young talent, as evidenced by his nonexistent relationship with Shaq and Kobe and past admonitions of a rookie Allen Iverson.
Still, the Mavericks likely earned at least a little bit of Rodman's respect given all the success they've had under Cuban. Certainly, Nowitzki deserves more praise as one of the greatest forwards in NBA history.
Stats courtesy of Basketball Reference.