Dennis Rodman Shows Up at a Soccer Match, Sparking Slew of Emotions From Daughter Trinity: 'We Don't See Eye to Eye'
Dennis Rodman created quite a stir this week when he showed up to a National Women's Soccer League playoff game between the Washington Spirit and the North Carolina Courage. The former Chicago Bulls and Detroit Pistons star was there to support his daughter Trinity Rodman, who is in her first year of the NWSL.
Trinity admitted her relationship with her father hasn't been a great one. She recently addressed it in an Instagram post after her Spirit defeated the Courage 1-0 this weekend.
Dennis Rodman hasn't had much of a relationship with family members
During a 2019 interview with Jackie MacMullan, Rodman got candid about his childhood and his family life, revealing he's had rough relationships with family members.
"I really don't talk to my mother that much," he said. "You've probably seen the (30 for 30) documentary. My sisters, I don't talk to them as much."
He hasn't had much of a relationship with Trinity either. Trinity was the second overall pick in January's NWSL Draft. She gets that athletic skill and competitive fire from her father, a five-time NBA champion. She, however, considers her mother, who raised her and her older brother DJ as a single mother after a divorce from Dennis, her role model.
"Having a dad like I do, no one asks about my mom because she's obviously not an NBA star," she said to The Guardian in April. "But I just want people to know that my mom's been my support system in everything in life and she's my best friend and my rock. I don't think people know how close we are and, even though she wasn't in the NBA, she has an extremely competitive and driven mindset. She's an extremely strong woman. She's my role model."
Dennis Rodman showed up to Trinity's soccer match and triggered a wide variety of emotions
This weekend's match against the Courage was been the biggest game of Trinity's short professional soccer career. The Spirit advanced as Ashley Hatch netted the game-winner by putting in the game's lone goal off a rebound of Trinity's missed shot.
When the game was over, she embraced her famous father. After the victory celebration, Trinity took to Instagram to post about that unexpected encounter with the NBA Hall of Famer after the game.
"This last game was an extremely emotional one," Trinity wrote. "Yes Dennis rodman showed up to an Nwsl game, but also my dad, after YEARS surprised me at a big game in my career, I was shocked, overwhelmed, happy, sad, everything. My dad doesn't play a big role in my life at all and most people don't know that, we don't see eye to eye on many things.
"I go months if not years without his presence or communication. Being in spotlights has been hard for us, him and me. We don't have the best relationship, but at the end of the day he's human I'm human… he's my dad, and I'm his little girl that will never change. I will improve and look forward everyday as I hope he does."
Trinity Rodman said she is 'driven' by her famous last name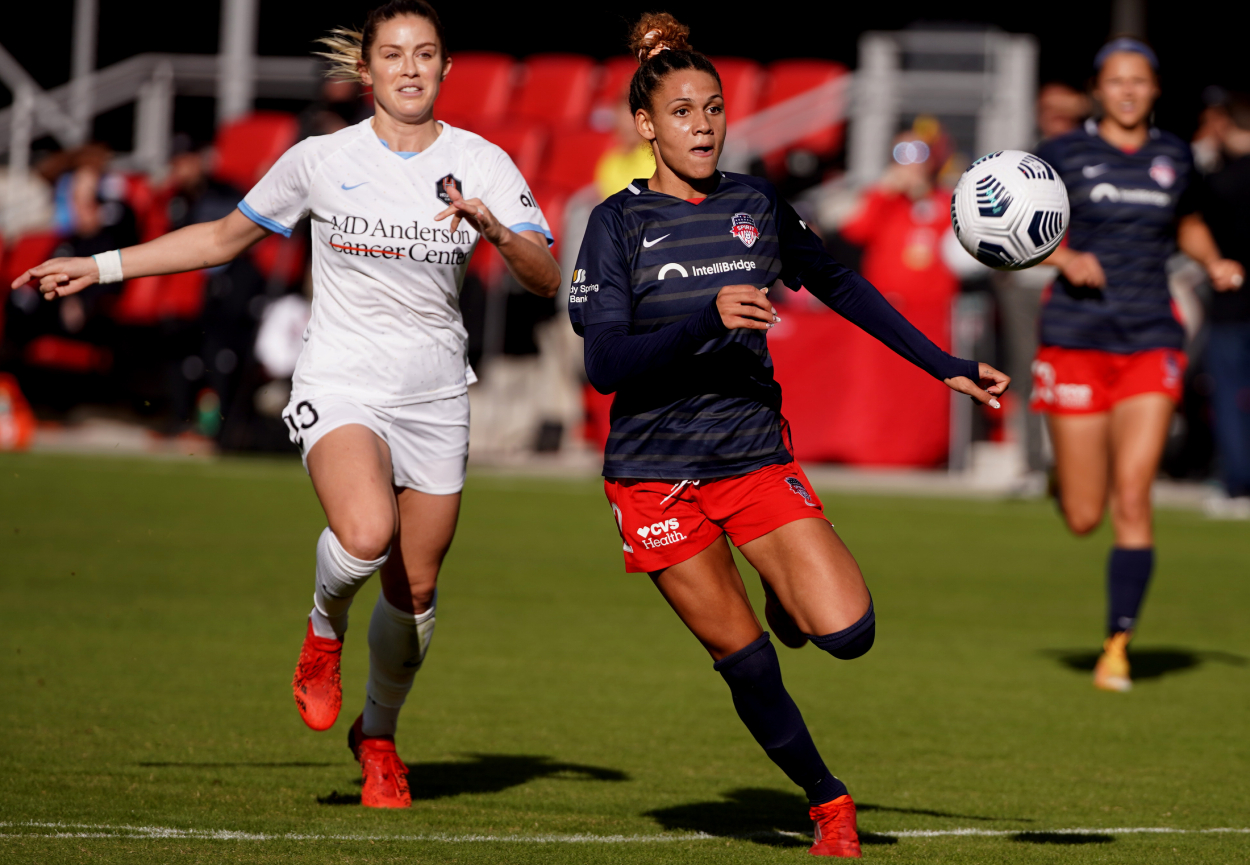 Growing up the daughter of a famous athlete can be extremely difficult. The comparisons will always be there even if the sports they played are different. Trinity understands it all comes with the territory, and she uses her famous last name as motivation.
"You could say it put a fire under me more than pulling me down," she said to The Guardian. "I was more in the mindset of, rather than saying, 'Oh, this is annoying, I don't even have a name,' I was more like, 'Oh, I'll show these people I am an individual and I'm going to develop in soccer like he did in basketball.' I think I'm more driven because of it."
Trinity's mother, Michelle, knew from Trinity's younger days that she was cut out to be a professional athlete.
"In elementary school, I will never forget, she was so intense and so serious about the game," Michelle told The Guardian. "She would come off to the sidelines and just cry, like, 'Why isn't anybody else trying?' She would just run up and down that field — like she still does today — because she was used to nobody else trying."
Trinity may have those Dennis Rodman qualities, but she's certainly making a name for herself.