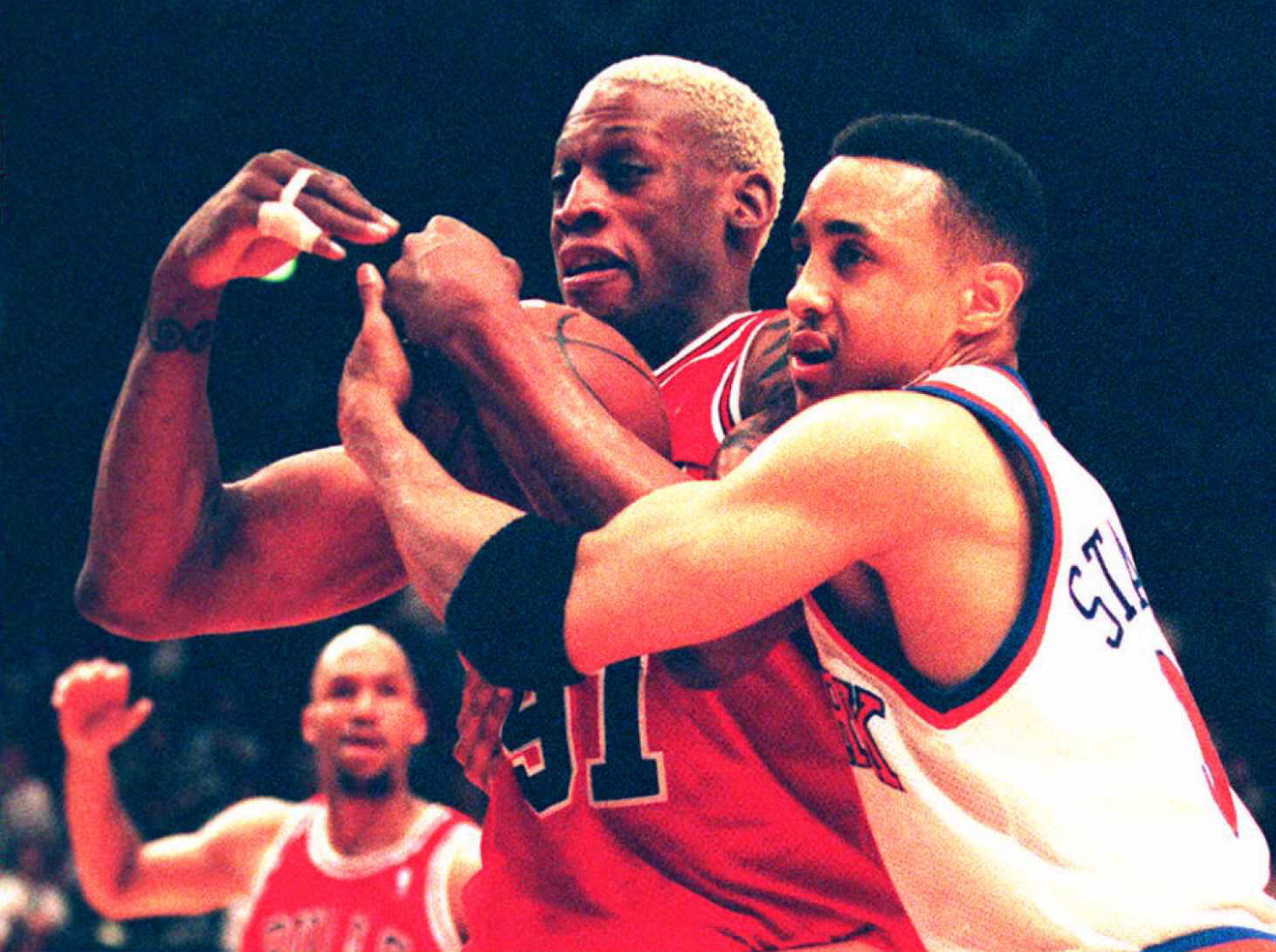 Dennis Rodman's Recipe for Rebounding Success Was Desire, Video, and a Little Extra: 'I Could Tell You but Then I'd Have to Kill You'
Nobody worked harder at finding a way to get a rebound than Dennis Rodman.
How could a guy 6-foot-7 and 210 pounds lead the NBA in rebounding for seven straight seasons? During his playing days, Dennis Rodman was tops in the NBA during a seven-year stretch while playing for three different teams. Rodman drew more attention when he played for the Chicago Bulls, winning three straight championships.
During the Bulls' run in 1996, Rodman's rebounding was scrutinized as he was in the midst of his fifth straight individual title on a team primed to win the first championship in its second three-peat. Rodman was asked about his recipe for success. He gave some insight but didn't reveal everything.
Dennis Rodman studied rebounding like no other
There's more to rebounding than sheer hustle. Rodman dove all over the place and outjumped and outpositioned everyone on the court to get a rebound. The desire was always there, but there was much more to it. Rodman studied the rotation of the ball as players shot so he would know which way the ball would come off the rim.
 "Anytime I see Scottie (Pippen) or Michael (Jordan) shoot from the top of the key, I know the ball will come off the rim to the right," Rodman said to Sports Illustrated in March of that 1996 season.
He studied rebounding like baseball pitchers study hitters.
 "I know shooters, but that's not enough," he said. "You have to watch the flight of the ball. Most guys see the shot go up, and they turn and look at the rim, waiting for the ball to come off. I watch the ball in the air and make an adjustment if I need to.
"Most of the time (Jordan's) shots tend to come off to the right of the rim, no matter where he shoots it from, but I don't just take that for granted. I watch his shot in the air, and I can tell if it's off-line to the left or short, and then I go where I think I need to be."
While Dennis Rodman gave some tips on his rebounding prowess, he didn't reveal everything
With Rodman's lack of size in a big man's game, he had to find other ways to gain the upper hand. Pure hustle and strong study habits weren't always enough. He had to learn other tricks to the trade, although he never called them tricks.
"They're not tricks, they're techniques," he said.
One of Rodman's "techniques" was to try and pin his opponent's arm between Rodman's arm and body, making it difficult to jump. He'd be called for it quite a bit, but not as often as he'd get away with it.
Another former rebounding champ, Michael Cage, said Rodman would get a little touchy.
"He's pretty active with his hands," said Cage. "He'll give you a little nudge in the small of the back just as you're getting ready to jump." 
Rodman said he had a few other secrets but wouldn't divulge them.
 "There might be a couple of other little things I do," he said. "I could tell you, but then I'd have to kill you."
Former Detroit Pistons coach Chuck Daly believed Rodman is the best rebounder of all time
Chuck Daly, the legendary NBA basketball mind who coached Rodman when he was with the Detroit Pistons, believed Rodman was the best in the business when it came to rebounding. Daly believed if the whole package was taken into consideration, Rodman was the best. That's an impressive take when factoring in guys like Bill Russell and Wilt Chamberlain.
"Wilt was just bigger and stronger than everyone," Daly said back then. "Russell was built more along the lines of Dennis, but he didn't have to go up against power forwards and centers as big as the ones Dennis has to face night after night. When you factor size into the equation, I don't know how you could say there's ever been a better rebounder."
For what it's worth, Rodman said he rebounded for himself. He didn't do it for the crowd. It was a way to express himself.
"I rebound with a little flair, a little something extra," he said. "It's not for the crowd, it's just for me. Rebounding is how I express myself on the floor."
Twenty-five years later, Rodman is still widely considered one of the best rebounders to ever play in the NBA.