Dennis Rodman Taught Mark Cuban a Valuable Lesson in 29 Days
Dennis Rodman didn't spend a whole lot of time with the Dallas Mavericks. He played for team governor Mark Cuban for 29 days, appearing in 12 games at the tail end of his career. Cuban, however, learned a lot in those 29 days, gaining a valuable lesson from the flamboyant Rodman that he still uses today.
Dennis Rodman was one determined NBA player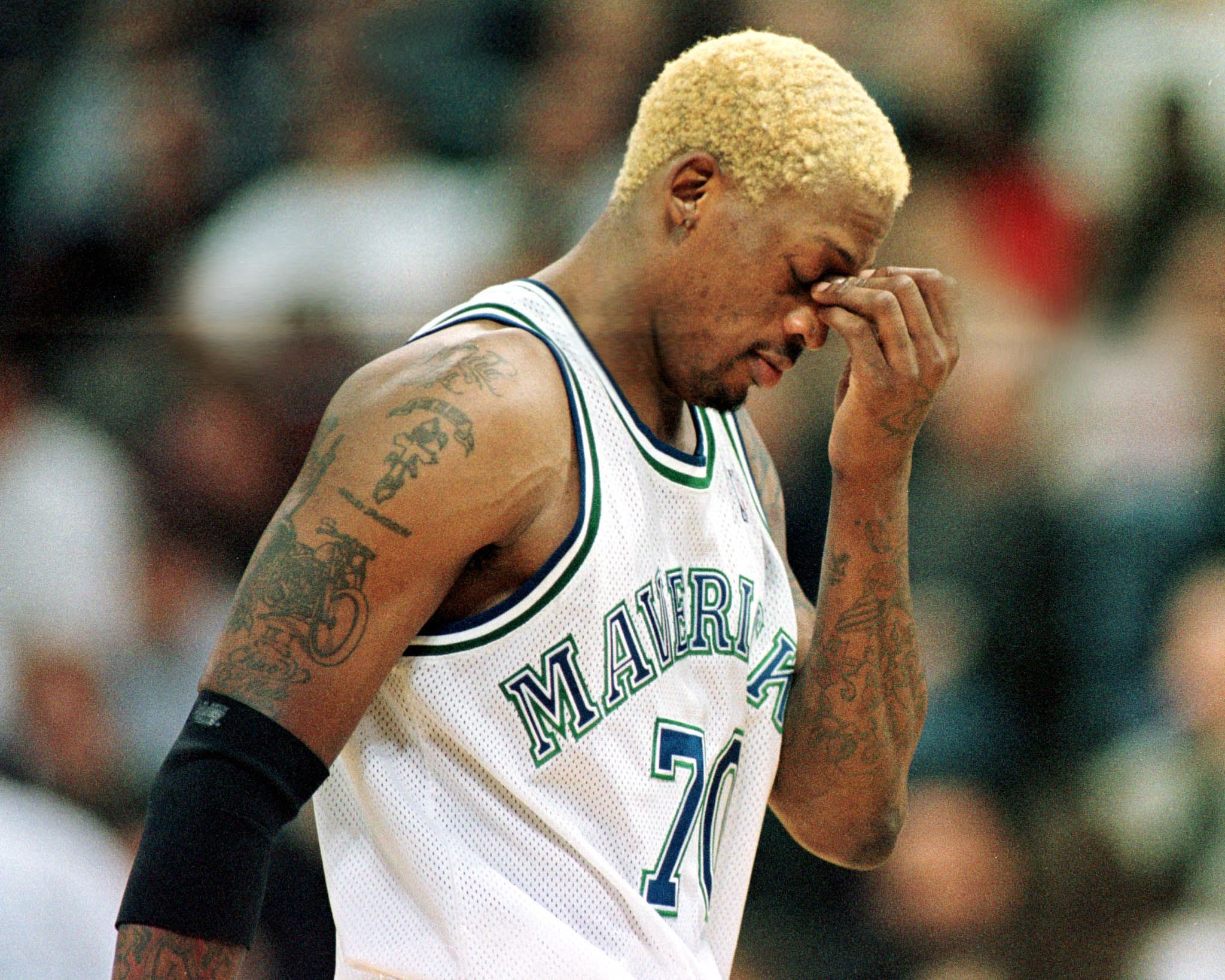 RELATED: Dennis Rodman Pocketed $80,000 When He Tried His Hand at Being a Professional Basketball Head Coach
Rodman was never the most talented basketball player on the court, but he was always one of the hardest-working ones. Rodman never envisioned playing professional basketball as a kid, but a growth spurt in his late teens helped generate interest in the sport. He attended little-known Southeastern Oklahoma State University and wound up being a second-round pick in the 1986 NBA draft.
Rodman hustled his way to NBA stardom. He barely averaged seven points per game in a career that spanned 14 years. He was hungry, determined, and tenacious which helped him become one of the greatest rebounders of all time. Standing just 6-foot-7 and weighing 210 pounds, Rodman played with the big boys and outrebounded most of them.
For seven straight seasons, Rodman was the NBA leader in rebounds, averaging 16.7 per game in that stretch. He had 159 games in which he hauled down 20 or more rebounds. Rodman wound up winning five NBA titles and was inducted into the Naismith Memorial Basketball Hall of Fame in 2011.
Dennis Rodman ended his career playing for Mark Cuban
RELATED: Dennis Rodman Might Actually Be the Greatest Rebounder in NBA History
It was the beginning of Cuban's governorship with the Mavericks, and it was the end of Rodman's illustrious basketball career. The Mavs brought Rodman on board during his final season in the NBA. Although it didn't work out, Rodman said he enjoyed his short time in Dallas and also had much respect for Cuban.
"He was a cool guy to me," Rodman said in 2019, according to CNBC. "He had faith in me." He told ESPN in 2019 that his release was because the team was "in the middle of a youth movement." Rodman was 38 at the time.
Rodman said he and Cuban have remained friends since he was released. With the Mavericks, he averaged 14.3 rebounds in those 12 games. "He felt bad it didn't work out there," Rodman said. "We've been friends ever since. I talked to him a couple of weeks ago. It was never about the money. It was about the friendship. That's refreshing."
Rodman taught Cuban a valuable lesson
Despite their professional relationship lasting just 12 games over 29 days, Cuban, the billionaire governor, said Rodman taught him a valuable lesson. It's one he's continued to use ever since.
 "I like Dennis," Cuban told CNBC in 2019. "I learned a lot about dealing with the media and PR from him. Everywhere he went, there was media and he was always positive and connected with them. (It was) a trait that served me well."
Cuban "liked the way I played ball, how I marketed myself," Rodman said.