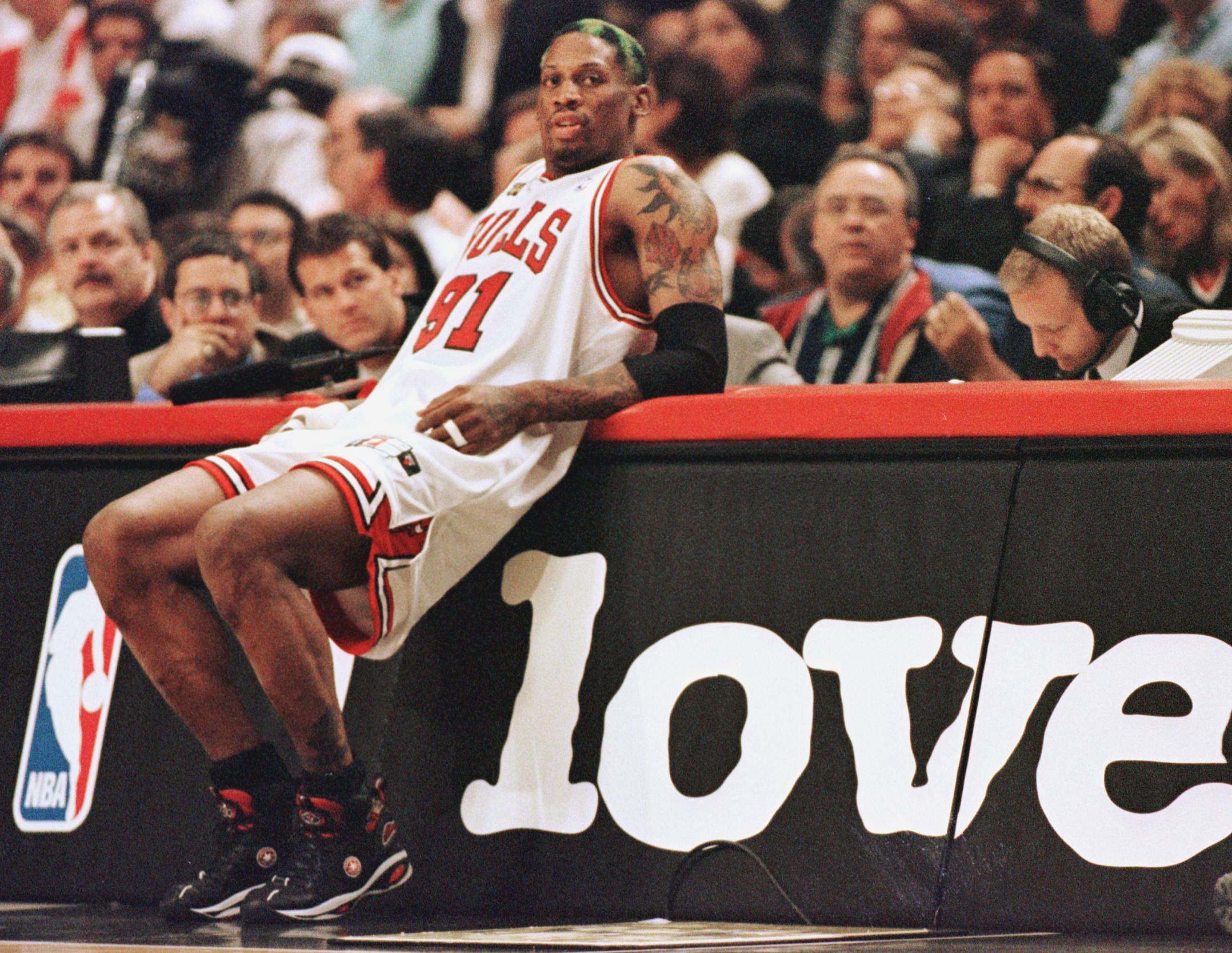 Dennis Rodman Put 4 Impressive People Ahead of Him on His 2013 List of 'Identifiable People on the Planet'
Dennis Rodman made a very interesting list back in 2013.
At least Dennis Rodman didn't put himself at the top of the list. Rodman was the flamboyant wild child of the NBA during his 14-year career, but he was also one of the key contributors in winning five championships with the Chicago Bulls and the Detroit Pistons. Rodman was not only one of the most recognizable faces in the league, but he also believed he was in the top five of the most "identifiable people on the planet." Back in 2013, he put four impressive people ahead of him on that list.
Dennis Rodman has always been in the spotlight – on or off the basketball court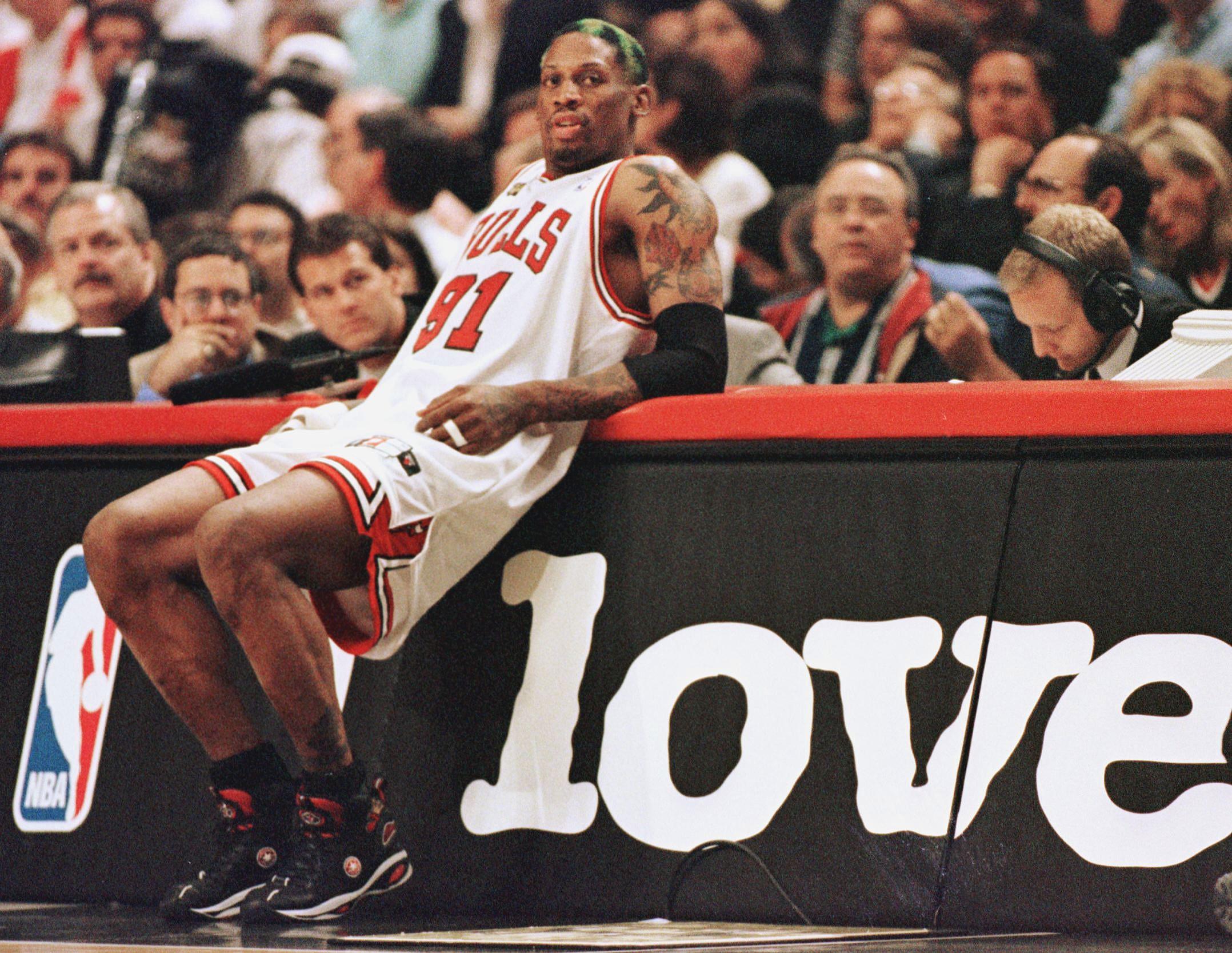 Rodman did things his way. Whether it was coloring his hair or bolting for Las Vegas during the NBA season, he did what he wanted. Even with all the distractions, Rodman was always there when it counted. For seven straight seasons, he led the league in rebounding despite his lack of NBA size at 6-foot-7, 210 pounds.
Rodman retired from the game in 2000. Despite retirement, he has always managed to remain in the spotlight. During a 2013 interview with Sports Illustrated, he said he was still one of the most talked-about people in the world, especially after his famous trek to North Korea to meet leader Kim Jong-un.
"I haven't had a job in years, yet I'm talked about more than ever," he said. "I'm doing all these amazing, historic things, and the public can't believe it's actually Dennis Rodman, of all people—not Madonna, Oprah, or anybody like that. It's Dennis Rodman!"
Rodman's friend, James Davis, put it simply. "I'm amazed by how Dennis stays in the limelight," he said. "It's all sort of organic. Dennis doesn't sit around and calculate ways to cause controversy. Controversy finds him. He's the new Jane Fonda."
Dennis Rodman put himself fifth on a list of the planet's most identifiable people
Rodman has never been afraid to speak his mind. He's never been afraid to do the unimaginable, as evidenced by the time he put on a wedding dress to marry himself. He also married Carmen Electra and had a fling with Madonna. He's in the Naismith Memorial Basketball Hall of Fame. Rodman is widely known and he didn't hide that fact.
"If you ranked the 10 most identifiable people on the planet, I'd be Number 5," he told SI in that 2013 interview. "I'd come in right after God, Jesus, Muhammad Ali, and Barack Obama."
There was a small catch to his fifth-place finish, one that could push hit to the top of the list.
"But take away the Top Four's bodyguards and entourages, and put them on a busy street in New York City, and I bet no one would recognize any of them," he said. "They'd recognize me, though, and I don't even try to stick out."
Rodman has always come across as misunderstood
Maybe it's the blue hair or the multiple body piercings. Perhaps it's the fact he continues to do things his own way. Whatever the reason, Rodman has seemingly always been characterized as misunderstood. Jeanie Buss, the current owner of the Los Angeles Lakers, who took over after the death of her father, Jerry, can vouch for Rodman's emotional and caring side.
When Jerry Buss died, Rodman was there for Jeanie.
"We cried together," Jeanie said. "Dennis was like family to my father. They had a special relationship that meant a lot to my dad. It really had nothing to do with basketball. It was touching.
"He's very bright and good at reading situations. People too easily see only the surface. I have to say, sometimes Dennis dresses in a way that's a distraction and keeps people from hearing him."
Rodman's list is more than eight years old. It might be time for an update to see if he's moved up a notch or two.