Denny Hamlin Crew Chief Proposes Logical Fix for Aggressive Driving in NASCAR Cup Series: Black Flags
Denny Hamlin has won three Daytona 500s. Winning on the superspeedway takes patience and calculated aggression. Just the opposite of the chaotic display witnessed in last weekend's Clash at the Coliseum.
Interestingly, what happened on the quarter-mile track in LA has become more commonplace in the Cup Series. Aggressive driving has been on the rise in recent years, and the Next Gen car and its durable body isn't doing anything to discourage that type of on-track behavior. According to Hamlin's crew chief Chris Gabehart, there's one way he thinks that can bring it to an end and it's something that's been used effectively in other racing series for years: black flags. 
Denny Hamlin victimized by aggressive driving at Clash
Going into the second edition of the Clash at the Coliseum, Denny Hamlin and many other drivers predicted the beating and banging would intensify on the short track simply because the circumstances were very different from last year when there was a parts shortage, and no one was sure about the durability of the car and if any damage might result in other issues like cut tires.
With no concerns about serious damage to cars or cut tires, many drivers approached this year's Clash with reckless abandon. When it was over, multiple drivers complained of headaches and hard hits in the car. Some called it a demolition derby.
Hamlin found himself right in the middle of the crashfest on several occasions, including Ross Chastain rekindling their old "friendship" by greeting him with a tap and spin, while William Byron sent him for another spin after taking the checkered flag. Except the No. 24 didn't initiate contact. He was on the receiving end of a bump from Kevin Harvick from behind and carried that momentum into the No. 11 car. That same type of scenario played out repeatedly throughout the race. 
Hamlin crew chief offers solution for aggressive driving
This week, Denny Hamlin's crew chief Chris Gabehart made his regular weekly appearance on SiriusXM NASCAR Radio. During his visit with Claire B. Lang, he talked about the exhibition race, the aggressive nature of it, and what he thinks can prevent it in the future.
"There's probably some work to do to the cars to make them a little more fragile so they can't just use them as battering rams," Gabehart said. "And then I put some of it on NASCAR's shoulders. I think they've got to have some sort of consequences for running over a guy. 
"I know that's not in their history but the racing is more aggressive than ever and as the industry changes, I think NASCAR does a good job changing with it and I think this may be an area where they need to look at." 
When Lang asked what kind of consequences, Gabehart didn't hesitate. 
"The black flag is used in every other form of racing that I've ever been a part of and yes, it is a subjective use, but so are balls and strikes, so are pass interference calls in football. That's part of it," he said. "But if you put some teeth in the hands of the flagman or race control with something as simple as a black flag and you tell the drivers that — get out of line, we're going to use this subjective means to course correct you live, and in the event, like other racing series do. Instantaneously you're going to see the drivers behave differently because that fear is now put in them. 
"But over the past however many years of that not being the case, they've migrated to know that really the beef is going to be between the two drivers and at least they won't get any real penalty for it from NASCAR. I make that sound easy and it's not an easy thing to do but I do think it would quickly change the way these drivers interact each other." 
Would it work?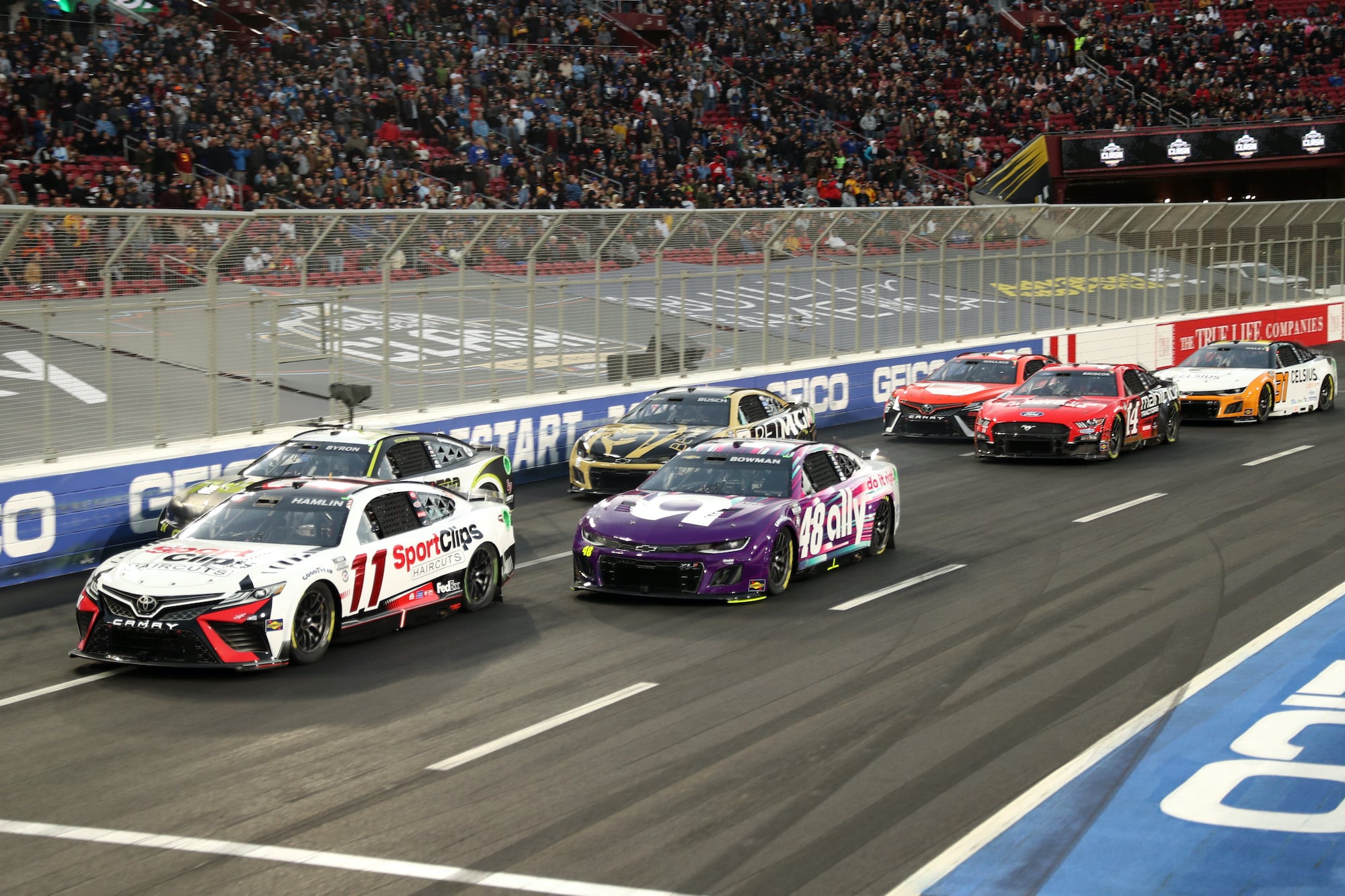 It's hard to argue with anything Gabehart says. He makes valid points. But as he said, it's not in NASCAR's history. In fact, it's just the opposite. 
The sanctioning body hasn't steered away from rivalries and disagreements since the very beginning because it adds to the overall entertainment value. Most fans will remember it was just a dozen years ago when the drivers were told, "Boys, have at it."
While NASCAR has stepped in when more serious situations warranted like Matt Kenseth in 2015 or Bubba Wallace last year at Las Vegas, it typically tries to avoid over-officiating and allow the drivers to sort through their differences. 
As Gabehart suggested, it's not easy. It's a fine line. But so is calling balls and strikes or pass interference. Chances are someone might not be happy with a black flag decision, but in the long-term, if the governing body is consistent with its rulings, which hasn't always been the case in the past, that would serve as a deterrent and the racing would ultimately be cleaner.
That's something Hamlin and all the other drivers should be able to get behind — and do so without wrecking the guy in front of them.